After concerns it was too white, Eureka women's march is back on — with a new organizer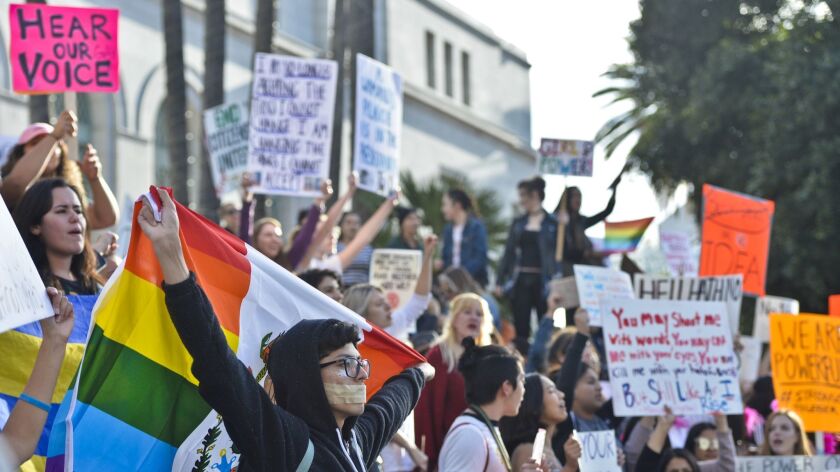 The Eureka women's march is back on after concerns the event in the small rural town was "overwhelmingly white."
Linda Atkins, a former Eureka city councilwoman, took it upon herself to organize a new march — planned again for Jan. 19 — because she felt it was important to gather on the same day as others across the country.
Local organizers canceled the event in late December because the planning committee was almost entirely white. Officials announced they would instead focus on increasing diversity for an event in March.
"Up to this point, the participants have been overwhelmingly white, lacking representation from several perspectives in our community," the group said in its Dec. 28 announcement.
Many in the community praised organizers for working toward more diversity, but others were disappointed that the shortcomings of the small group would affect the entire area's ability to participate in the march.
A week later, when no one seemed to be stepping up, Atkins made her move.
"I just thought it was really important to have our march the same time as the other marches around the country because I think we need to continue to resist the administration's racist, misogynistic, anti-Semitic, homophobic, anti-ecology actions and rhetoric," said Atkins, a 66-year-old resident who identifies as lesbian.
Humboldt County has a problem with diversity, Atkins said. The county is 74% non-Hispanic white and, like many parts of the U.S., it has a history of mistreating native populations, she said.
"I understand it," she said of the decision to cancel the original event. "I understand they want to be more diverse. We are a very white rural community over here. It takes effort."
The county also has grappled with racial tensions following the 2017 death of Josiah Lawson, a 19-year-old Humboldt State University student who was stabbed outside an Arcata house party.
Lawson's family members and supporters have fiercely criticized local law enforcement, saying authorities have stalled the investigation and failed to do enough to capture his killer.
But Atkins, a Eureka city councilwoman from 2008-14, said she saw no reason that perceived issues with diversity and racism couldn't be worked on while still holding a march. Plus, she said, she wants to celebrate the new diverse members of Congress.
The retiree said dozens of people reached out to her, asking how they could help. She has gathered teams for cleanup and first aid and has a meeting Thursday with local law enforcement about the event.
Through a GoFundMe campaign, Atkins has raised a little over $500 while borrowing money from friends to cover the costs of insurance and equipment rentals, such as tables and chairs.
A new Facebook event for the march lists about 500 people interested in attending. There likely won't be any public speakers, Atkins said, because there isn't enough time to schedule anyone and some may not want to get tangled with the recent controversy.
"We're keeping it simple."
alejandra.reyesvelarde@latimes.com
Twitter: @r_valejandra
---
The stories shaping California
Get up to speed with our Essential California newsletter, sent six days a week.
You may occasionally receive promotional content from the Los Angeles Times.