Lawsuit seeks to overturn plan that would allow taller buildings along the Metro Expo Line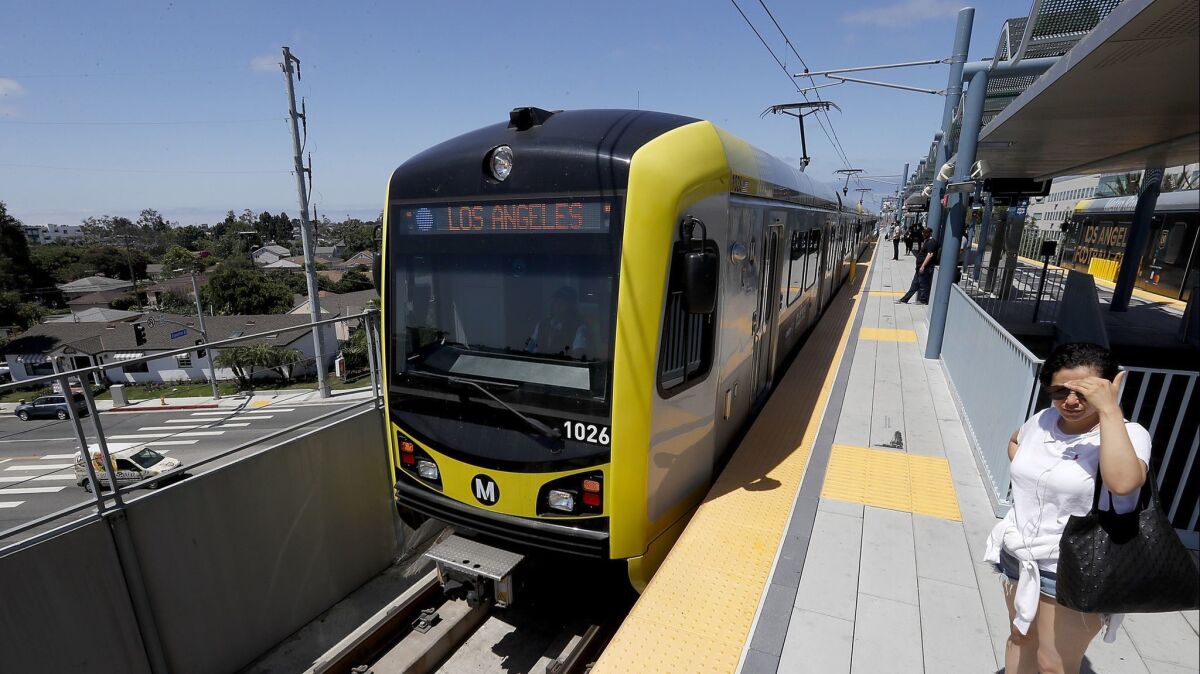 A Westside nonprofit has sued the city of Los Angeles, seeking to overturn a plan that would allow the construction of up to 6,000 new apartment and condominium units within a half-mile of five Metro Expo Line stations.
The advocacy group Fix the City argued in a complaint filed Thursday that Los Angeles should not have approved the Expo Line density plan without first assessing and fixing West L.A.'s "overburdened and inadequate infrastructure."
In court filings and in the blueprint that governs citywide development decisions, Los Angeles officials made a "binding commitment" to ensure that streets, sidewalks and public services are adequate before allowing further growth, the lawsuit said.
The City Council's approval of the Expo Line plan in July was "based on a lie that everything is fine," and that city services are in good enough shape to support more density, said Laura Lake, a member of Fix the City's board.
Metro will offer free rides on buses and trains on election day »
"Growing is fine, if you provide for the growth," Lake said. "For everybody who drives through gridlocked traffic and hits a pothole, for everybody who trips and falls on a sidewalk, for every cyclist who bumps into a broken gutter, this one's for them."
Rob Wilcox, a spokesman for City Atty. Mike Feuer, said the city would review the lawsuit.
Paul Koretz and Mike Bonin, the city councilmen who represent the neighborhoods near the Expo Line plan area, did not immediately respond to requests for comment.
The Expo Line plan is a key policy for Los Angeles, setting a possible precedent for future decisions about development along the region's growing Metro rail network that Los Angeles voters have taxed themselves to build.
The plan calls for taller office towers, apartment buildings and other developments along Olympic Boulevard, Venice Boulevard and other major streets between Culver City and Centinela Avenue, within a half-mile of the $2.5-billion Expo Line.
Zoning for taller buildings will create the capacity for 14,300 more jobs and 6,000 new apartments and condos, city officials said. The plan will also require developers to build closer to the sidewalk and place parking behind buildings to create streets that feel more uniform and inviting.
Hundreds of Beverly Hills students demand Trump move or defund Metro's Westside subway »
The hope is that creating more housing along the Expo Line, and streets that feel more pedestrian-friendly, will help residents run errands and get to work without getting behind the wheel.
But that growth will be difficult in West Los Angeles, the lawsuit said, where city officials have "kicked the infrastructure can down the road and right into a pothole."
In addition to rutted streets and broken sidewalks, West L.A. residents are facing some of the city's slowest response times for fire and medical emergencies, according to Fix the City. The group had a retired captain from the Rancho Park fire station review the analysis, Lake said.
Spokesman Peter Sanders said in an email that the Fire Department could not "determine the accuracy of the response time data presented in this lawsuit because we are unaware of the underlying methodology used to produce it."
"The department responds to emergency calls for service as quickly and safely as possible in all circumstances," Sanders said.
Fix the City frequently weighs in on Los Angeles planning issues. The group has also sued over development in Hollywood and has challenged the city's sweeping transportation plan that calls for hundreds of bicycle- and bus-only lanes by 2035.
For more transportation news, follow @laura_nelson on Twitter.
The stories shaping California
Get up to speed with our Essential California newsletter, sent six days a week.
You may occasionally receive promotional content from the Los Angeles Times.