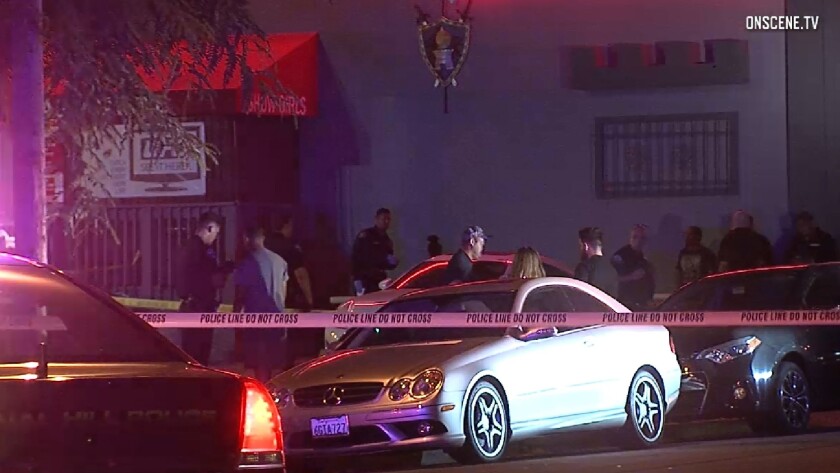 A man was killed and two women were injured early Tuesday after gunfire erupted at a Signal Hill strip club that has a history of shootings, authorities said.
Shots rang out about 1:50 a.m. at the Fantasy Castle club in the 2800 block of Walnut Avenue, according to the Los Angeles County Sheriff's Department.
When emergency responders arrived, they found a man suffering from gunshot wounds. He was pronounced dead at the scene.
One woman was wounded by the gunfire and taken to a hospital, where she was listed in stable condition, the Sheriff's Department said in a statement.
A second woman was also injured and hospitalized, according to local news reports. The extent of her injuries was not immediately known.
"No suspect information at this point in time," sheriff's Sgt. Bill Cotter told reporters. "There were several patrons here, so we are going to endeavor to contact them and gather witness statements."
Kimberly Chavez told reporters at the scene that she was performing a dance when she saw "a little commotion happening." Five minutes later, Chavez said, she heard the gunshots.
"Everybody was running; girls were crying. He was laid out on the floor. That's all we know," Chavez told reporters.
A similar scene unfolded at the adult club in October.
In that case, two people were shot in the parking lot of the club, according to the Signal Hill Police Department.
A third person was run over by a motorist fleeing the area after the shooting, police said.
At the time, Lt. Ron Sagmit, a department spokesman, said shootings have been reported at the strip club in the past.
Twitter: VeronicaRochaLA
ALSO
Disabled woman stabbed to death by fellow resident of care facility, police say
Investigation continues into deaths of police captain, city clerk in Seal Beach apartment
'Why do you go after us like this?' Video shows Riverside sheriff's deputy arresting a woman selling flowers without a permit
---