Feminist, poet and a good neighbor: Spielberg, others, remember former USC President Steven Sample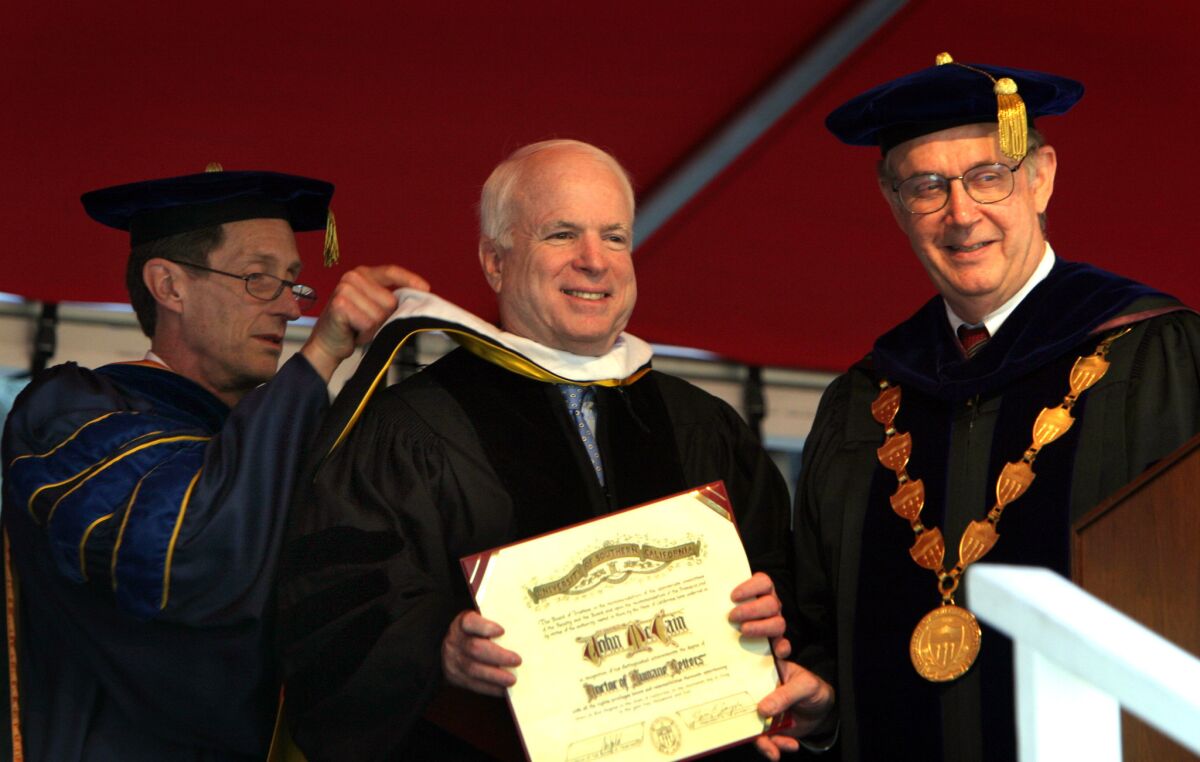 Steven B. Sample, the former president of USC who died Tuesday, was praised as a gifted inventor, a tireless administrator and a savvy fundraiser.
To the Rev. Cecil "Chip" Murray, the former pastor of First African Methodist Episcopal Church in South Los Angeles, the Midwest-born Sample was, above all, a good neighbor.
Sample spearheaded efforts to make the student body more diverse, Murray said Tuesday, and he made sure that as USC expanded and transformed into a global research institution, low-income black and Latino residents wouldn't be stripped of their property.
"He was a leader and he led by example of inclusion," Murray told The Times. "As a person who came along at a time of racial discrimination and the struggle for equity on the part of minorities, he was a 'we' person and not 'we who are in the majority.' "
Sample, a resident of Pasadena, died Tuesday at age 75. The cause of his death was not released. In 2001, he informed USC's faculty that he had been diagnosed with Parkinson's disease.
During 19 years as president, starting in 1991, Sample catapulted USC to being a fundraising and academic powerhouse. The school's endowment grew by billions and admissions became selective as USC sought to shed its derisive nickname: the University of Spoiled Children.
"Steve accomplished a rare miracle in higher education, transforming a complex institution from average to superb in almost 20 years," said Barry Munitz, the former chancellor of the Cal State University system who later served as the president and chief executive of the J. Paul Getty Trust.
As news of Sample's death spread, colleagues and friends recounted his legacy.
Murray recalled how Sample would reach out to community groups and schools, ensuring that students in underserved communities could access transportation and tour the university.
Under Sample's tenure, Murray said, USC also established the office of Religious Life.
Steven Spielberg, a longtime benefactor to USC who also serves as one of the university's trustees, said in a statement that Sample brought a " 'can do' spirit" to the job.
"I always felt safe and supported in the warmth of his company and each time we worked to build and evolve the greatest cinema school in the world, Steve knew about and cheered every gift," Spielberg said.
He praised Sample for giving the longtime dean of USC's School of Cinematic Arts, Elizabeth Daley, the "autonomy she needed to lead fearlessly."
"I'll miss Steve, but just walking around campus, you can feel him everywhere," Spielberg said.
California's former poet laureate and USC professor Carol Muske-Dukes recalled how she met Sample: through an exchange of correspondence.
Muske-Dukes had read a story about a cheer squad at USC, and she wrote a note to Sample telling him that she thought the way the group was presented did not provide a positive image of women.
Sample disagreed -- his wife, Kathryn Brunkow Sample, had participated in cheer squads when she was younger.
Their conversation, in a series of handwritten letters, quickly expanded into a discussion of feminism. Sample, the father of two daughters, considered himself a feminist, she said.
"We got to know each other through my big mouth basically," Muske-Dukes said. "He was a friend. I really liked him as not only a man who spoke his mind very directly, but also he was a closet poet."
Muske-Dukes said they often talked about poetry. Robert Frost's "Birches" was among his favorites. She recalled how happy Sample was when she was named poet laureate for the state. He even had a copy of one of her poems in his office.
When her husband died more than 15 years ago, Sample drove from his home in San Marino to Hancock Park to be with her and her daughter. They all held hands as he said a prayer, then a poem.
"It was so touching and so typical at the same time," Muske-Dukes said, adding: "It's an indescribable loss of a secret poet as well as a great president of a university."
For breaking news in California, follow @MattHjourno.
ALSO
Former USC President Steven B. Sample, credited with transforming the university, dies at 75
L.A. City Council celebrates the earthquake lady on 'Dr. Lucy Jones Day'
UC schools harm local students by admitting so many from out of state, audit finds
The stories shaping California
Get up to speed with our Essential California newsletter, sent six days a week.
You may occasionally receive promotional content from the Los Angeles Times.