L.A. Fire Department could soon seek federal permission to fly drones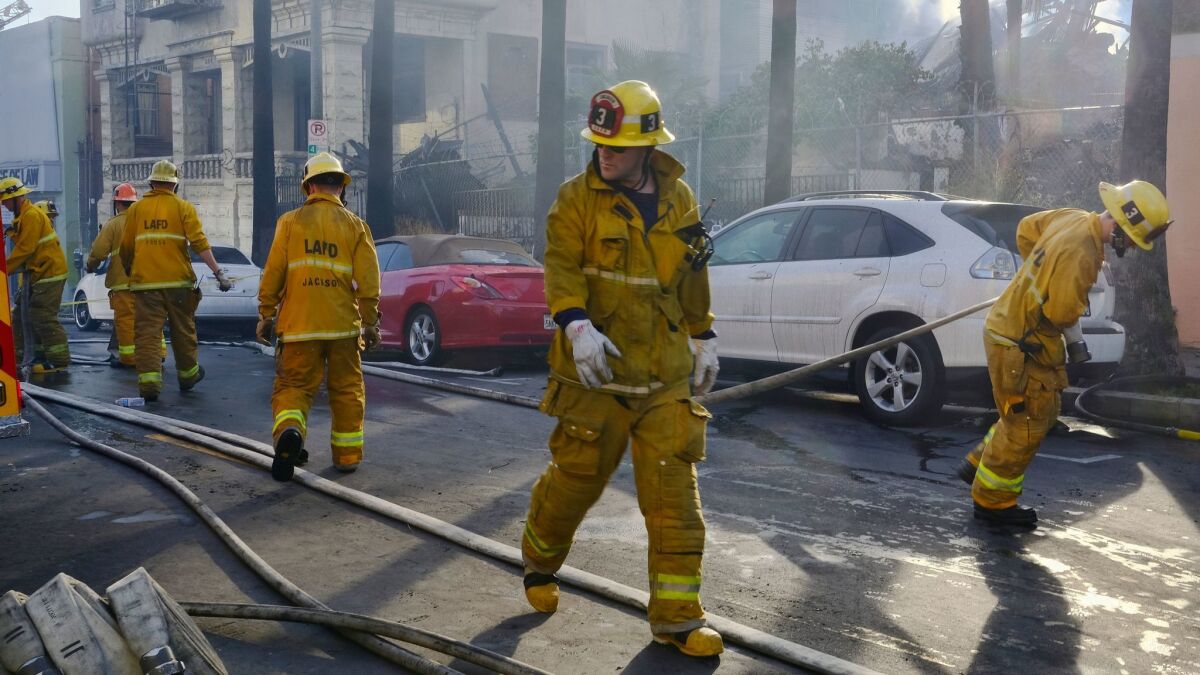 The Los Angeles Fire Department could soon seek federal permission to fly drones, a tool that officials say could help them track down missing hikers, gauge the risks in burning buildings and search confined spaces.
A Los Angeles City Council committee voted Tuesday to allow the department to start seeking Federal Aviation Administration authorization to use "unmanned aerial systems," despite objections from groups concerned about privacy rights. That decision now heads to the entire council for approval.
"I think there's a tremendous opportunity to save lives," said Councilman Mitch Englander, who has championed the idea.
Fire officials say no drones will be launched, however, until the Board of Fire Commissioners and the City Council approve a policy outlining how they can be used. The American Civil Liberties Union of Southern California has already raised concerns about draft guidelines, saying they do not go far enough to address "serious privacy concerns."
Fire Department officials say the drones will not be used for police surveillance, but to assess hazards on the spot.
At the Tuesday committee meeting, LAFD battalion Chief Richard Fields said that the department too often has had to rely on "simple radio communications" to figure out where to put its firefighters and equipment rescue people or snuff out fires.
Fields rattled off several situations that might call for drones, including evaluating the dangers in buildings at risk of collapse. Englander said the drones could also be equipped to communicate with stranded hikers, allowing rescuers to ask, "'What do you need? What's hurting? How are you doing?'"
The Fire Department also said the technology could be used for training. "We wouldn't want to squander the possibilities of drone technology," said Councilman Mitch O'Farrell, one of four lawmakers who backed the plan Tuesday.
The growing use of drones, however, has also alarmed groups concerned about warrantless surveillance.
Hamid Khan, founder of the Stop LAPD Spying Coalition, argued that allowing the Fire Department to use drones would end up providing a "backdoor" way to share information with police. The group protested when the Los Angeles Police Department got a pair of drones, which have been locked up since then, and has also opposed drone use by the Los Angeles County Sheriff's Department.
"We are deeply concerned about this development," Khan said.
The ACLU of Southern California warned that although the Fire Department has pledged not to use the drones for surveillance, the draft set of rules did not spell out what purposes would be allowed.
"We can't protect against mission creep because we don't know what the mission is to start with," staff attorney Melanie Ochoa said.
The ACLU also recommended that the Fire Department hammer out rules for retaining and sharing footage from drones, include oversight and accountability measures such as an independent monitor to track drone use, and require that any future changes to the policy be vetted by the Board of Fire Commissioners and the City Council.
Fire Department officials say that they are undertaking a careful process to address those concerns. In a report, the department said it planned to turn in quarterly reports on drone use, give the public a way to weigh in, and alert Angelenos in advance where a drone was being deployed.
The Fire Department "will engage in regular dialogue with the public safety committee to make sure there's proper oversight," said department spokesman Jeremy Oberstein, adding that the drones would operate under "tight guidelines."
At the Tuesday meeting, Fire Department officials added that they could lose federal authorization if they used drones for unapproved purposes. However, an FAA spokesman said it does not specify what agencies can or cannot do with drones "except from a safety perspective."
Department officials estimate that it will cost $40,000 to buy a first set of six drones with cameras, infrared detection and supporting equipment, using money donated by the Los Angeles Fire Department Foundation.
Twitter: @LATimesEmily
---
The stories shaping California
Get up to speed with our Essential California newsletter, sent six days a week.
You may occasionally receive promotional content from the Los Angeles Times.