Driver in wrong-way DUI crash that killed 6 in Diamond Bar gets 30 years to life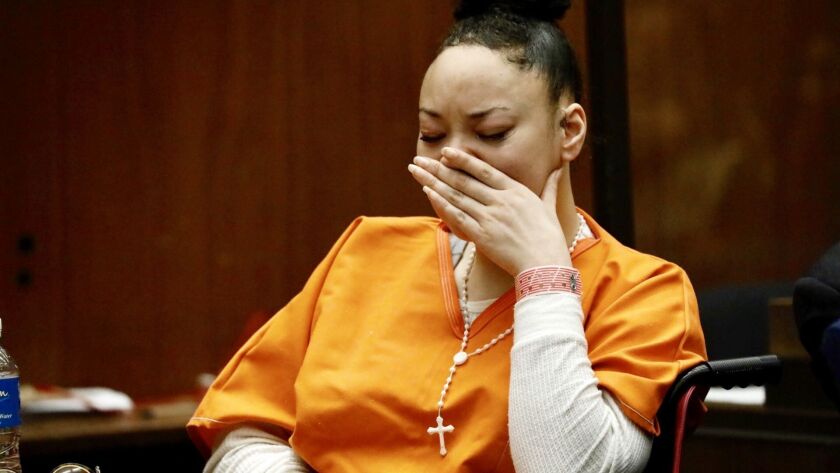 A 26-year-old Fontana woman was sentenced Wednesday to 30 years to life in prison for a 2014 drunk-driving crash in Diamond Bar that killed six people, including her sister, authorities said.
Appearing in a downtown courtroom, Olivia Culbreath cried as loved ones of those who were killed in the crash delivered victim impact statements as part of her sentencing hearing.
Culbreath pleaded no contest to six counts of second-degree murder in May, charges stemming from the wrong-way car wreck on the 60 Freeway in Diamond Bar four years ago. Witnesses said at the time that Culbreath's red Camaro was speeding at 100 mph before it slammed into a red Ford Explorer, which then smashed into a third car.
Several people were ejected from the vehicles, and only Culbreath and Joel Cortez, the driver of a silver Ford Freestyle, survived the crash.
Those killed in the wreck were: Gregorio Mejia-Martinez, 47; Leticia Ibarra, 42; Jessica Jasmine Mejia, 20; Ester Delgado, whose age was unknown, Maya Culbreath, 24; and Kristin Melissa Young, 21. Maya Culbreath, who is Culbreath's sister, and Young were in Culbreath's car, officials said in 2014.
In an interview with The Times after the crash, Cortez said he left his Ontario home shortly before 4:30 a.m. and was traveling west on the 60 Freeway to work. About 10 minutes later, he saw the red Camaro fly through the air, and he tried to swerve.
Something jammed into the passenger side of his car, and he felt his airbag push into him. Then his car slammed into the center freeway divider. He looked outside and saw something in the road, then he heard a scream.
"There are bodies all over," someone said.
In 2010, four years before the fatal crash, Culbreath was convicted of drunk driving in San Bernardino County, according to the state Department of Motor Vehicles. The restrictions on her license were lifted roughly one week before the 2014 wreck.
Follow @JamesQueallyLAT for crime and police news in California.
---
The stories shaping California
Get up to speed with our Essential California newsletter, sent six days a week.
You may occasionally receive promotional content from the Los Angeles Times.