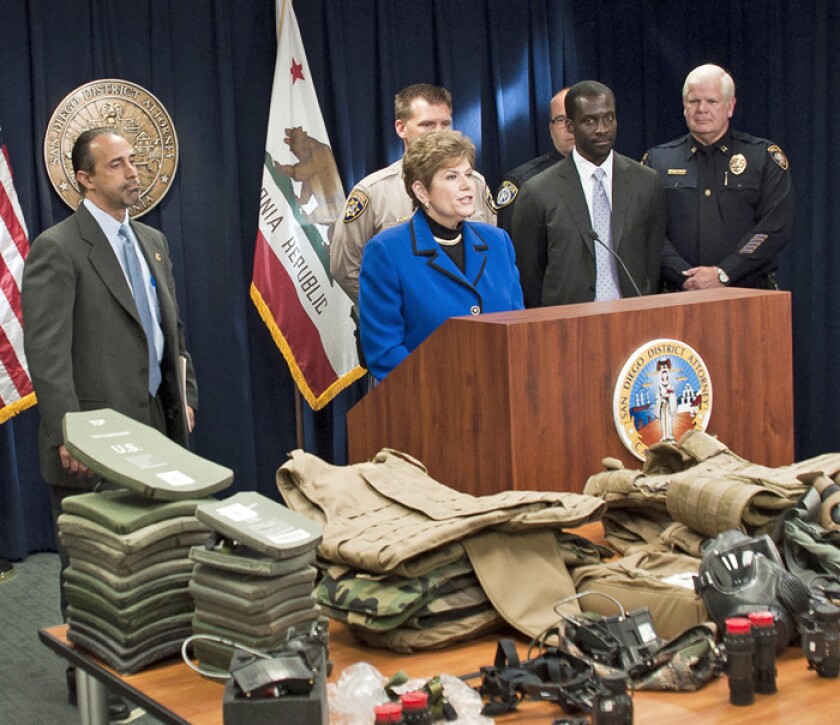 Seven active-duty Marines, one sailor and seven former Marines are among 64 people arrested after an eight-month sting operation focusing on stolen cars and other property in northern San Diego County, authorities announced Thursday.
Some 92 stolen vehicles, worth $692,603, were seized by a multi-agency task force working on Operation Perfect Storm, county Dist. Atty. Bonnie Dumanis said. Dozens of serial car thieves "have been shut down," she said.
The military gear seized includes helmets, night-vision goggles, gas masks, bullet-resistant vests and 10,000 rounds of ammunition. Also seized were nine weapons and quantities of cocaine and methamphetamine.
As part of the investigation, a phony storefront was established where thieves could sell their loot, Dumanis said. Among the agencies involved in the investigation was the Naval Criminal Investigative Service, which has authority over investigations at Camp Pendleton and other bases.
ALSO:
San Diego police kill armed suspect in Escondido
5 Marine staff sergeants face dismissal over relationship
Judge OKs huge water deal between farmers, San Diego County cities
---