Suspected Golden State Killer, a former police officer, arrested on 'needle in the haystack' DNA evidence
A suspect in the Golden State Killer case, a former police officer, has been arrested after decades of searching. Authorities say he is responsible for 12 killings, 45 rapes and more than 120 residential burglaries between 1976 and 1986.  
Authorities have arrested a former police officer who is suspected of being one of California's most prolific serial killers and rapists — the Golden State Killer.
A local and federal task force apprehended the suspect late Tuesday evening, after tying him to the crimes through "surveillance and discarded DNA," Sacramento County Sheriff Scott Jones told reporters Wednesday.
In the 40 years since the Original Night Stalker began his campaign of terror in Sacramento and moved south through the Bay Area and Santa Barbara and Orange counties, he had remained unidentified. Authorities say the attacker, also dubbed the East Area rapist and the Golden State Killer, is responsible for 12 killings, 45 rapes and more than 120 residential burglaries from 1976 to 1986.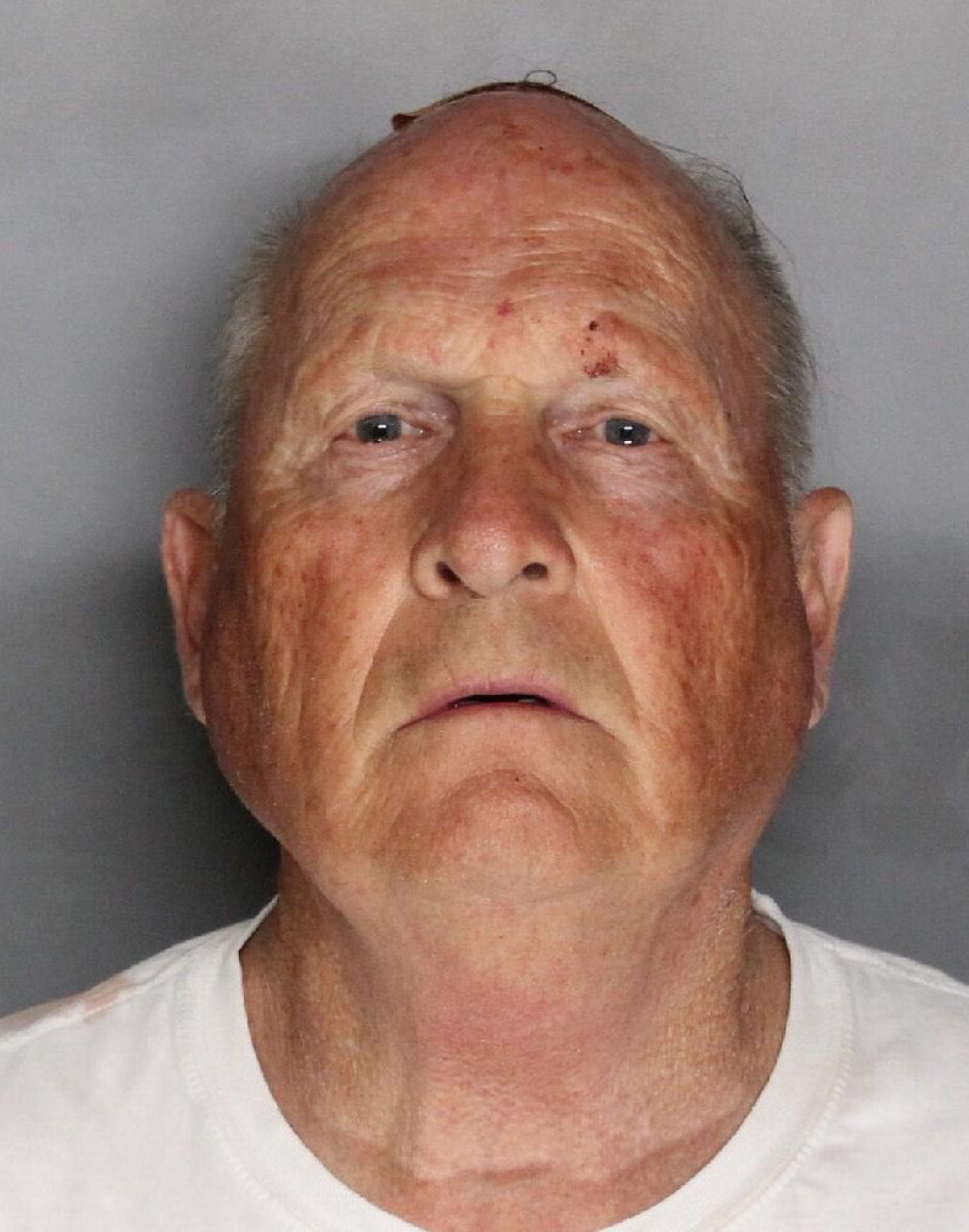 A 72-year-old Citrus Heights resident, Joseph James DeAngelo Jr., has been charged by prosecutors in Sacramento, Ventura and Orange counties with eight counts of murder. He is being held without bail, according to jail records.
Local and federal authorities descended on DeAngelo's beige, single-story home Tuesday evening and remained there Wednesday morning, when they removed two cars, a boat and a motorcycle from the garage.
The suspect was a police officer in Auburn during the 1970s but was fired after he was accused of shoplifting a hammer and dog repellent, according to a 1979 newspaper article. He is suspected of committing some crimes while he was still on the force.
Tuesday's arrest stemmed from the slaying of two married couples — Brian and Kate Maggiore, who were killed in Sacramento County in 1978; and Lyman and Charlene Smith, who were killed in Ventura County in 1980.
On Wednesday, the Orange County district attorney's office added four other murder charges against DeAngelo for a series of slayings there in the 1980s.
The FBI has created a website dedicated to the case where the public can view police sketches of the attacker and hear from witnesses and victims' families.
The last known crime associated with the Original Night Stalker took place in 1986, but his notoriety persists. In 2004, California voters passed an initiative, bankrolled by the brother of one of his victims, that mandates collection of DNA samples from people convicted — or even arrested — in felony cases.
By 1978, the man had attacked victims in Oakland, Danville and Walnut Creek. In 1979, he killed two in Goleta, and two years later killed yet another couple in the Santa Barbara County town. Authorities in 2011 pinpointed DNA evidence from the killer in the 1981 slayings of Cheri Domingo, 35, and Gregory Sanchez, 27. And they matched that evidence with DNA from other crime scenes.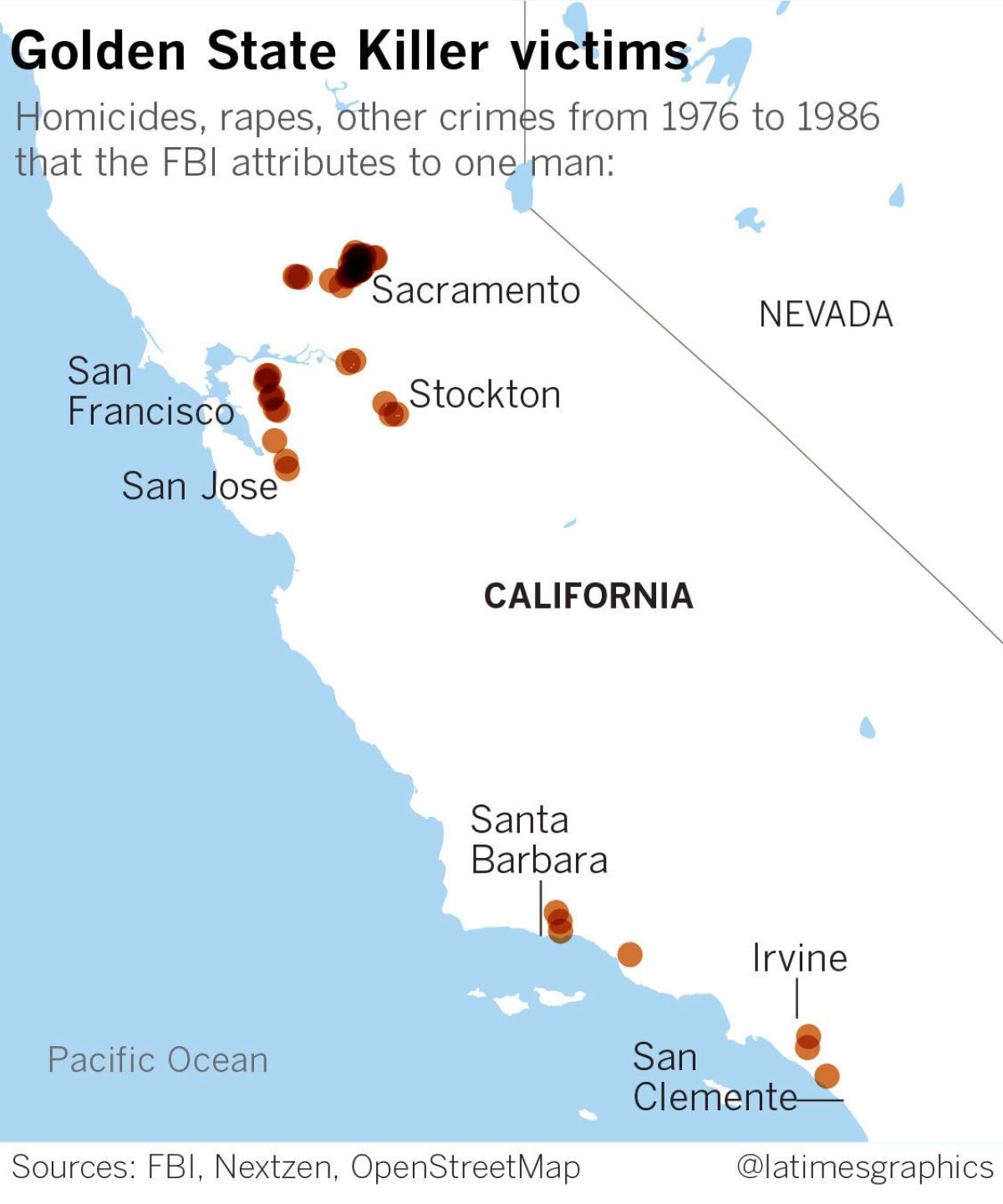 Sanchez was shot and bludgeoned. Domingo died of massive head injuries. Some of the grisly details matched those at other crime scenes associated with the Original Night Stalker: Sanchez and Domingo lived in an upscale neighborhood and were killed in bed. Domingo's hands had been tied — as had the hands of victims at other scenes.
Authorities said the killer would sometimes place cups or plates on his bound victims' backs so he'd have an audible clue if they broke free while he was in another room. At the time of the crimes he was described as being about 5-foot-9 with blond or auburn hair. He appeared to have military or law enforcement training.
Before he became known as the Original Night Stalker — so named to distinguish him from Richard Ramirez, the serial killer dubbed the Night Stalker who terrorized the Los Angeles area in the mid-1980s — the killer was tied to no fewer than 52 sexual assaults in Sacramento County and the Bay Area.
Writer Michelle McNamara became obsessed with the case and spent years researching it. She wrote an article for Los Angeles magazine and was turning it into a book when she died in 2016. Her widower, comedian and actor Patton Oswalt, helped complete the book, which is now a bestseller.
"I think you got him, Michelle," Oswalt said Wednesday on Twitter.
The Sacramento County district attorney, the FBI and the Sheriff's Department announced the suspects arrest at a news conference Wednesday afternoon.
"We found the needle in the haystack and it was right here in Sacramento County," said Dist. Atty. Anne Marie Schubert.
In addition to charges filed in Sacramento County, Orange County Dist. Atty. Tony Rackauckas announced that his office filed on Wednesday four felony counts of murder against DeAngelo.
Prosecutors alleged DeAngelo killed husband and wife Keith and Patrice Harrington in 1980 in Dana Point, and accused him of committing the 1981 rape and killing of a 28-year-old woman in Irvine and the 1986 rape and killing of an 18-year-old woman, also in Irvine.
"It is time for the victims to begin to heal," said Bruce Harrington, Keith Harrington's brother and one of those who helped to finance the voter initiative Proposition 69, which expanded California's DNA database to include every convicted felon in the state.
Jennifer Carole, the daughter of victim Lyman Smith, said she had long thought that the person who bludgeoned her father and stepmother to death had probably died in the following decades.
To find out he was not only alive, but living among them in Sacramento, was an overwhelming revelation, she said.
"In my mind I thought he was dead the whole time," Carole said. "I'd compartmentalized it. But to find out … he's been in Sacramento, where all my family lives … it's unbelievable. How can he have just been here?"
Throughout the morning Wednesday, authorities combed through DeAngelo's home, a wood and brick-trim structure with a "Beware of dog" sign on the fence. A crush of police vehicles and media filled the quiet subdivision of winding roads and cul-de-sacs.
Area residents said they were familiar with the story of the Golden State Killer and were shocked to learn that the suspect had lived among them.
"It's a little surreal," said Richelle Taylor, 42.
As he walked his dog past the police tape and evidence trucks, resident Mike Foulk, 51, eyed the spectacle. "It's got to be a little heartbreaking and shocking for the people who [live across the street]," he said. "They'll probably never look at the house the same way again."
Jack Haddad, 51, and wife Hala Doumat, 35, live within view of DeAngelo 's driveway. Neither knew him, but Doumat said she regularly walks by his house with her three kids.
The couple said they had recently watched a documentary on the Golden State Killer. "I knew there was a $50,000 reward," Haddad said.
He said he was shocked it had taken so long to solve the case.
"I have mixed feelings," Haddad said about the arrest. "If something so horrific can happen so close to you, anything goes."
---
UPDATES:
5:15 p.m.: This article was updated with confirmation that the Orange County district attorney's office filed four additional murder counts against DeAngelo on Wednesday.
3:30 p.m.: This article was updated with comments from victim's daughter Jennifer Carole.
1:10 p.m.: This article was updated with victims' names and comments from Orange County Dist. Atty. Tony Rackauckas and Bruce Harrington.
12:40 p.m.: This article was updated with comments from Sacramento County Dist. Atty. Anne Marie Schubert and Sacramento resident Mike Foulk.
12:05 p.m.: This article was updated with additional details on the suspect and his Citrus Heights neighborhood.
11:15 a.m.: This article was updated with new details on the suspect and comments from neighbors Jack Haddad and Hala Doumat.
10:55 a.m.: This article was updated with details on the suspect's apprehension.
10 a.m.: This article was updated with details on McNamara's book.
9:45 p.m.: This article was updated with details on the noon news conference and police activity in Citrus Heights.
This article was originally published at 9:05 a.m.
The stories shaping California
Get up to speed with our Essential California newsletter, sent six days a week.
You may occasionally receive promotional content from the Los Angeles Times.