Gov. Brown proposes sharp increase in earthquake fault mapping budget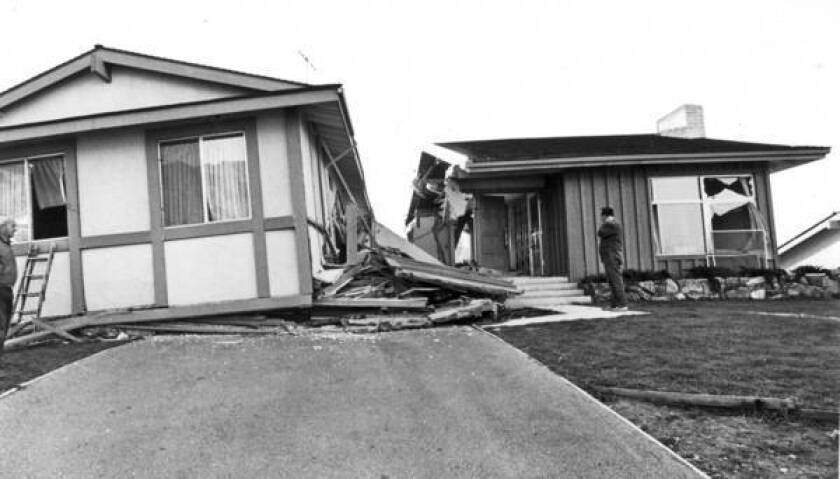 Gov. Jerry Brown is proposing a sharp increase in the state budget to map earthquake faults in California, after months of reports about how the state's effort has been hobbled by budget cuts over the last two decades.
Brown is seeking enough money from lawmakers to increase the number of scientists who find earthquake faults from one to four -- a staffing number not seen in 20 years.
Brown's plan calls for $1.49 million in new funding specifically for fault mapping for the next fiscal year. It also asks for $1.3 million in annual dedicated funding, which would be paid for with increased building permit fees.
The slow pace of mapping affects public safety. State law bans new construction on top of fissures because previous quakes have shown that buildings can be severely damaged during violent shaking.
Because the state has not finished placing zones around about 2,000 miles of earthquake faults, many communities across the state have had limited information about the seismic risks of new development. Among them are the San Diego Bay area, the San Gabriel Valley, Hollywood and Los Angeles' Westside.
Officials at the California Geological Survey said the proposal, if it passes the Legislature, is a significant boost to mapping efforts, which would allow developers and cities to know where dangerous earthquake faults are located. State lawmakers in 1972 banned construction of buildings astride faults, which can rip a building's foundation in half during an earthquake.
But the law cannot be enforced unless the state completes the maps. Budget cuts beginning in the 1990s virtually suspended the mapping program.
The mapping program "is a very valuable program for California's public safety. Anything that helps promote that is good in our eyes," said Tim McCrink, the head of the state's Alquist-Priolo Earthquake Fault Zoning Act program.
The Los Angeles Times has previously reported about how the state's efforts to map active earthquake faults had slowed to a crawl, with many dangerous faults still undocumented. The state in the first two decades of the law generated more than 500 fault maps, but has only drawn about 20 in the last two decades.
About 300 more maps need to be drawn.
The increase in funding came after the state geologist accelerated completion of the Hollywood fault map amid controversy over the Los Angeles City Council approving a skyscraper development on or near the fault. The state geologist released a draft map Wednesday, showing the fault line going through three prominent developments in Hollywood -- the proposed Millennium Hollywood skyscraper project, the Blvd6200 development and a planned apartment complex on Yucca Street.
State lawmakers have previously called for a boost in funding so the mapping can continue. In a letter last week to the state Senate president, Sen. Ted W. Lieu (D-Torrance) said that the state's budget situation has improved significantly in the last few years and fault mapping should fully funded immediately.
"It boggles my mind," Lieu said in an interview. "Every day across California, local planning departments are making decisions, and we need to make sure that no future buildings are going to be built on fault lines simply because a map wasn't updated."
Lieu's remarks came after The Times last month reported that more than a dozen buildings were approved for construction on or near the Hollywood and Santa Monica faults over the last decade without the rigorous studies that would have been required had the state zoned the two faults. Both faults are well known and capable of producing disastrous earthquakes.
The state geologist's budget has dropped from $9.1 million in 2001 to $2.9 million for the current fiscal year.
Brown's budget proposes that the increased mapping be funded for the long term by increasing fees on building permits. Currently, fees are set at $10 per $100,000 for residential construction, and $21 per $100,000 of other construction. Officials propose increasing those fees by 30%.
ALSO:
Map: The Hollywood fault and proposed developments
California's funds for mapping earthquake faults running out
New state fault maps show higher earthquake risks in Hollywood
Twitter: @ronlin | @RosannaXia
---
Get breaking news, investigations, analysis and more signature journalism from the Los Angeles Times in your inbox.
You may occasionally receive promotional content from the Los Angeles Times.