Ex-TSA worker accused in LAX threats is indicted by grand jury
A former Transportation Security Administration screener suspected of making threats to terminals at Los Angeles International Airport was arrested just before midnight while sitting in a van that was parked at the Harvest Church, at Urban Street and Arlington Avenue in Riverside. FBI and Riverside police investigators gather evidence from the van and around it on Wednesday morning.
(Irfan Khan / Los Angeles Times)
FBI and Riverside police investigators gather evidence from the van.
(Irfan Khan / Los Angeles Times)
An investigator holds up evidence gathered from van.
(Irfan Khan / Los Angeles Times)
A cross found inside the van is carried away from the scene.
(Irfan Khan / Los Angeles Times)
Nna Alpha Onuoha, 29, was taken into custody in Riverside before midnight after he allegedly made threats against LAX terminals earlier in the day following his resignation from his post as a screener with the Transporation Security Administration.
(Irfan Khan / Los Angeles Times)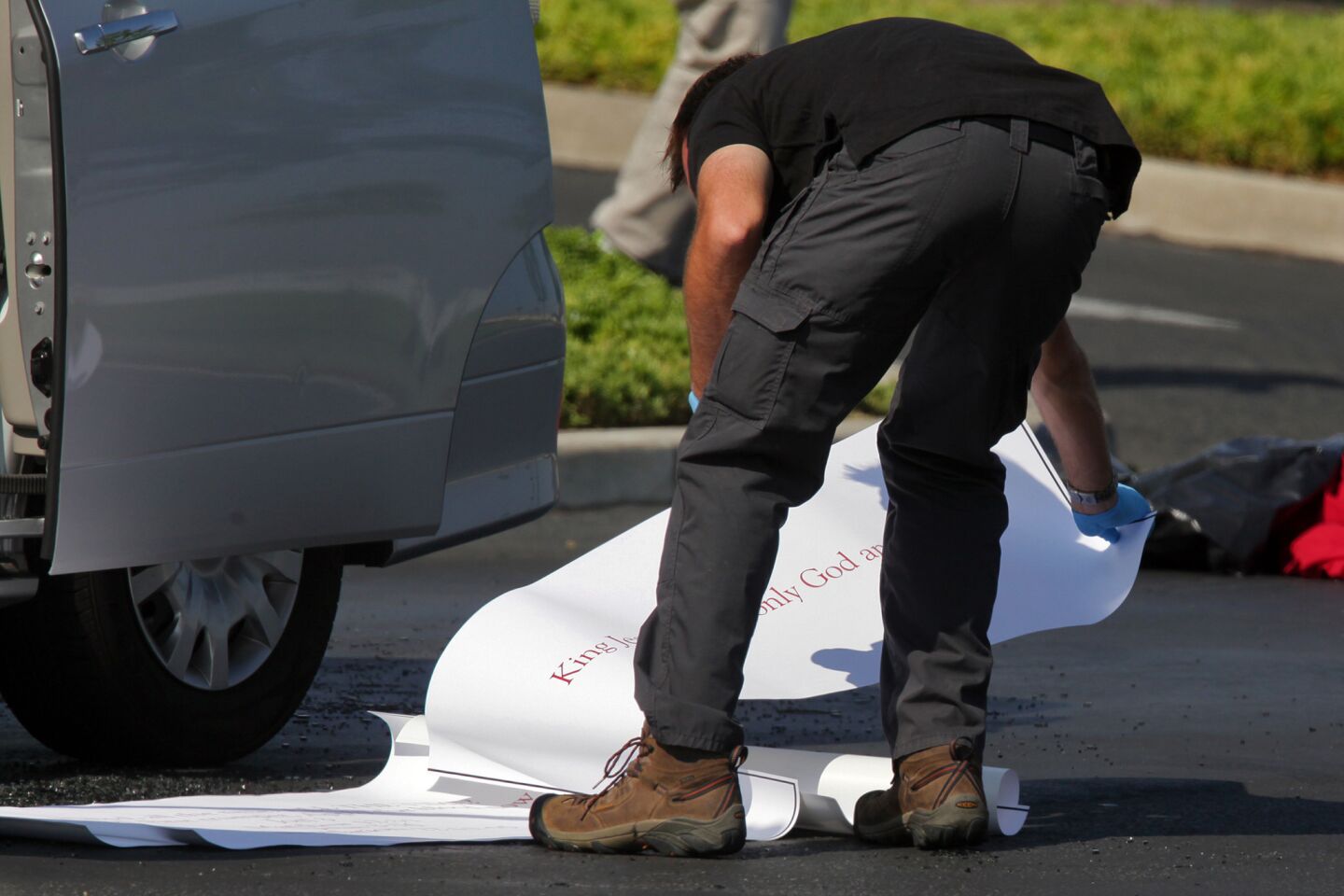 An investigator looks at evidence found inside the van.
(Irfan Khan / Los Angeles Times)
Leads on Onuoha's whereabouts led authorities to Harvest Christian Fellowship Church in Riverside, where Riverside police and members of the Joint Terrorism Task Force arrested him.
(Irfan Khan / Los Angeles Times)
A grand jury has indicted an ex-Transportation Security Administration screener on six federal charges after he allegedly made a series of 9/11-related threats against Los Angeles International Airport, court documents show.
The indictment, issued Friday, alleges that Nna Alpha Onuoha, 29, intentionally conveyed false information and made threats against the airport after resigning from his TSA job Sept. 10. He was arrested later that day and remains in federal custody.
Onuoha was charged the day after his arrest, but the grand jury's indictment clears the way for his trial. Last week, a judge deemed him a flight risk and ordered him held without bail. Onuoha did not enter a plea.
PHOTOS: Ex-TSA worker arrested
The multiagency search for the Nigerian-born, naturalized U.S. citizen unfolded the morning of Sept. 10 after he resigned from his TSA job and allegedly left behind a trail of threats depicted in phone calls, suspicious packages and rambling letters.
According to a federal affidavit, Onuoha returned to LAX about four hours after he resigned, leaving behind a package containing an eight-page letter about his complaints over a June incident that led to his suspension.
Onuoha then allegedly made three calls to airport officials, warning that the "TSA was running out of time" and the "entire airport" should be evacuated immediately.
Authorities went to the Onuoha's Inglewood apartment -- where the former National Guard infantryman lived in a complex for military veterans -- but found no sign of him. Onuoha was gone, along with his belongings, authorities said.
The only thing left behind, according to the affidavit, was a handwritten note in his closet, reading: "09/11/2013 THERE WILL BE FIRE! FEAR! FEAR! FEAR!"
The search for Onuoha ended when a security guard spotted the suspect sleeping in a van parked at Harvest Christian Fellowship in Riverside. He was arrested by a Riverside Police Department SWAT team without incident, "oblivious" to the search, Lt. Guy Toussaint said.
When Onuoha was arrested, he told authorities his intentions weren't a call to violence, according to the affidavit. Instead, he said, he planned to start "preaching in the streets."
Authorities also unearthed several online letters signed by Onuoha that included anti-American statements, references to the "end of the world" and a promise to deliver a "real message" on the 12th anniversary of the 9/11 terrorist attacks.
The letters also mentioned the June incident that led to Onuoha's weeklong suspension a month later.
Onuoha, who had worked for the TSA since 2006, was suspended from July 21 to July 27 for criticizing a 15-year-old girl's choice of clothes, telling her to "cover up," according to the federal affidavit. The encounter was highly publicized after the girl's father -- BoingBoing blog founder Mark Frauenfelder -- wrote about the incident.
Additional court documents filed last week included religious-themed farewell letters Onuoha allegedly sent to acquaintances. The filing also included a Sept. 11 email between authorities stating that Onuoha had contacted Frauenfelder by email.
"Mr. Frauenfelder and his family are in fear for their safety," the email between authorities read, "because as Mr. Frauenfalder [sic] stated, 'if he can get my email, he can get my address.'"
ALSO:
Weekend mayhem leaves 10 dead across L.A. County

Freak accident kills 7-year-old girl at Santa Fe Springs car show
Vin Scully says no thanks to mayor's idea of naming street after him
Twitter: @katemather | Google+
kate.mather@latimes.com
---
Life is stressful. Our weekly mental wellness newsletter can help.
You may occasionally receive promotional content from the Los Angeles Times.