'Grim Sleeper' serial killings trial delayed again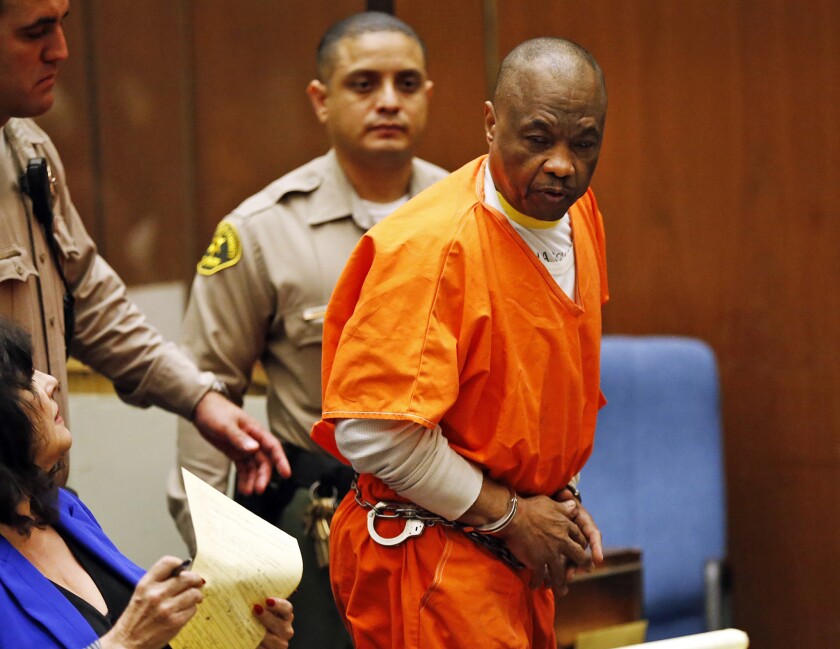 A Los Angeles County judge on Friday again postponed the capital murder trial of the man authorities say is the so-called Grim Sleeper serial killer.
Lonnie Franklin Jr., who is charged with killing 10 women and trying to kill another in South L.A. over the course of more than two decades, is scheduled to go to trial on Dec. 15. His trial had previously been set to start Oct. 14.
Superior Court Judge Kathleen Kennedy agreed to postpone the trial to give prosecutors and their experts more time to sort through and analyze evidence that Franklin's attorneys say could implicate other men in the crimes.
Franklin's attorneys told the judge this year that an expert hired by their team had determined that DNA collected from two crime scenes linked to their client matched convicted serial killer Chester Turner.
In a motion filed this week, the defense listed more than a dozen other men as "potential biological [donors]" of DNA found at crime scenes linked to Franklin, arguing that the discovery casts "reasonable doubt" as to Franklin's guilt.
Kennedy scheduled an Oct. 20 hearing, where the defense's DNA expert will testify about his findings. The judge granted a postponement of the trial, over an objection by one of Franklin's attorneys, Seymour Amster, telling him he had "kind of put everybody in a box" by turning over "last-minute evidence."
Amster said he and his team of attorneys and experts had completed a "herculean" task of sorting through voluminous, decades-old evidence.
At one point, Kennedy told Amster that she felt mislead by the way the defense brought up the DNA evidence so soon before trial.
"You're looking into my eyes and lying," she said.
Amster said he hadn't misled the judge.
Though Franklin is accused of killing 10 women over a span of more than two decades beginning in 1985, investigators have said they believe he is responsible for more killings. Many of the victims were found along a corridor in South L.A., and prosecutors contend that a combination of DNA and ballistics evidence links Franklin to the crimes.
For the victims' families, Friday's hearing felt frustratingly familiar. Franklin was charged in 2010, and the case has seen repeated delays. When the judge announced the latest postponement, some relatives of victims sighed. One man mumbled: "Here we go again."
After the hearing, Amster said he planned to file documents asking an appeals court to reverse Kennedy's decision to grant the motion to delay the trial.
ALSO:
7 1/2-foot camel, fixture in Agua Dulce community, killed by driver
Deputy shoots at wrong-way driver from helicopter on northbound 215
For more news from the Los Angeles County criminal courts, follow @marisagerber
---
The perils of parenting through a pandemic
What's going on with school? What do kids need? Get 8 to 3, a newsletter dedicated to the questions that keep California families up at night.
You may occasionally receive promotional content from the Los Angeles Times.