Alleged hacker who FBI says was behind bogus threats to LAX and Southern California schools is arrested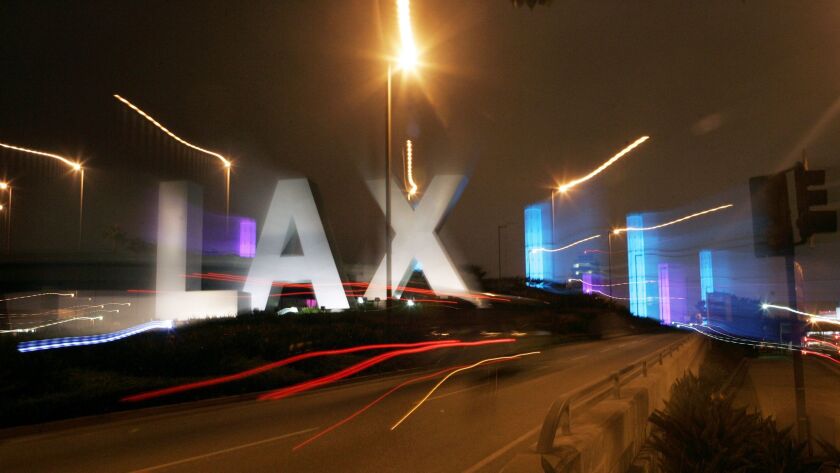 A 20-year-old North Carolina man who federal authorities say is part of a hacker collective was arrested Tuesday and charged with threatening Southern California schools and Los Angeles International Airport.
Authorities said Timothy Dalton Vaughn, of Winston-Salem, N.C., and George Duke-Cohan, 19, of Hertfordshire, Britain, are part of a worldwide collective of computer hackers dubbed the Apophis Squad.
The two are accused of orchestrating threatening phone calls, sending false reports of violent school attacks via email and launching distributed denial-of-service attacks on websites — including that of a Long Beach business — during the first eight months of 2018, according to a federal indictment unsealed Tuesday.
Vaughn was taken into custody by FBI agents. Duke-Cohan is currently serving a prison sentence in Britain for making a hoax threat in August that targeted an airliner heading to San Francisco International Airport, according to the U.S. attorney's office.
In that incident, Duke-Cohan, with help from Vaughn, called the San Francisco airport claiming to be the father of a passenger aboard a United Airlines flight en route from London. He said the plane had been hijacked by four men with weapons and explosives, the indictment states.
The indictment also alleges that Vaughn hacked into the website of Hoonigan Industries, a Long Beach-based motorsports company, launching a denial-of-service attack in January 2018 that shut down the firm's computer network for three days by flooding it with large amounts of data.
Later that month, Duke-Cohan called the FBI's field office in Omaha and threatened to rape and kill the wife of an FBI operator who answered the phone. A few hours later, he again called the FBI in Omaha and said he was going to set off a pipe bomb at LAX on July 4, 2018, according to the indictment.
In April, Duke-Cohan and other members of the Apophis Squad sent emails to several school districts in the United States — including ones in El Segundo, Redlands, Tustin, Garden Grove, Mission Viejo, Santa Ana, Riverside, Chino and Lompoc — threatening that a bullied student was coming to school with three bombs and a .22-caliber handgun to shoot students and staff, according to the indictment.
A few days later, Vaughn and Duke-Cohan sent more emails to school districts in the United States and Britain, including ones in Burbank, Anaheim, Huntington Beach, La Habra, Fullerton, Riverside and Santa Maria, showing a photo of a bomb and threatening that a student would set off two devices at the schools, court documents say.
In both cases, the hackers sent the threats from email addresses that appeared to belong to companies that host Minecraft video game servers. The two sent another pair of threatening emails to school districts in May and June, according to the indictment.
Vaughn and Duke-Cohan are charged with conspiracy and eight additional felonies, including making interstate threats involving explosives. Vaughn is also charged with intentionally damaging a computer and making an interstate threat to damage a protected computer with intent to extort.
If convicted, Vaughn and Duke-Cohan face a maximum sentence of 80 years and 65 years in federal prison, respectively.
Twitter: @jpanzar
---
The stories shaping California
Get up to speed with our Essential California newsletter, sent six days a week.
You may occasionally receive promotional content from the Los Angeles Times.