Hannah Anderson 'a victim in every sense,' sheriff says
Phillip Garrido enters a courtroom in Placerville, Calif. Phillip Garrido was sentenced to 431 years in prison for Jaycee Dugard's abduction.
(Rich Pedroncelli / Associated Press)
A tent in the backyard of a home in Antioch, Calif., where authorities say kidnap victim Jaycee Lee Dugard lived.
(Paul Sakuma / Associated Press)
Elizabeth Smart addresses the media outside a federal courthouse following the guilty verdict in the Brian David Mitchell trail in Salt Lake City. Mitchell was found guilty in the June 5, 2002, kidnapping of Elizabeth Smart.
(Colin E. Braley / Associated Press)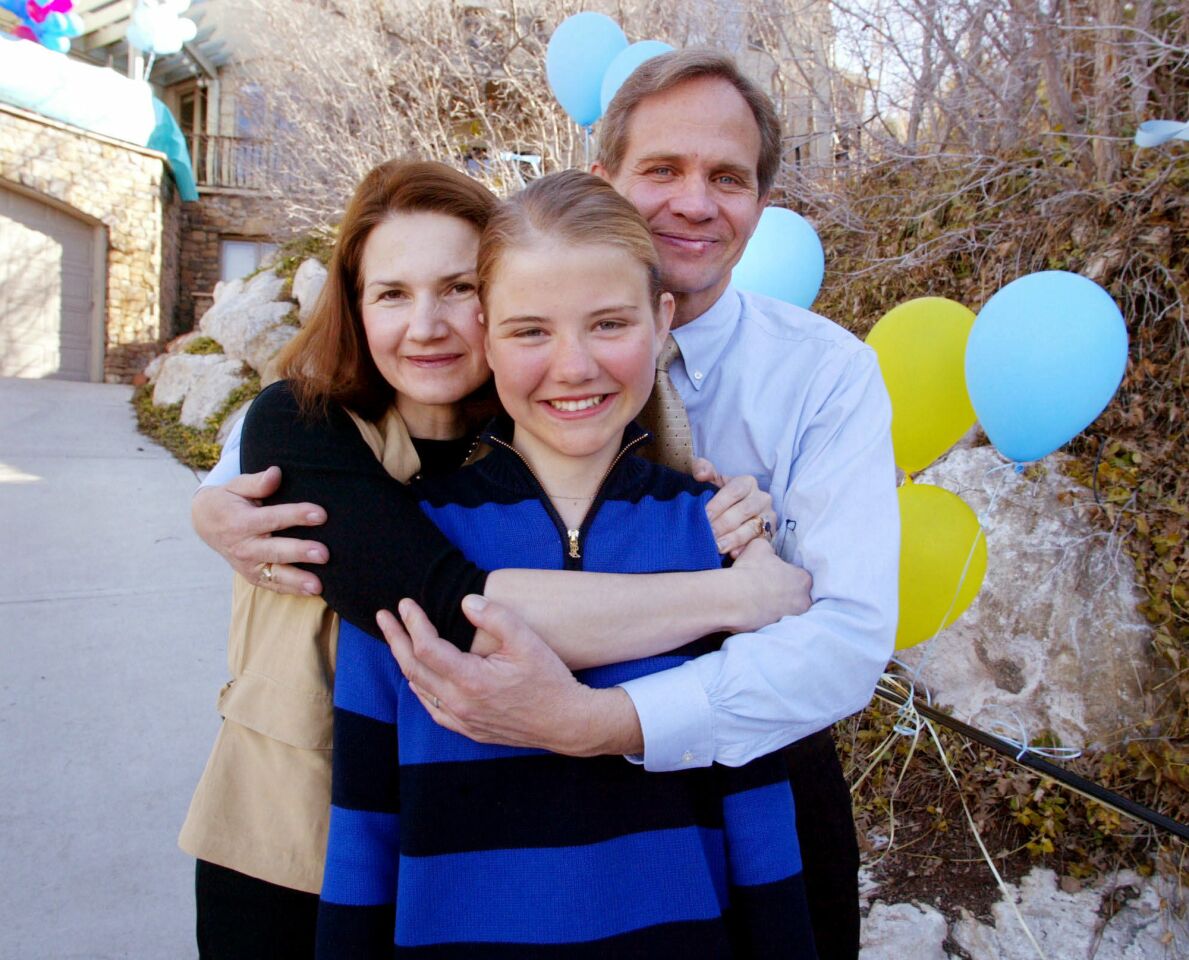 Elizabeth Smart poses with her parents, Lois and Ed, outside their home in 2003. Smart was abducted from her Salt Lake City bedroom in 2002
(Tom Smart / Associated Press)
Brian David Mitchell, Elizabeth Smart's kidnapper, is escorted into the Frank E. Moss Federal Courthouse in Salt Lake City in 2010.
(Jim Urquhart / Associated Press)
Katie Beers, whose kidnapping attracted nationwide headlines in 1992, poses for a photo in Old Westbury, N.Y. The 30-year-old mother of two co-wrote a new book about her ordeal.
(Frank Eltman / Associated Press)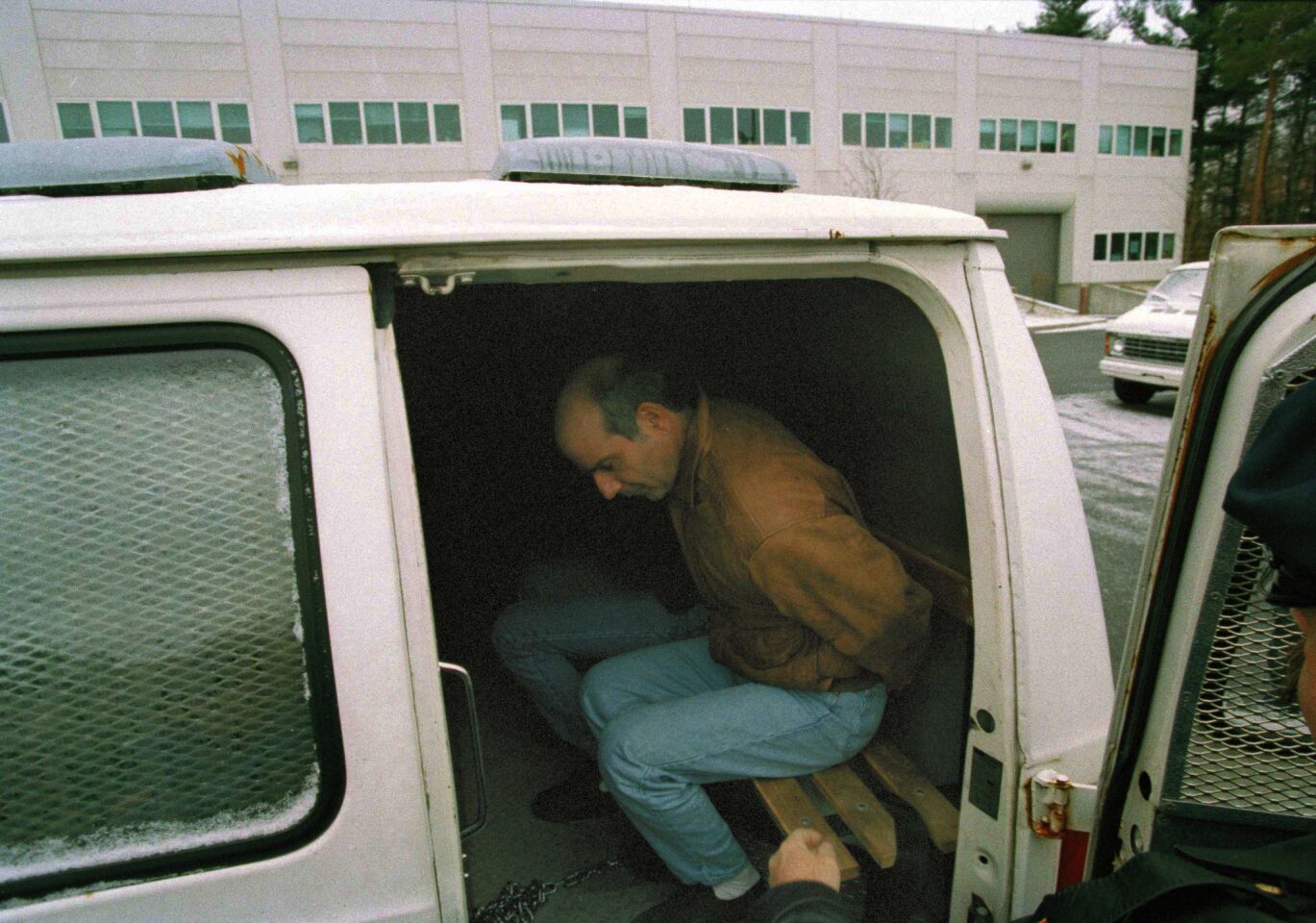 John Esposito sits handcuffed in a van in Hauppauge, N.Y., as he is about to be taken to court for arraignment on charges of kidnapping Katie Beers.
(Michael Albans / Associated Press)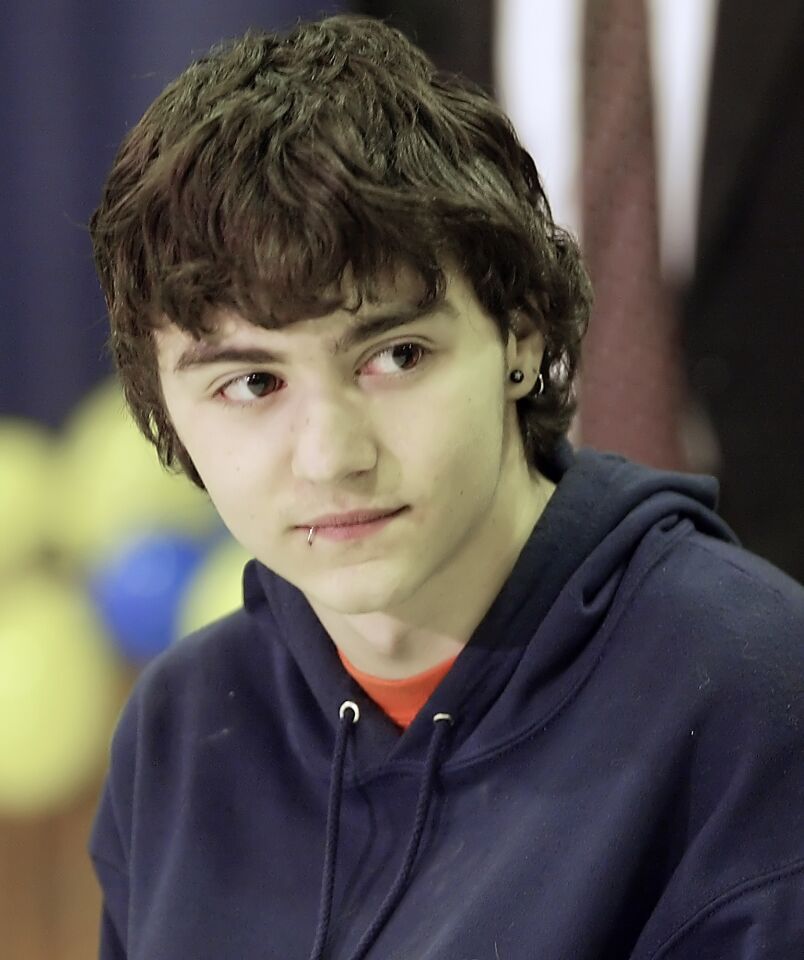 Shawn Hornbeck, 15, watches as his parents Craig and Pam Akers talk to the media in Richwoods, Mo. Shawn, who was missing since Oct. 2002, was recovered in 2007 with another missing boy.
(Tom Gannam / Associated Press)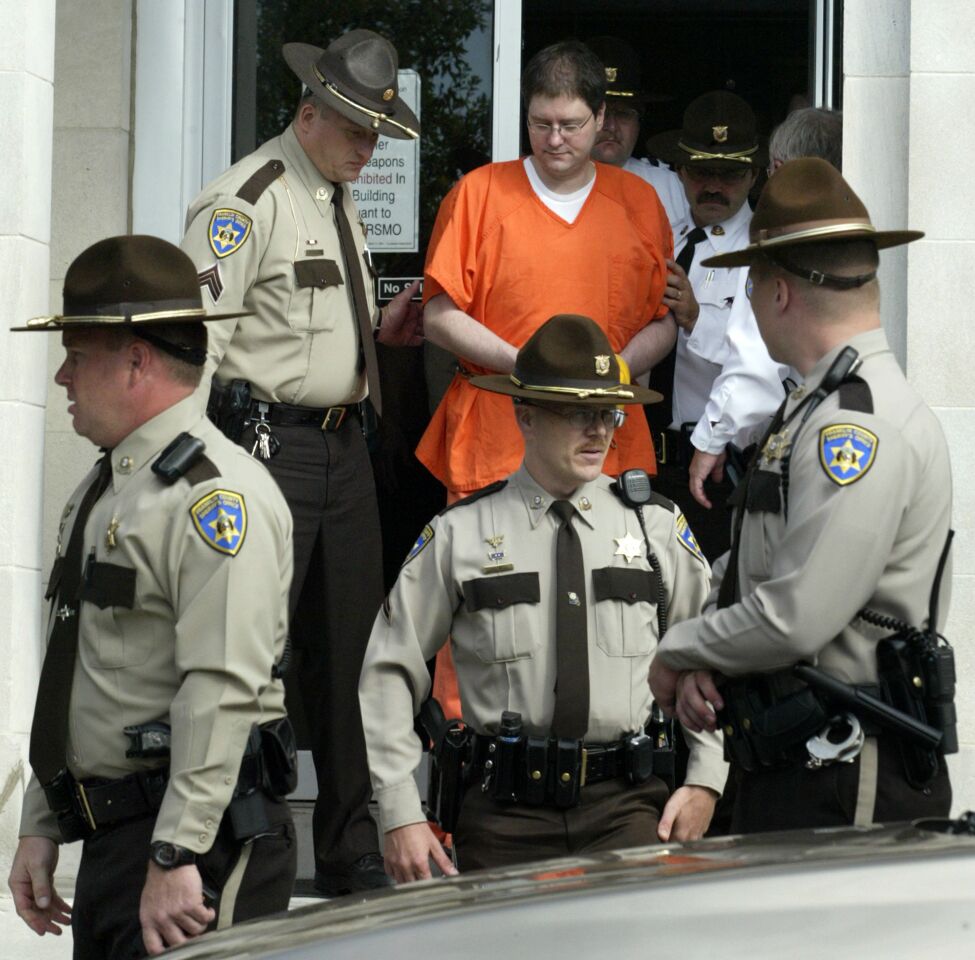 Michael Devlin is escorted out of the Franklin County Courthouse in Union, Mo. Devlin pleaded guilty in Franklin County to one charge of child kidnapping and one count of armed criminal action in the 2007 abduction of 13-year-old William "Ben" Ownby.
(Tom Gannam / Associated Press)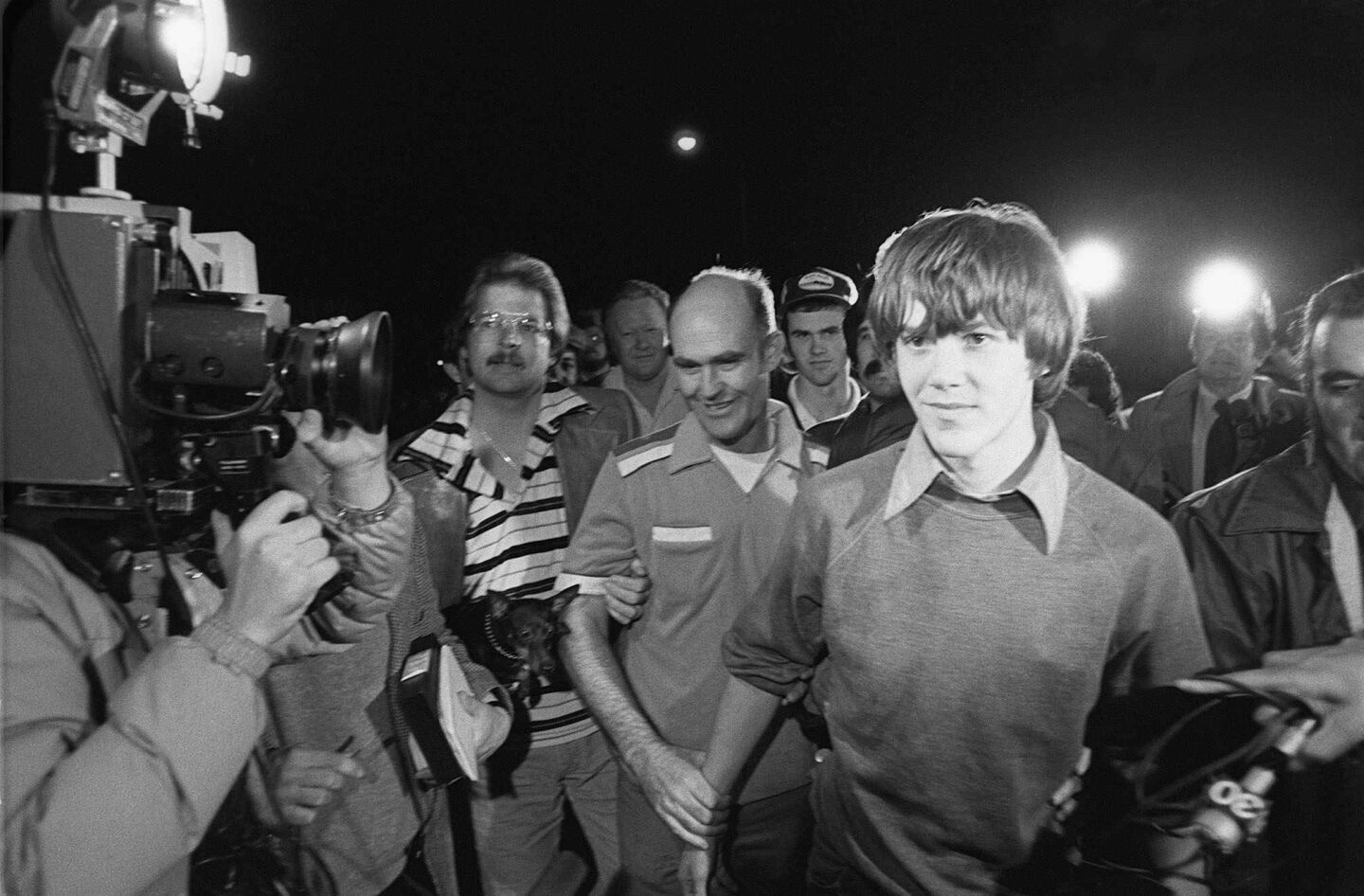 Steven Stayner, right, and and his brother Delbert Stayner walk toward their Merced County home as Steven was reunited with his family following a 7-year kidnap ordeal.
(Ted Benson / Associated Press)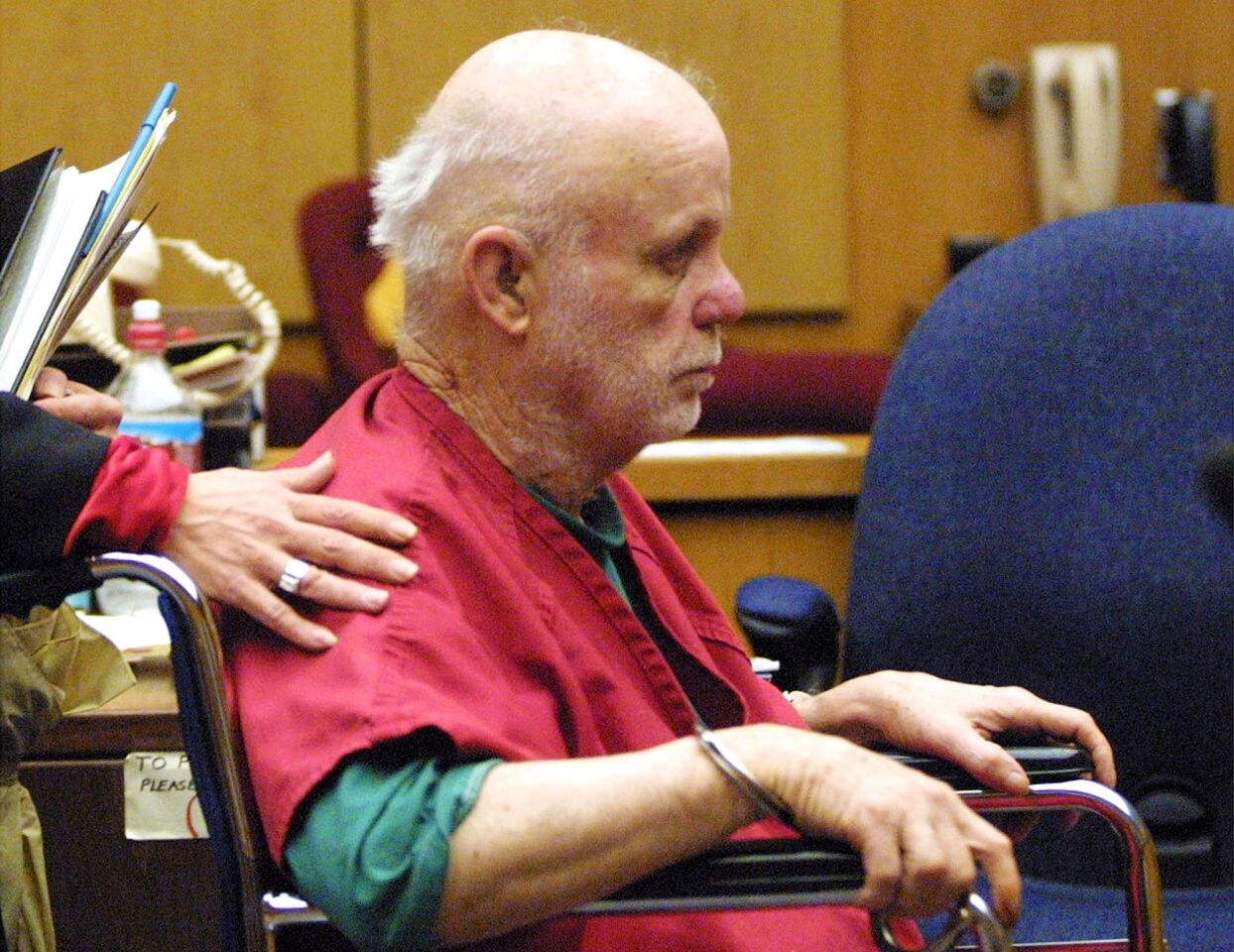 Convicted kidnapper Kenneth Eugene Parnell during a court appearance in Oakland in 2003. Parnell was convicted in the kidnappings of Steven Stayner in 1972 and Timothy White in 1980.
(Nick Lammers / Associated Press)
SAN DIEGO -- Law enforcement interviews with 16-year-old Hannah Anderson made it "very clear" that she is "a victim in every sense of the word," San Diego County Sheriff Bill Gore said.
The girl is "doing as well as can be expected" for someone who was kidnapped and held for days against her will "from the time she left Boulevard to the time she was recovered in Lake Morehead," Idaho, Gore said.
The girl only learned that James Lee DiMaggio, killed Saturday by law enforcement, is believed to have slain her mother and 8-year-old brother after Hannah was rescued and recovering in the hospital, Gore said.
"Everybody, the FBI, our investigators, everybody are convinced that there is no way she was anything but the worst kind of victim in this," Gore said in an interview with The Times.
Gore also spoke at a press conference Monday afternoon alongside Hannah's father and FBI officials.
Brett Anderson thanked the public and media for their vigilance during the six days Hannah was missing. He also thanked the four horseback riders who spotted Hannah and DiMaggio in the Idaho wilderness, which ultimately became the key tip that helped crack the case.
"Without you, who knows how long this would have gone on," he said.
He then asked the media to give the family time to grieve and move on with the healing process.
"As for my daughter, the healing process will be slow. She has been through a tremendous, horrific ordeal," he said.
Hannah has returned to San Diego County with family and is undergoing counseling, Gore said.
Gore declined to reveal many more details of her abduction, saying only that it was "under extreme duress." He told The Times there were "extensive threats" and a weapon.
He also did not elaborate on earlier statements from authorities, who said they believe DiMaggio's crime spree was planned.
Gore said only that he does not believe it was "spur of the moment."
In an interview, Gore said he believes DiMaggio shielded Hannah from the killings of her mother and brother by keeping her in one area of the property where she couldn't see everything.
DiMaggio's death ended a tense, multi-state manhunt that began Aug. 4, when firefighters found the bodies of Hannah's mother and younger brother at DiMaggio's burning home in the community of Boulevard, east of San Diego.
The girl's disappearance prompted missing-child Amber Alert text messages to the public in several Western states. It was the first time in California that a statewide Amber Alert was sent by text messages to almost all cellphone users.
FBI officials said they are continuing to investigate the circumstances surrounding the fatal shooting of DiMaggio in Idaho. DiMaggio fired at least once, although they declined to say whether he fired the first shot.
Gore said investigators may never know what prompted DiMaggio's alleged crimes.
"Frequently when these terrible acts occur, these horrible crimes, with the subject dead, you just can't come up with a motive," Gore said. "Everybody wants a rational explanation for an irrational act, but you just can't find one."
ALSO:
Los Angeles fire captain dies after collapsing on duty
Hannah Anderson case cracked by 'one chance in a trillion' sighting
Modern-day slave owner' sentenced for human trafficking in O.C.
kate.mather@latimes.com
---
The stories shaping California
Get up to speed with our Essential California newsletter, sent six days a week.
You may occasionally receive promotional content from the Los Angeles Times.