Damaged by storms, a major highway to Idyllwild is closed for the summer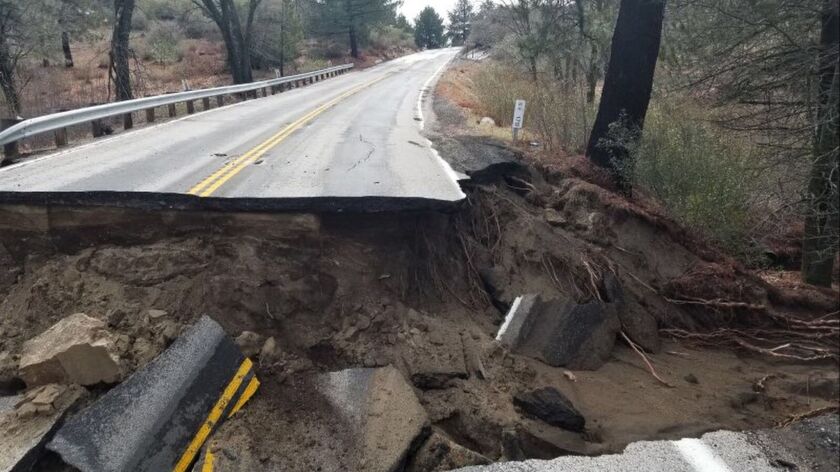 As summer tourism ramps up, a scenic highway into Idyllwild will remain shut down.
Highway 243, which leads into the popular Southern California vacation spot in the San Jacinto Mountains, is closed for the next several months as crews repair lanes that collapsed under catastrophic rains. Portions of the mountaintop highway — more than 100 spots in all — are in need of repairs.
It's unclear when the closure, which extends from Round Robin Drive to Skyland Ranch Road, will end, but the Press-Enterprise reported that the road would remain closed all summer and well into fall — and maybe until next year.
California Department of Transportation crews have been working on the emergency repairs for Highways 243 and 74, both severely damaged in an initial storm that hit on Valentine's Day. The lingering rainy season has slowed progress on the repairs, officials said.
Mike Beauchamp, director of Caltrans District 8, said in a recent video the project was progressing smoothly now that the wet winter weather had come to an end.
"Our immediate goal is to strategically complete repairs that require the full daytime closures in an effort to soon allow 24/7 access to motorists."
Caltrans spokesman Shane Massoud said in the video that continued rainfall caused erosion in areas where repairs had already been completed.
"As you can see, this emergency work has experienced its set of challenges with Mother Nature," Massoud said. "Caltrans understands that these setbacks have impacted tourism in the area."
The Idyllwild Town Crier, the unincorporated town's independent community newspaper, reported that residents' frustration with the slowed repairs were raised at a June 13 meeting with officials.
Riverside County District 3 Supervisor Chuck Washington reportedly said at the meeting that the county understood residents' concerns, particularly about the risks affecting the tourism economy. To help mitigate losses, Caltrans is working with an advertising firm to add digital billboards promoting Idyllwild along the 15 Freeway, the news outlet reported.
Highway 74 is open with escorts from 4 a.m. to 8 a.m. and from 6 p.m. to midnight on weekdays. It is open with escorts from 4 a.m. to midnight on Saturday and Sunday.
Caltrans officials also said in a release Wednesday that, heading into the extended Fourth of July holiday weekend, the highway would be open longer hours, from 4 a.m. to midnight July 4-7.
Officials said at a news conference earlier this month that the escort system was expected to be available full time, allowing 24/7 passage, starting in September.
After the storm, a $30-million emergency contract was established between Caltrans and Ames Construction to replace storm drains, rebuild slopes and roadbeds, repave roads and reinstall guardrails and signage, officials said.
John Matich, a manager on the project with Ames Construction, said that as of mid-June a combined 44,000 hours had been invested in the project, with an average of 40 to 50 workers each day.
FROM OUR ARCHIVES: We profiled a family's Idyllwild cabin just before the fires. What happened to them? »
---
For reporting and exclusive analysis from bureau chief John Myers, get our California Politics newsletter.
You may occasionally receive promotional content from the Los Angeles Times.