L.A. lawmakers tentatively back proposals to ease the way for housing homeless people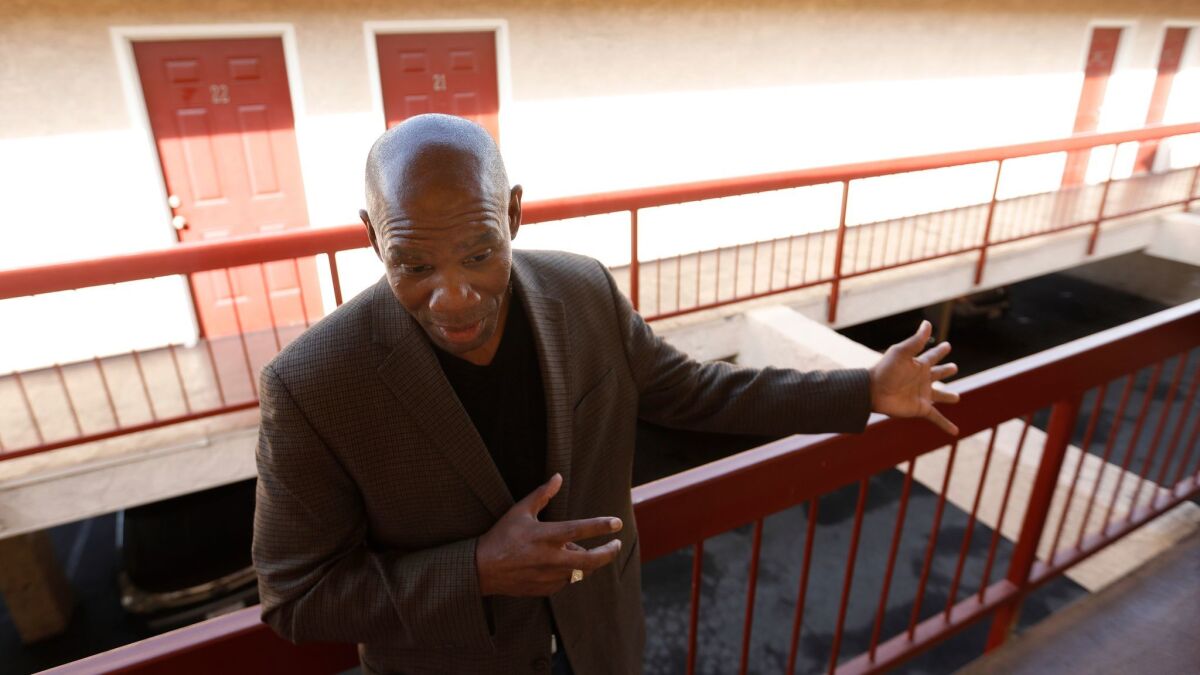 Los Angeles lawmakers tentatively backed a pair of proposed ordinances Tuesday that are meant to get homeless people into housing more quickly.
A City Council committee decided to move forward with the two proposals, which would make it easier to build permanent supportive housing and to temporarily turn motels into housing for homeless people.
City lawyers will now vet both proposals and bring them back to the committee for at least one more vote before they go on to the entire council for approval.
"This is what we have to do in order to make progress on combating homelessness," City Councilman Bob Blumenfield said at Tuesday's hearing.
One of the proposed laws would allow homeless housing projects to avoid a lengthy process that includes environmental review and can trigger a public hearing, as long as they meet a list of city requirements. It would also allow such housing to be built taller or denser than otherwise allowed and cut back on parking requirements.
Housing advocates say the law would help the city build 10,000 units for homeless residents in a decade by encouraging bigger buildings and speeding up the approval process.
Eric Ares, a deputy director of the Los Angeles Community Action Network, told lawmakers that it would help the city deliver what voters wanted when they overwhelmingly passed a $1.2-billion bond measure to fund homeless housing construction.
The current process is "far too long and expensive, especially given the overwhelming need and demand for us to build faster and bring homes online," said Iisha Jones of Venice Community Housing, a nonprofit that owns and manages affordable housing. "The ordinance can change that."
Critics argue that the city is stripping important protections for neighbors. Christian Wrede, one of the founding members of the community group Venice Vision, said in an interview that it was "grotesquely unfair and profoundly undemocratic" to eliminate environmental review and public hearings.
"I get that we have a crisis here," said Angela McGregor, a member of the Oxford Triangle Assn., a neighborhood group in Venice. "But I think that we need to take a step back and realize that these regulations existed for pretty good reasons. Just because we're having a crisis doesn't mean that those reasons go away."
The other law would ease the way for motels to be converted temporarily into housing. To participate, motel owners would have to show that they had struck an agreement to lease out their building for homeless tenants. Homeless advocates have praised the proposal as an efficient way to get people off the streets while new housing is under construction.
But some have raised concerns about whether converting motels will end up concentrating homeless housing in some areas of the city. In a letter, Councilwoman Nury Martinez raised questions about the proposal, cautioning that if it is not crafted well, it could have "unintended impacts" on both tenants and the surrounding neighborhoods.
Martinez suggested that the city require a letter from the local council member when a motel is being temporarily converted into homeless housing.
Council members already have similar leverage over permanent supportive housing projects because developers need such a letter before they can obtain funds from the housing department.
At the Tuesday meeting, Councilman Jose Huizar asked city staffers to come back with a report addressing her concerns but did not direct city attorneys to alter the motel proposal.
"We want to get this started," Huizar said, urging city lawyers to act quickly.
L.A. politicians face growing pressure to relieve the homelessness crisis as tens of thousands of people bed down on city streets, in canyons and in cars.
Earlier Tuesday, the City Council voted to authorize $2 million for the construction and operation of temporary trailers that will house homeless people on a city-owned parking lot at Arcadia and Alameda streets. A separate council vote on the overall proposal is expected in the coming weeks.
Huizar has also called for "emergency shelter and crisis housing options" for skid row, including repurposing city properties to provide temporary shelter.
Times staff writer Dakota Smith contributed to this report.
Twitter: @AlpertReyes
---
The stories shaping California
Get up to speed with our Essential California newsletter, sent six days a week.
You may occasionally receive promotional content from the Los Angeles Times.