L.A. County to test new efforts to assist people living in vehicles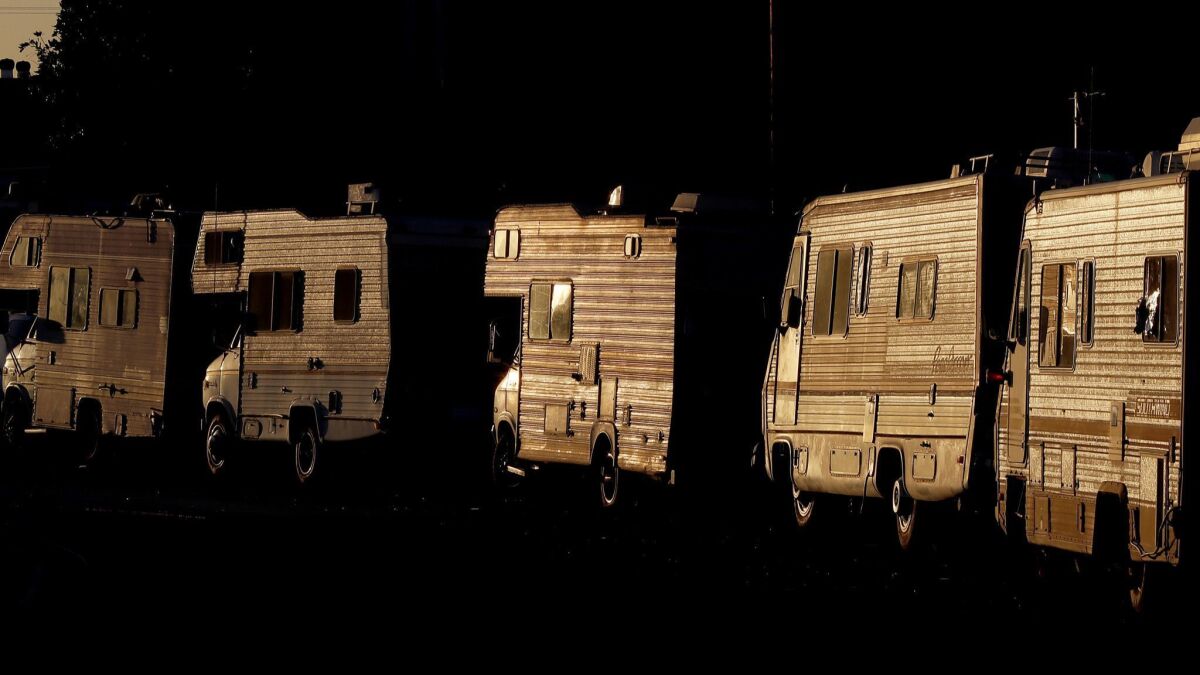 The L.A. County Board of Supervisors voted unanimously Tuesday to create a pilot program to assist people living in vehicles and to reduce the hazards associated with vehicle dwelling.
The program will consist of outreach to people living in their cars, vans and RVs to connect them with social services, money to discourage the use and reuse of dilapidated RVs as dwellings, and a solid- and hazardous-waste collection program, including free sharps containers.
The number of vehicles being used as homes in L.A. County has risen slightly, even as the level of overall homelessness has declined. The 2018 Greater Los Angeles Homeless Count estimated that more than 9,100 vehicles are being used as residences, compared with about 8,500 in 2017.
Rates of vehicle dwelling are highest in unincorporated Palmdale. But there has been a growing concentration of vehicles, particularly RVs, in the unincorporated communities of West Rancho Dominguez, Rosewood and Willowbrook in southern L.A. County, where the new program will first be rolled out.
A June report by the Department of Public Works found that RVs are often rented on an unregulated market and can offer substandard living conditions. The RVs also pose health concerns in the form of sewage and trash dumped on roads, sidewalks and private property, the report said.
It also found that a major impediment to transitioning people out of living in substandard RVs is the fact that the campers may be impounded and then cheaply resold or rented to homeless individuals rather than dismantled or recycled.
The motion adopted by the board Tuesday would combat that cycle by setting aside $32,000 in Homeless Prevention Initiative funds to encourage people to turn in substandard or hazardous RVs and to ensure that they are dismantled or destroyed instead of returned to the street.
The motion would also direct county officials to come up with an ordinance to prevent tow-lot owners from auctioning off substandard vehicles, to curb the rental of such vehicles, and to minimize the improper dumping of waste from them.
The motion also calls on the county's attorney, Homeless Initiative director and other officials to come up with recommendations and identify funding sources to implement "safe parking" programs. These programs provide people who are living in their vehicles a safe place to park and sleep overnight.
In a separate motion also approved Tuesday, supervisors voted to continue funding law enforcement efforts to conduct outreach to homeless people.
In 2017 the board voted to create law enforcement homeless outreach services teams with money from the state's public safety realignment efforts. The Sheriff's Department was allocated $1.2 million annually for three years and the L.A. County Police Chiefs' Assn. $1 million annually for three years.
The motion allows the police chiefs' association to carry over unspent funds from the past year and directs the county's chief executive officer to research other one-time and ongoing sources of money to keep funding the teams.
Twitter: @AgrawalNina
The stories shaping California
Get up to speed with our Essential California newsletter, sent six days a week.
You may occasionally receive promotional content from the Los Angeles Times.