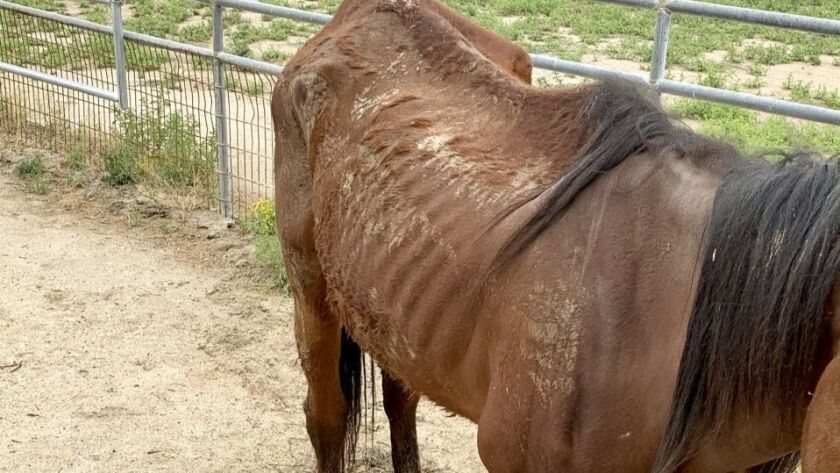 Animal control officials are considering whether to suggest criminal charges against the California Equine Retirement Foundation, which is under investigation amid accusations of starving and neglecting its horses.
The sanctuary — which provides assistance with the rehabilitation of former race and performance horses — is at the center of a review by the Ramona Humane Society, which manages animal control services in San Jacinto and Hemet in Riverside County.

The investigation follows the removal of about 40 horses from the sanctuary, as first reported by the Press-Enterprise. Some of the horses were so thin that their ribs could be seen through their skin in photographs.
The Riverside County Sheriff's Department said it met with animal control officials Tuesday to discuss whether to suggest that the district attorney's office file criminal charges against the horse organization but declined to say whether a decision was reached.
Santa Anita denies horse racing board's request to close despite two more deaths »
The humane society and the Riverside County Department of Animal Services did not respond to requests for comment.
Carrie Ard, the sanctuary's CEO, declined to comment to The Times on the investigation, but she told the Press-Enterprise the ranch has provided enough feed for the horses. Their weight loss was because of harsh weather during the winter and flooding that affected the nutrition horses were receiving from their feed, she said.
The horses that were removed from the property are now in the care of other providers, including Premier Equine Rehab in Orange and the United Pegasus Foundation in San Jacinto.
Jenny Earhart, the owner of Premier Equine Rehab, helped remove some of the horses after concerns about the animals' treatment. Earhart said she took a horse named "Aguas" to the foundation to retire on May 14 after an injury and noticed that many of the horses there were underweight.
"I knew I would go back and get [the horse] back pretty quick. … I was amazed at the number of skinny horses that were there," she said.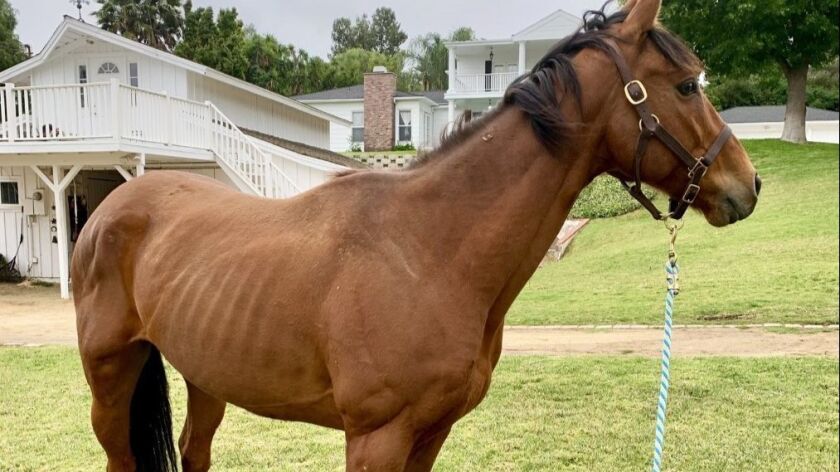 Earhart then took back her horse later that month and began calling other owners and trainers affiliated with the foundation. She shared with them her concerns that the animals were starving and needed to be removed from the California Equine Retirement Foundation's care.
When the removals began, the farm was home to about 70 horses. After the removals, which took about two weeks, Earhart said CERF now has about two dozen horses.
"Animal control isn't telling us anything, and [Ard] is denying us access to remove any other horses," Earhart said.
On its Facebook page, CERF said it has been home to more than 300 thoroughbred horses since its opening in 1986. The organization, which was founded as a nonprofit, had its charity status revoked in 2017, according to the state attorney general's website.
---