Huizar returns to City Council but stays mum on the ongoing FBI probe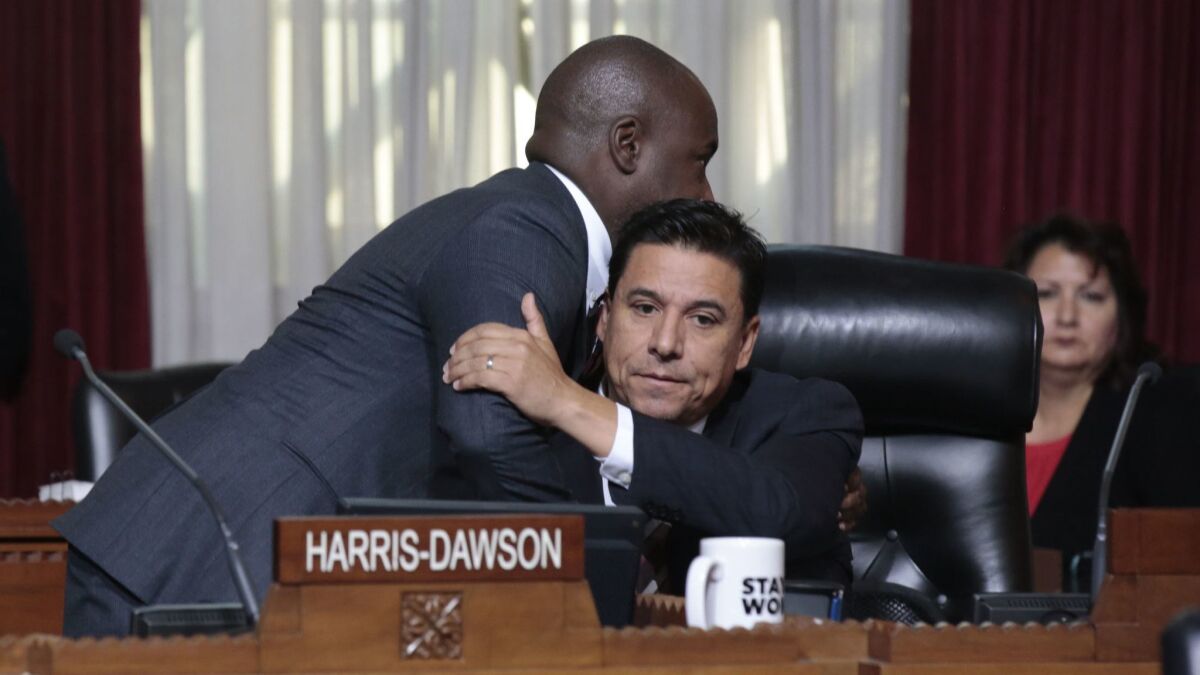 Los Angeles City Councilman Jose Huizar showed up for his first council meeting since FBI agents raided his home and office, but he declined to discuss the federal investigation that broke into the open this month.
"I'm here to do my job. I'm here to work," Huizar said when asked about the probe Tuesday as he walked down the hallway and into the council chamber.
Asked whether he felt he had done anything wrong, Huizar gave the same reply. "I'm here to do my job. I'm here to do my work," he told The Times.
Huizar's remarks, and the minor spectacle that surrounded his return to the council floor, came nearly two weeks after FBI investigators removed an array of materials from Huizar's home, including one cardboard box labeled "Fundraising." They also removed bags and boxes from his City Hall office.
The councilman, who represents neighborhoods ranging from downtown and Boyle Heights to Eagle Rock, was taken off several council committees last week, including the powerful panel that deals with planning and real estate development.
The FBI has declined to say what investigators were looking for Nov. 7, but a spokesman has confirmed that the Internal Revenue Service is involved in the investigation.
As he walked to the council floor, Huizar also declined to answer a question about whether the FBI seized his cellphone: "I'm here to do my job. I'm here to do my work," he said, followed by a chuckle.
He offered the same terse reply when asked about claims made by two former staffers — in separate lawsuits — that he engaged in an extramarital affair with an aide. He then strode onto the council floor.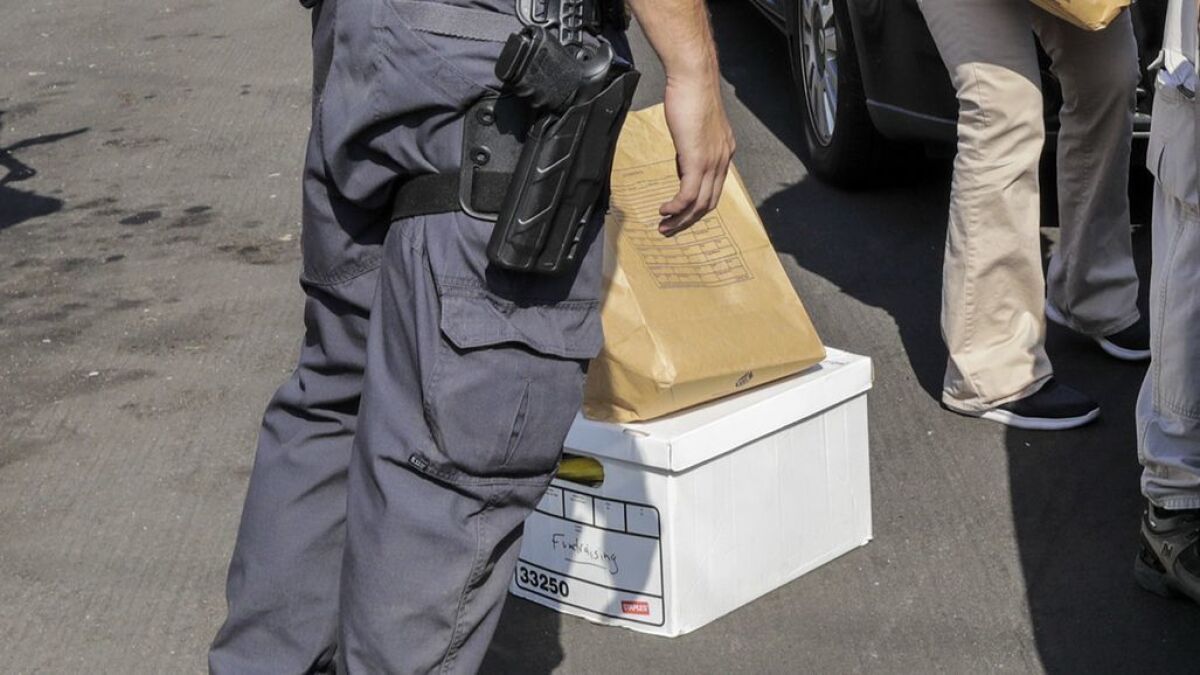 Huizar, first elected in 2005, has missed eight of 11 council meetings since the first of those two lawsuits was filed. His attorney, Stephen Kaufman, recently said the councilman would return to work this week.
That did not mean, however, that Huizar stayed on the council floor. For a few minutes, the councilman sat in his chair, sipping a hot drink from a tumbler, and gazed at a binder of materials. He occasionally picked up his smartphone to tap out a message, then put it back down.
About 10:20 a.m., Huizar got up from his chair and left the council floor. He walked into a back room and shut the door. A group of reporters gathered outside the room. Twenty minutes later he returned to the council floor.
At no point during the meeting did Huizar address his colleagues about the events of the last month. His fellow council members, in turn, did not say anything publicly about Huizar's legal situation.
"We're doing the best we can … to try to take care of the city's business," said Council President Herb Wesson after the meeting, while declining to discuss Huizar directly.
Much of Tuesday's meeting, which lasted about 90 minutes, felt like a typical day. Council members heard from the LAPD on the dangers of street racing and approved scores of new homes in the San Fernando Valley.
About an hour into the meeting, Huizar left the room again, heading into a different back room and shutting the door. This time around, he was joined by Chief Assistant City Atty. David Michaelson. Huizar later told a reporter they were discussing "documentation that needs to be provided for city business."
As the meeting came to a close, Huizar returned to the council floor and chatted briefly with Justin Wesson, an aide to, and son of, the council president. Once the meeting was over, Huizar was again peppered with questions from reporters.
"All I can say is that I'm back at work right now," he told the group. "I was elected to do this job, and I'm back at work. And I'm going to continue doing my job.
"My office," he added, "continues to provide constituents what they deserve."
Twitter: @DavidZahniser
Twitter: @AlpertReyes
---
UPDATES:
2:55 p.m.: This article was updated with additional reporting from Tuesday's council meeting.
This article was originally published at 10:55 a.m.
The stories shaping California
Get up to speed with our Essential California newsletter, sent six days a week.
You may occasionally receive promotional content from the Los Angeles Times.