Actress Alyssa Milano highlights lack of legal representation in immigration court during San Diego visit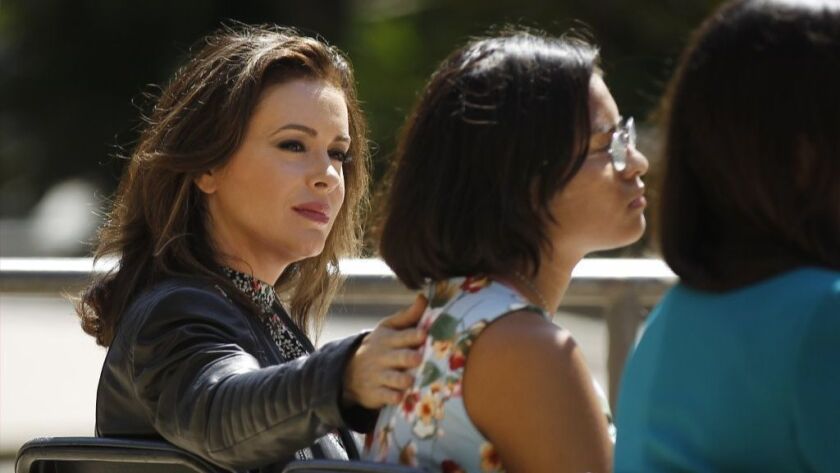 Reporting from SAN DIEGO —
Identifying herself as only Wendy B., the teenager described escaping a childhood of sexual and physical abuse at the hands of caretakers in her homeland of El Salvador, only to enter a complicated legal system in the U.S. that she could not comprehend.
She was like most in the U.S. immigration system: She could not afford legal representation, so she had none.
"I remember how scared I was when I first arrived in the United States. I remember not understanding anything," the girl said. "I remember being given documents and papers in English. People asked me to sign things, but I had no idea what they were.
"I had experienced so many terrible things already, and then I was being put into a situation that was so complicated that I felt hopeless."
Wendy described what happened next as luck. The Immigrant Defenders Law Center took on her asylum case, which is still pending. Now she is attending high school in Southern California, with dreams of becoming a neurologist. Her hope has been restored.
"There is no way I could have fought my case without a lawyer," she said. "It's impossible."
As Wendy recounted her experience Wednesday on the steps of downtown San Diego's Civic Center Plaza, she had some high-profile support behind her: actress and activist Alyssa Milano.
The two were joined by immigrant advocates to draw attention to the reality that few migrants are represented by attorneys in immigration proceedings.
Unlike the criminal legal system, which provides defense no matter the ability to pay, the civil immigration legal system does not afford that right. Numerous nonprofit organizations and pro-bono efforts work to fill the gap, but their efforts are nowhere near enough to provide representation for everyone.
Of the migrants detained at the Otay Mesa Detention Center, 70% to 80% have no legal representation, said Monika Langarica, senior staff attorney at the American Bar Assn.'s Immigration Justice Project.
At the news conference, Milano announced the launch of a fund that will expand such efforts. The SAFE Families Fund will bolster the Vera Institute of Justice's program to provide legal services to immigrants facing deportation who can't afford attorneys.
"To truly keep families together, safe and protected, we need to guarantee due process and a fair day in court," Milano said. "Access to legal counsel is a bedrock American value, and is considered a fundamental right for American citizens, but is not currently guaranteed by law for everyone living in this country."
Milano, who gained fame in the 1980s as a child on the TV sitcom "Who's the Boss?" has been an outspoken voice on several social causes, from abortion rights to gun control to sexual harassment. It was her tweet that sparked the #MeToo movement, encouraging women to come forward with their experiences of being harassed.
She said she has seen firsthand the violence and poverty forcing families to seek asylum in the U.S., serving as a UNICEF goodwill ambassador for 15 years.
"I have seen the tragic violence and appalling conditions that often make remaining in one's home country impossible," Milano said. "I have seen how a mother will do anything she can to keep her family safe, even if it means fleeing the only life she has ever known to face an administration that jeers at her arrival and seeks to detain and rapidly deport her without due process."
Since 2003, the Department of Justice has funded a legal-orientation program in detention centers that provides basic guidance on how the system works. About 53,000 people participated in the orientation sessions last year — more than 3,500 of them at the Otay Mesa facility.
The goal was to improve efficiency in the immigration courts, which are dealing with a backlog of about 746,000 cases nationwide.
"Experience has shown that the [legal-orientation program] has had positive effects on the immigration court process," the Justice Department website says about the program, which costs $8 million annually and is run by the New York-based Vera Institute of Justice.
The Trump administration threatened in April to suspend the program while the agency investigated its effectiveness. But the decision received pushback from Congress and the program has been allowed to continue.
The first phase of the Justice Department's study of the program, released last week, found that the legal orientations resulted in longer court proceedings and thus longer detention for participants. But those in the program were more likely to be allowed to remain in the U.S.
Davis writes for the San Diego Union-Tribune.
---
The stories shaping California
Get up to speed with our Essential California newsletter, sent six days a week.
You may occasionally receive promotional content from the Los Angeles Times.