Top member of global drug ring is extradited from Colombia and charged in L.A.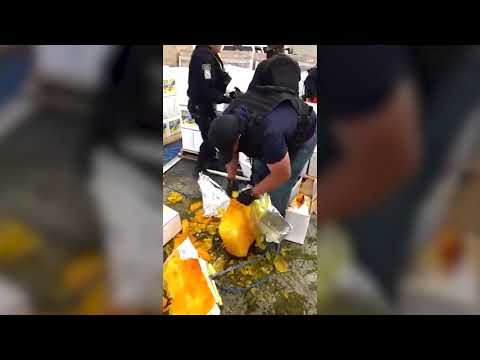 Officials in Mexico, Colombia and Los Angeles seized a total of 7,700 pounds of cocaine and other drugs worth half a billion dollars in the four-year investigation. The strangest hiding place? Frozen cubes of orange juice.
They found the cocaine in submarines, in speedboats stopped in the Pacific Ocean, in a private jet that crashed into the Caribbean Sea and, perhaps most strangely, in frozen cubes of orange juice transported in trucks.
Officials in Mexico, Colombia and Los Angeles seized a total of 7,700 pounds of cocaine and other drugs worth half a billion dollars as part of a four-year investigation into a global drug ring, according to the U.S. Department of Justice.

For the record:
8:35 p.m. Sept. 14, 2018A previous version of this article said the drugs seized were worth half a million dollars. They were worth half a billion.
On Friday, one of the leaders behind the drug operation was arraigned in a downtown Los Angeles courtroom after being extradited from Colombia. Victor Hugo Cuellar-Silva arrived Thursday night at Los Angeles International Airport.
According to a federal indictment, Cuellar-Silva is the head of the Colombia base for the organization and is responsible for obtaining tons of cocaine and other drugs from South American labs and coordinating their transportation for sale in the U.S. and elsewhere.
Six California residents were arrested in their homes Thursday on suspicion of operating stash houses and transporting the drugs in cars to be sold, federal prosecutor Alexander Schwab said.
Those arrested were Hugo Atienzo, 55, of Azusa; Juan Antonio Brizuela, 29, of Lompoc; Richard Dennis, 54, of Studio City; Gerardo Mojarro, 42, of South Gate; Jesus Manuel Monrreal, 33, of Van Nuys; and Jonathan Zamora, 28, of Cerritos.
Amparo Yokasta Melo Peguero, 44, was arrested as she was preparing to take an international flight from Boston.
Six additional defendants are pending extradition after they were taken into custody in Colombia and Thailand.
"What we've been able to accomplish is indict an international drug trafficking organization and … uproot the leadership responsible for aggregating and transporting multi-ton loads of cocaine," federal prosecutor Benjamin Barron said. "It's among the largest drug cases we've ever prosecuted out of our Los Angeles district."
One major piece of the puzzle is missing: the Mexican kingpin running the whole ring, Angel Humberto Chavez-Gastelum, who is listed in the indictment. He is also known by aliases such as "Don Angel," "Rolex" and "Netflix."
"We are still very much on the hunt for him," federal prosecutor Ryan Weinstein said.
Chavez-Gastelum has made millions by taking the drug operation into his own hands, Barron said, and has ordered the murders of several people who stole from him or cooperated with law enforcement officials.
The indictment includes two murders for which Chavez-Gastelum is suspected of being responsible. One victim's torture and dismemberment was captured on a video obtained by officials.
Chavez-Gastelum is one of the world's 30 most-wanted drug traffickers and commands multiple top representatives of the drug organization, including Cuellar-Silva, according to a Justice Department statement.
If apprehended and convicted of participating in a continuing criminal enterprise, Chavez-Gastelum would face a mandatory life sentence because he is accused of being its leader. Cuellar-Silva and three others — including Chavez-Gastelum's 27-year-old son, who is accused of running the criminal enterprise — would face mandatory minimum sentences of 20 years in prison if they are found guilty.
In 2016, two other drug kingpins were extradited from Colombia and are awaiting sentencing.
"This drug ring has spread death and misery across the Americas and to other parts of the world, which makes this case among the most significant drug trafficking cases ever brought in this district," U.S. Atty. Nick Hanna said in a statement. "We are deeply grateful to the government of Colombia for helping us bring one of the key defendants to justice."
Joseph Macias, a Department of Homeland Security investigator, said in a statement that the extradition is a warning to fugitives who think they can evade U.S. law enforcement by hiding out in another country.
alejandra.reyesvelarde@latimes.com
Twitter: @r_valejandra
Sign up for Essential California for news, features and recommendations from the L.A. Times and beyond in your inbox six days a week.
You may occasionally receive promotional content from the Los Angeles Times.