Visitors stream into Joshua Tree National Park despite federal shutdown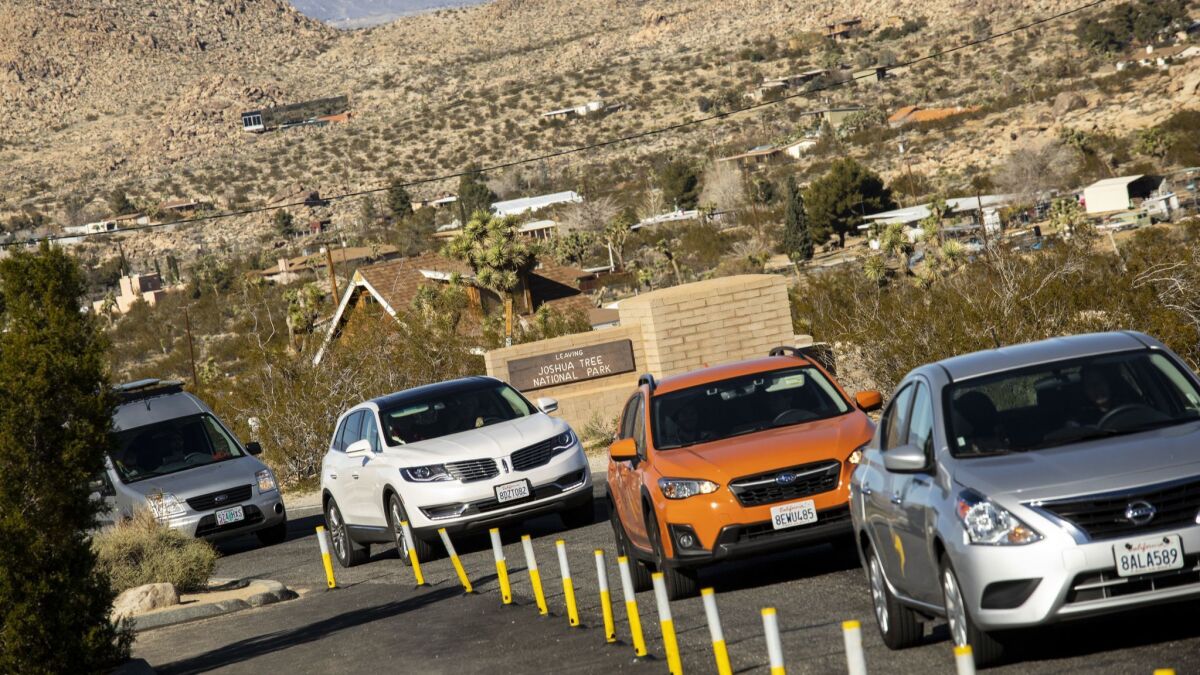 Reporting from Joshua Tree, Calif. —
Visitors from all over the world flowed into Joshua Tree National Park over the holiday weekend despite its facilities being closed by the federal government's partial shutdown.
Park officials left the main gate open, and traffic streamed past the shuttered kiosk where an attendant normally charges $30 per vehicle. The park's visitor center and restrooms remained closed, however, and some services have been disrupted, including trash collection.
But rangers still patrolled the 1,235-square-mile park, whose popularity for winter sightseeing and rock climbing has surged in recent years.
"We haven't seen any blatant disregard for law and order," said Park Ranger Dylan Moe.
He said on Saturday the mix of visitors seemed the same as it would be during a normal winter weekend -- mostly families and some groups of climbers.
He said that the main problem was that, with the visitor center and entry booth closed, many first timers to the sprawling park didn't know which trails would suit their interests and ended up in the same spots. Some parking areas were empty and others were full, with cars pushing outside of the designated limits into the desert terrain, damaging fragile habitat.
"After the weekend we'll see how much bigger the parking lot got," said Moe.
He set out a box of maps by the restrooms at the main gate that many visitors took. But those who stopped to use the toilets were rebuffed by "closed" signs. Some relieved themselves in the dirt just behind the facility, while others moved on. Some outhouses were still open, with lines of people waiting to use them.
Moe said all emergency personnel were still on duty, although it was not yet clear if the federal workers would be paid. Climbers often injure themselves in falls, and hikers routinely get lost in the vast terrain, which straddles the Mojave and Sonoran deserts northeast of Palm Springs.
"People I run into in town ask me if it's like the Wild West up here," Moe said. "It's just a little disorderly."
California's nine national parks, including Death Valley and Yosemite, are open during the government shutdown. But visitor centers and bathrooms are closed and some services are unavailable.
The shutdown started at midnight Dec. 22 and remains in effect as President Trump and congressional Democrats are at an impasse over Trump's demand for funding of a wall along the U.S.-Mexico border.
The stories shaping California
Get up to speed with our Essential California newsletter, sent six days a week.
You may occasionally receive promotional content from the Los Angeles Times.