Judge dismisses charges against owner of Rottweiler killed by Hawthorne police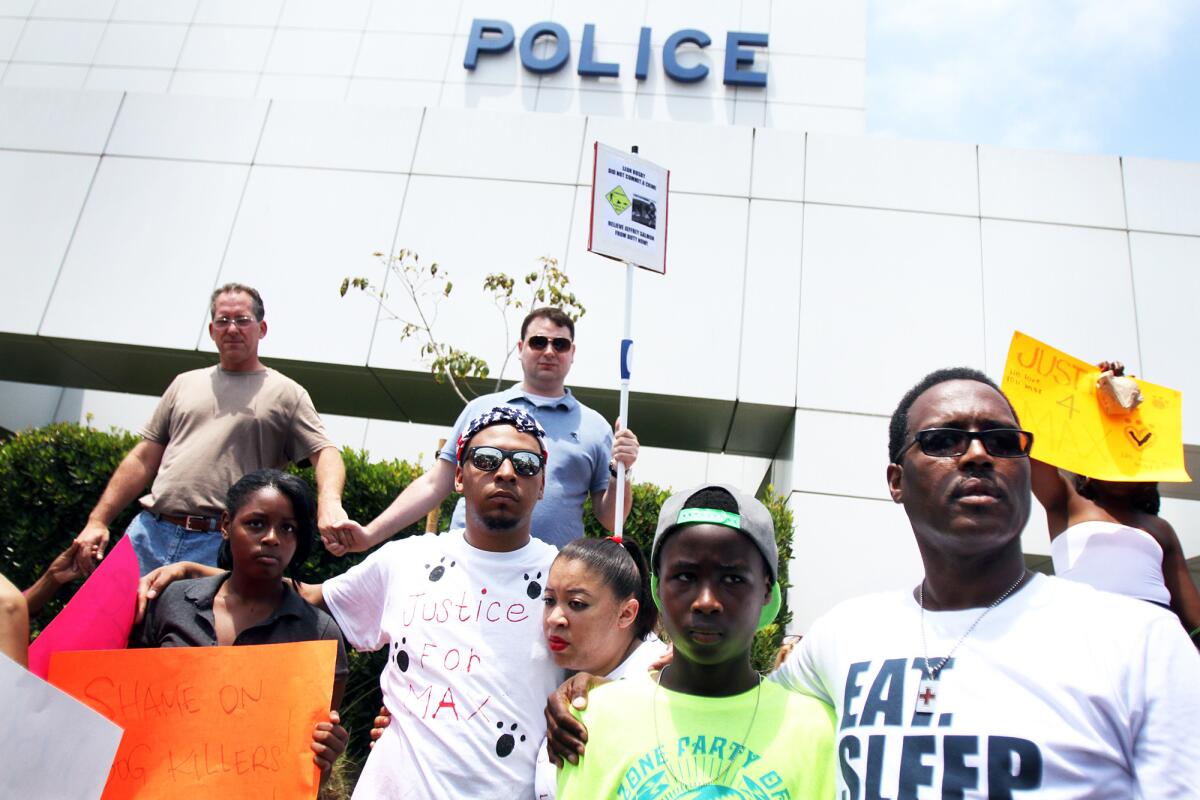 A Los Angeles County judge has dismissed all remaining charges against the owner of a Rottweiler whose dog was shot and killed by Hawthorne police, an incident that was recorded by cameras and went viral, sparking a national debate about excessive force and animal cruelty.
Superior Court Judge Lauren Weis Birnstein dismissed Tuesday the two misdemeanor counts of resisting and obstructing police filed against Leon Cordell Rosby, according to his defense attorney Mark Geragos.
After a two-week trial that ended in March, jurors acquitted Rosby, 53, of a felony count of dissuading a witness but deadlocked over the two misdemeanors, with four jurors favoring guilt.
Arguing for the charges to be dismissed in a motion filed this month, Geragos said a second trial "would constitute harassment, be a burden to the defendant and a waste of judicial economy."
Geragos said he was pleased by the judge's decision but questioned why the case -- which originally leveled six felony charges against Rosby -- was filed in the first place. He alleged that the criminal case was "ginned up" to insulate the police department from civil liability.
The district attorney's office could not be reach for comment. Deputy Dist. Atty. Keri Modder told City News Service, "I would have like to have tried the misdemeanors [again], but I have to go along with the judge's decision."
Rosby's dog was shot June 30, 2013, during a standoff between Hawthorne police and armed robbery suspects.
Police said Rosby, a bystander to the standoff unfolding in his neighborhood, had walked close to the crime scene with Max, his 80-pound Rottweiler, on a "long leash-line" that created "an increasingly dangerous situation."
Rosby told The Times days later that he began filming the police standoff with his phone to prevent a civil rights violation. As three officers approached him, Rosby placed his Rottweiler in his car.
But as officers cuffed Rosby, the dog escaped through an open window and began to bark and lunge at officers. One officer tried to grab the dog's leash, then drew his gun and fired four shots, killing Max.
"It was devastating," Rosby said. "His love for me was so extraordinary that he actually died for me."
Video of the incident went viral on YouTube, prompting a public outrage and drawing protesters to the Police Department headquarters.
Rosby is continuing to pursue a federal civil rights suit against the city and three police officers, which had been stayed while his criminal case proceeds. Geragos is also representing Rosby in the case.
For breaking news in California, follow @MattHjourno.
Sign up for Essential California for news, features and recommendations from the L.A. Times and beyond in your inbox six days a week.
You may occasionally receive promotional content from the Los Angeles Times.