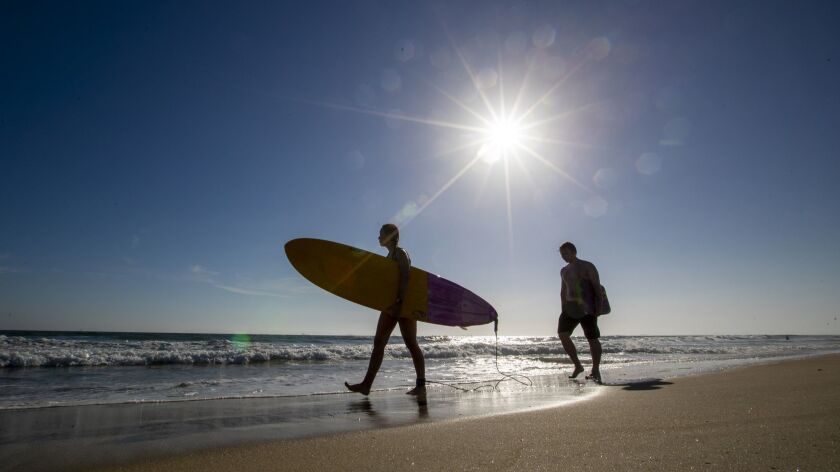 By all outward appearances, the Fourth of July is shaping up to be a good beach day.
But beachgoers should be wary: The National Weather Service issued a beach hazards advisory Wednesday, warning of dangerous rip currents, breaking waves from elevated surf, and high tides in Los Angeles and Ventura counties. The advisory is in effect through late Thursday night.
In addition, lifeguards are warning swimmers about an influx of stingrays along the shore. More than 50 people were stung at Seal Beach last weekend, according to KCBS-TV.
Though rarely fatal, the sting of a ray — which comes from a sharp venomous barb that detaches when the animal is stepped on — can cause pain, swelling and muscle cramps.
Officials advise visitors to shuffle their feet while wading in the shallows in order to avoid stepping on any stingrays.
The weather service's Los Angeles/Oxnard office is cautioning beachgoers to stay near lifeguard stations and avoid rock walls. Rip currents can pull swimmers out to sea, and large breaking waves can push people off rocks, the weather service warned. Inexperienced swimmers and surfers should stay out of the water completely.
If swimmers find themselves caught in a rip current, they should relax and float — not swim against the current — the weather service advised. If possible, people should swim parallel to the shoreline or face the shore and call for help.
RELATED: Where to watch 4th of July fireworks shows in the L.A. area »
Offshore fishing groups and boaters are advised to steer clear of the shore as larger waves can capsize boats.
Although no significant damage is expected, the south swell and evening high tide could cause minor flooding at beaches and harbor areas as well as enhanced beach erosion, the weather service said.
Beyond the Southland's coasts, holiday barbecues will be shaded by low-hanging clouds before clear skies emerge in the afternoon. Temperatures are expected to be slightly cooler than normal but still in the low 80s, according to the weather service.
Beach areas are expected to remain cloudy throughout the day, and clouds are forecast to roll back into Southern California's valleys Thursday evening.
Because of the expected cloud cover, Alexandrea Arnold, a meteorology intern with the weather service, said fireworks viewers may have better luck looking inland rather than near the coasts.
Temperatures are expected to reach the mid-80s by Friday and hover there throughout the weekend, the weather service said.
RELATED: Make these recipes for your last-minute Fourth of July party »
---