Hundreds celebrate Juneteenth in Leimert Park for a day of fun and remembrance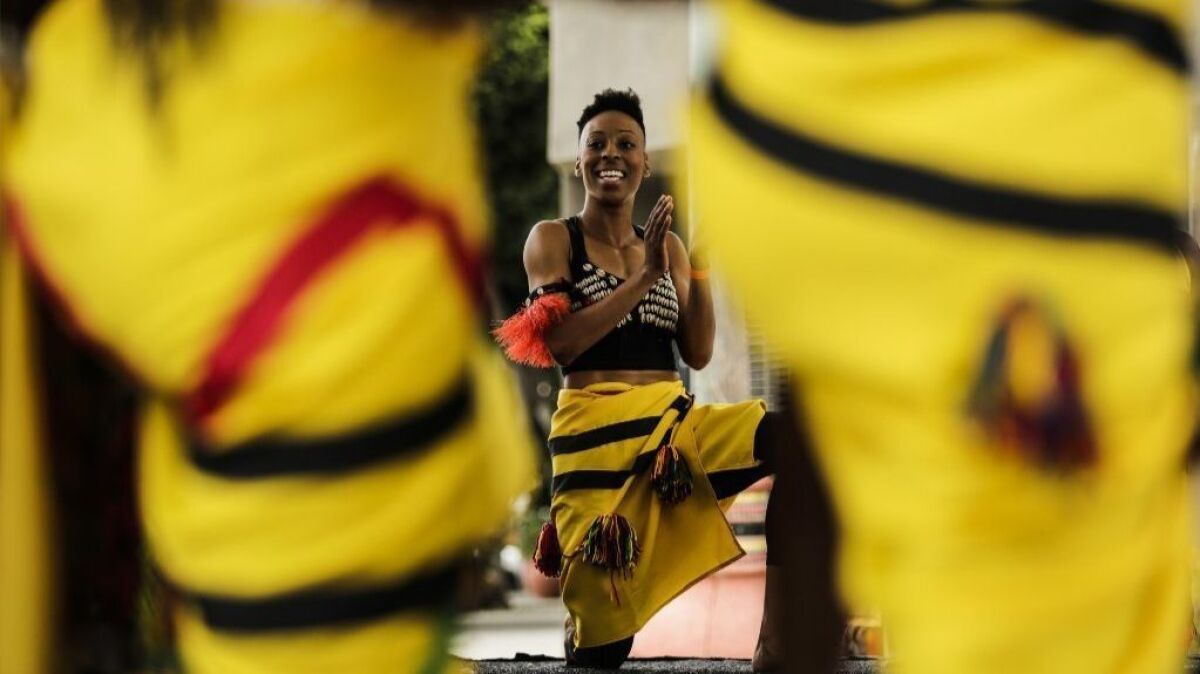 The country folks on the Compton block where 50-year-old Michael Reddick grew up used to fire up the grill and kick up their feet every year around June 19.
It was a humble celebration to mark a momentous occasion — the day in 1865 when the last enslaved African Americans were liberated, almost 2½ years after President Lincoln signed the Emancipation Proclamation to free all slaves. For people who recognize the day, it became an unofficial holiday known as Juneteenth, a combination of "June" and the "nineteenth," which remains a longtime tradition for many black Americans.
As a child, Reddick thought his elders, who hailed from segregated towns in Texas and Louisiana, were "doing country stuff." But decades later, he found himself unable to explain to his teenage son why they didn't participate in what some call Black Independence Day.
On Saturday, Reddick and his extended family of six joined hundreds of people who gathered in Leimert Park to commemorate the day with a street festival. The event, hosted by Black Arts Los Angeles since 2009, brought together artists and residents for a day of fun and remembrance.
Vendors hawked handcrafted jewelry, African garbs and vibrant drawings of women with full Afros. About a dozen men slid dominoes onto a table. Malcolm Mitchell, 8, riding a white horse slowly trotting down the street, stretched out his arms as if he were flying .
During a presentation, one speaker repeated the phrase, "We are not just descendants of enslaved Africans," which served as the event's de facto theme.
Jah'Shams Abdul-Mu'min, who helped organize the event, said that it's important to advance the narrative of African American history beyond slavery.
"This is a symbol of us getting freedom when there was none," he said.
"It demonstrates that we are committed to this country despite its faults and we're going to celebrate our contribution," he said. "Even though [our history] was fraught with trauma and inequality, we actually see the promise and potential of this country."
Forty-five states recognize Juneteenth, according to the National Juneteenth Observance Foundation. And though there has been a movement underway for years, it has not been dedicated a national holiday for all to acknowledge and celebrate.
"It should be a big American history moment," said Reddick's 18-year-old daughter Kaly Reddick. "As a country, we should recognize each other's struggle and each other's history."
For Emily Clarida, celebrating the Fourth of July stopped feeling right.
As she got older, the fireworks and gatherings took a backseat as she came to terms with the fact of the holiday. It's Independence Day, but her people were not free. She keeps the bill of sale of her great-great grandfather hung on her living room wall as a reminder of her roots but also the struggle that remains as black people continue to fight for equal treatment by law enforcement and in the judicial system.
"All the other holidays are man-made and built on oppression," she said. "This is the only real holiday I feel comfortable celebrating."
Twitter: @AngelJennings
---
The stories shaping California
Get up to speed with our Essential California newsletter, sent six days a week.
You may occasionally receive promotional content from the Los Angeles Times.