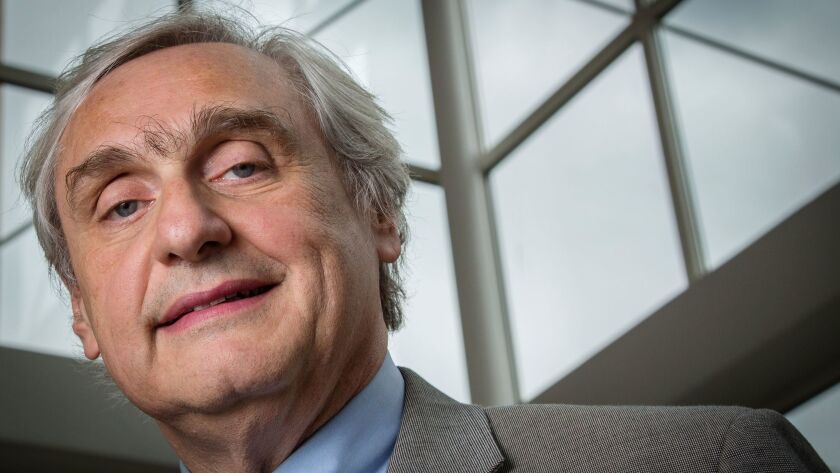 Reporting from San Francisco —
The chief judge of the U.S. 9th Circuit Court of Appeals asked for an investigation Thursday into allegations of sexual misconduct against Judge Alex Kozinski.
In a statement emailed to reporters, 9th Circuit Chief Judge Sidney R. Thomas said he was acting "to ensure confidence" in the impartiality of any proceedings involving Kozinski.
He asked Chief Justice of the United States John Roberts to transfer a complaint about Kozinski to the judicial council of another circuit for review and resolution.
"Any new complaints" against Kozinski also would be transferred, Thomas said.
"This order is publicly disclosed in order to 'maintain public confidence in the Judiciary's ability to redress misconduct or disability,' " Thomas wrote. "All subsequent proceedings are subject to the usual confidentiality rules."
Thomas' statement did not make clear whether anyone had filed a complaint against Kozinski. The wording suggested that Thomas may have decided on his own to ask for an investigation.
When there is information "constituting reasonable grounds for inquiry into whether a covered judge has engaged in judicial misconduct, the chief judge may conduct an inquiry into the accuracy of the information even if no related complaint has been filed," Thomas wrote.
"In the past," he added, "when incidents of alleged misconduct have been reported in an accredited media publication, we have identified a complaint and initiated an inquiry."
Therefore, he wrote, "a complaint is hereby identified against Circuit Judge Alex Kozinski."
Six former clerks or externs complained to the Washington Post of sexual misconduct by Kozinski, an appointee of President Reagan who sits in Pasadena.
Above the Law, a legal blog, reported Thursday that three of Kozinski's law clerks had resigned following multiple media reports alleging misconduct. A spokesman for the 9th Circuit declined to comment.
Kozinski, 67, is considered a brilliant jurist with quirky views and humor, but has also been described as a bully, both on and off the bench.
Senate Democrats who refused to confirm his nomination decades ago cited testimony that described him as sadistic and demeaning of subordinates.
Heidi Bond, a former Kozinski clerk who wrote about him on her blog, said he asked her to look at pornography in his Pasadena chambers and then asked her if the pictures turned her on.
She said he also showed her a list of women that he and his friends had sex with while in college and told her not to tell anyone.
Bond, whose complaints about Kozinski were first reported by the Post, described her year working with Kozinski as traumatic and haunting.
She wrote that she did not want to have anything to do with a debate about Kozinski's future. She clerked for Kozinski from 2006 to 2007.
"Despite what I have related here, I also believe that the judge is one of the most brilliant, capable legal minds sitting on the federal bench," she wrote.
She said she hoped her story would lead to a new handbook for clerks making clear that judges could not compel them to remain silent about judicial misconduct, as well as warnings by law schools about the possible perils of clerkships.
Kozinski said in an interview last Friday that he had no recollection of ever showing a former clerk pornography.
He said he had more than 500 clerks and externs over the decades, and many of his former clerks told him they had been contacted by the Post.
"If this is all they are able to dredge up after 35 years, I am not too worried," he said in the telephone interview.
He has since declined to comment.
Dahlia Lithwick, a journalist who clerked for a different judge on the 9th Circuit, wrote in Slate this week that she first met Kozinski in 1996.
She said she was visiting Los Angeles on court business — her judge was based in San Francisco — and called Kozinski's chambers to talk to one of his clerks.
Kozinski picked up the phone, she wrote, and she introduced herself. She said Kozinski asked her where she was, and she replied she was in her hotel room.
"What are you wearing?" she quoted him as asking.
Lithwick wrote that she has seen Kozinski several times over the years, at receptions and when moderating panels that included him.
Just last summer at a reception, she said, he gave her " yet another too-long, too-exuberant public kiss."
The Judicial Conduct and Disability Act of 1980 allows for federal judges to be sanctioned for misconduct.
A committee investigates the complaint and can publicly sanction the judge, ask the judge to retire voluntarily or recommend corrective action. Judicial leaders also can ask Congress to impeach the judge to have him or her removed from the bench.
If Kozinski were removed, President Trump, who has been accused of sexual assault, would appoint the judge's replacement.
Twitter: @mauradolan
---
UPDATES:
6 p.m.: This article was updated with a report that three Kozinski clerks had resigned, details of published accounts accusing Kozinski of misconduct, and additional background.
This article was originally published at 4:55 p.m.
---