Supervisors seek audit and possible lease renegotiation with L.A. County Fair Assn.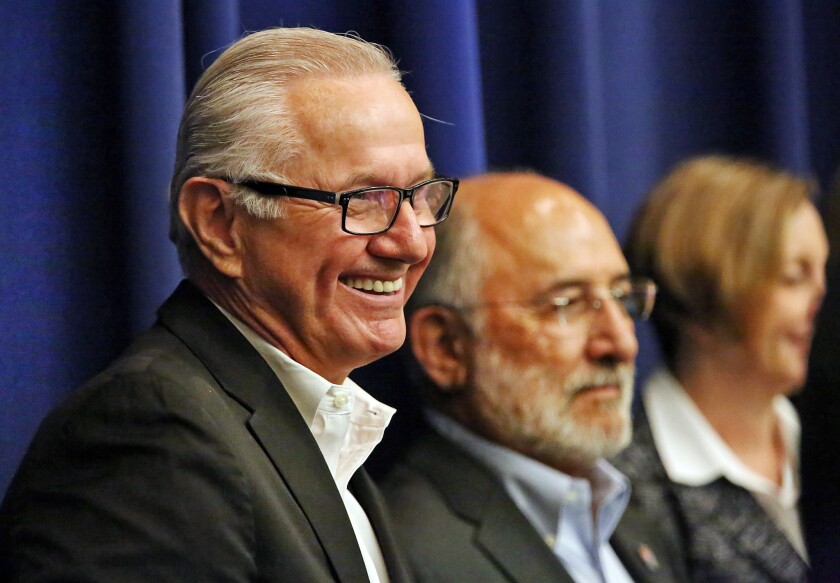 Local and federal officials have called for inquiries into the finances and tax-exempt status of the Los Angeles County Fair Assn., responding to a Times investigation that found the nonprofit organization has lost millions of dollars while richly compensating its top executives and straying far from its mission to promote the agriculture industry.
The county Board of Supervisors on Tuesday ordered a wide-ranging audit of the association and said it would seek to renegotiate terms of a lengthy lease that gives the organization year-round control of the taxpayer-owned fairgrounds in Pomona.
"It's out of whack," Supervisor Michael D. Antonovich said of the annual pay received by the association's managers, including nearly $900,000 in total compensation for CEO James Henwood Jr. in 2013. "It's not logical or reasonable."
Supervisor Hilda Solis, whose district includes the fairgrounds, known as the Fairplex, described the pay levels as "shocking" and said the association gets far more from the lease than taxpayers do.
"It is almost like a public gift," Solis said, adding that the association needs a "change of their governance with more accountability to taxpayers."
Rep. Norma Torres (D-Pomona), whose district includes the fairgrounds, said she would ask the Internal Revenue Service to investigate the association, with an eye on possibly revoking its tax exemption as a nonprofit.
"It is time to bring proper oversight and accountability to the Fairplex's management," she said.
Association spokeswoman Renee Hernandez said in a statement that the organization welcomed the audit and lease talks.
"We are audited regularly by the county," Hernandez said. "We were actually expecting an audit in early 2016. And we have been working with the county on lease negotiations for several years. We are delighted to see it moving forward."
Hernandez and Henwood did not respond to follow-up requests for comment late Tuesday. Nor did the head of the association's board of directors, former Cal Poly Pomona President J. Michael Ortiz.
Earlier, Ortiz had defended the big compensation packages given to Henwood and his executive team, saying they were based on performance. The amounts included large bonuses and incentive pay, which were awarded in years when the association lost money, according to its IRS filings.
Before The Times investigation was published, Hernandez said in a series of emails that the association has generated revenue for the county through rent payments on the fairgrounds and a tax that promoters pay to use the property for concerts and other events. She also said the association has expanded its acreage and programming devoted to agriculture.
The Times found that the association lost $6.25 million from 2010 through 2013, the most recent year for which tax records are available. Bonuses and incentive pay collected by Henwood and four of his managers during that time totaled $2.8 million, boosting their combined compensation to $8.75 million, the IRS filings show. Henwood averaged about $846,000 in annual compensation those four years.
Formed generations ago to promote the interests of local farmers, the association has morphed into a conglomerate of sorts, with a portfolio of enterprises — including a hotel and conference center, and a catering firm — that have little or nothing to do with agriculture. The organization no longer invites 4-H clubs to display their animals at the annual fair, which is instead dominated by carnival attractions, shopping and concert acts.
The drift from its agrarian origins was starkly demonstrated in August, when the association hosted a rave concert at the fairgrounds; two young women who attended the rave were rushed to hospitals and died of apparent overdoses.
Torres said Tuesday that when the fair association avoids paying taxes as a nonprofit, it is effectively withholding money from local schools, the county and the cash-strapped city of Pomona. She said it's hard to justify the high compensation in a predominantly minority, working-class city.
The audit and calls for an IRS investigation were applauded by neighbors who have objected to association's decision to open the fairgrounds to raves and other events they say are disruptive.
Judy St. John, 68, a retired teacher who lives near the Fairplex, said the county grand jury should also investigate.
"Somebody needs to look at how can they keep in business when they keep losing money," St. John said.
Mario Ramos, 53, who like St. John is part of a group called Protect Our Neighborhood, said the promises of economic benefits of the Fairplex have not been realized. He said raves are "basically bringing drugs into our city. The drugs that are being brought into our community that is already suffering.... It's not right."
More than 300 people were arrested during a two-day rave held by Live Nation at the fairgrounds last weekend, officials said.
Solis said the fair is not the one it was two decades ago.
"I have been to the Orange County fair, and it is much more family oriented and not all commercial," she said.
Like most California fairs, the Orange County event is run by a government agency.
richard.winton@latimes.com | Twitter: @lacrimes
ron.lin@latimes.com | Twitter: @ronlin
paul.pringle@latimes.com | Twitter: @PringleLATimes
Follow me for the latest news in earthquake safety, El Nino, and the drought: @ronlin
---
The stories shaping California
Get up to speed with our Essential California newsletter, sent six days a week.
You may occasionally receive promotional content from the Los Angeles Times.