L.A. City Council may seek bigger bond to house the homeless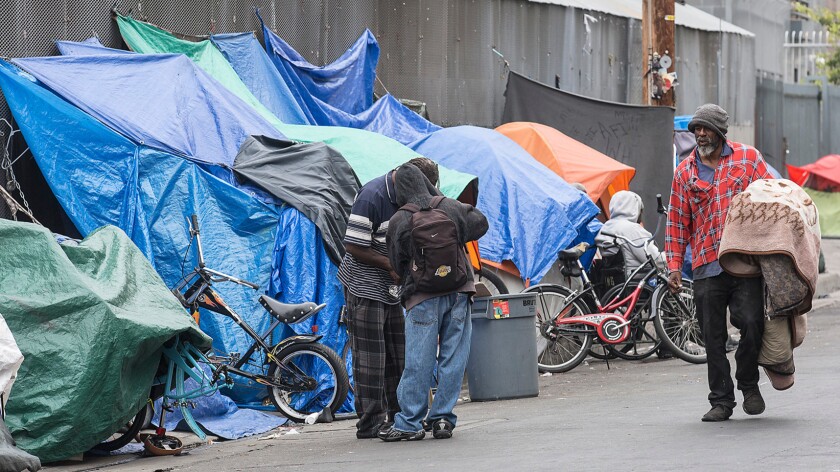 Los Angeles City Council members are considering a significant boost to the size of a bond measure they say could help move tens of thousands of homeless Angelenos off the streets.
The City Council decided Tuesday to weigh a proposal by Councilman Mike Bonin to pursue a $1.5-billion housing bond – $400 million more than the amount discussed by a council committee last week. If approved by the council, the bond would be placed before L.A. city voters in November as a ballot measure.
For the record:
5:07 p.m. June 21, 2016This article initially said a new proposal calls for $400,000 more than the previously discussed bond amount. The increase would be $400 million.
Bonin's plan would also narrow the use of the bond money to housing that is specifically for the homeless. Questions emerged last week over whether an earlier version of the bond measure was written in a way that would allow much of its revenue to be diverted to affordable housing that caters to a broader swathe of low-income city residents.
"I'm concerned that we go to the voters with something that we say is going to do something about homelessness and actually does nothing about homelessness," Bonin, whose beachfront district has some of the city's highest concentrations of homeless encampments, said in an interview. "I think that would be a betrayal of the commitment we have made to the public."
See the most-read stories in Local News this hour >>
A council committee will look into the alternative bond proposal next week. If the full council votes to move it ahead, it would become one of two final options city officials are mulling over to pay for a decade-long strategy to reduce the city's estimated homeless population of more than 26,000. That plan involves building or leasing long-term housing for the homeless at a projected cost of at least $1.85 billion, as well as additional funding for social services.
The options currently on the table are a $1.1-billion bond and a parcel tax. Next week the council is expected to vote to finalize ballot initiatives for those proposals, unless the current version of the bond measure is changed per Bonin's suggestion. By August council members will decide which alternative they actually want to appear on the ballot and withdraw the other. All of the initiatives under consideration would increase property taxes and require two-thirds approval by voters.
Not all council members are on board with Bonin's approach. Councilman Gil Cedillo said some of the bond money should be used to create housing for poor people at risk of falling into homelessness in the city's increasingly unaffordable real-estate market.
"The practical matter is that we need it all. It's a false argument to pose one against the other," Cedillo said. "We need housing at all levels."
Bonin's proposal does have the support of council members Marqueece Harris-Dawson and Jose Huizar, the chairman and vice chairman of the council's homelessness committee and the original proponents of a bond measure. Huizar said Tuesday that the city should keep its focus, for now, on housing people living on the streets.
"If the city is committed to solving the affordable-housing crisis, that takes months of discussion," Huizar said. "Right now, to make a left turn on the path that we are on is not going to be good for us or good for the voters."
Follow @petejamison on Twitter
MORE LOCAL NEWS
1 in 10 Cal State students is homeless, study finds
L.A. will keep getting hotter, scientists say — a lot hotter
Woman who defiled national parks with graffiti banned from 524 million acres of public land
---
UPDATES:
4:30 p.m.: This article was updated with new information about the City Council's process for placing a proposed bond measure on the November ballot.
This article was first posted at 2:48 p.m.
---
The stories shaping California
Get up to speed with our Essential California newsletter, sent six days a week.
You may occasionally receive promotional content from the Los Angeles Times.