Attorneys for La Luz del Mundo leader accused of sex abuse claim 'high-tech hit job'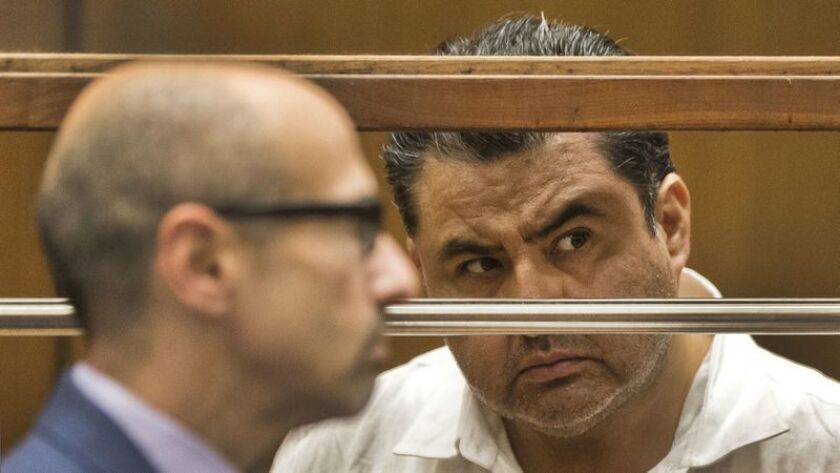 Attorneys for the leader of the La Luz del Mundo church said Friday that the so-called apostle of Jesus Christ is innocent of the multiple sex abuse charges he faces and is instead a victim of attempts by his enemies to disgrace his reputation.
Standing next to church officials and family members of Naason Joaquin Garcia in front of the La Luz del Mundo church in East L.A., lead attorney Ken Rosenfeld said that thousands of women are ready to defend Garcia.
"The apostle is a victim in this case," Rosenfeld said. "He is a victim of technology, of a high-tech hit job, of people that have interests that have been negative … to try to incriminate him and make it look like he did something wrong."
He did not elaborate on what he meant by "high-tech hit job," but it appeared to be a reference to some information spread about his client through social media and news outlets.
The statements came a day after California's Attorney General urged more potential victims to come forward in the case his office has brought against Garcia, who is being held on a $50-million bail bond. La Luz del Mundo is the largest evangelical church in Mexico and Garcia is known as an "apostle" of Christ among its members, which church officials claim number more than 5 million.
Atty. Gen Xavier Becerra said on Thursday that to his knowledge, Garcia's bail bond is the highest ever imposed on someone in Los Angeles County. Prosecutors, he said, had asked for such a high amount because they were worried that his followers could raise the money to free him from custody and that he would flee the country.
Co-counsel Allen Sawyer said the $50-million bail bond is unjustified and that Garcia does not have access to the church's bank accounts. According to Sawyer, under the rules of the church its funds cannot be used for Garcia's criminal defense.
"It was obviously falsely portrayed to the court that they need to set bail to an amount that punishes the entire faith," he said.
Rosenfeld stressed that Garcia is not a flight risk.
"He owes it to the 5 million faithful to go to court and to categorically disprove every allegation that has been made against him," he said. "He is the one that is looking forward to the opportunity to be in court and to be able to tell the world he is falsely charged."
The attorney general on Thursday acknowledged the difficulties that potential victims may face coming forward, saying, "I know this is not easy, some of these folks depended on this religious organization, this church for much of their support," he said.
But Sawyer described Becerra's comments as "an assassination of faith" and said they have contributed to an uptick in hate crimes against the church. "He wanted to belittle, he wanted to shame the members of this church for being members of this church, and that will not happen," he said.
In a statement, the attorney general said: "The charges in this case are directed at four individuals, not an organization. Please recognize that charges are only allegations, and while we are going to vigorously prosecute this case, these defendants are presumed innocent unless and until proven guilty."
Garcia was arrested on Monday with two co-defendants while a fourth is still at large. Garcia, Alondra Ocampo, Azalea Rangel Melendez and Susana Medina Oaxaca are all affiliated with the religious organization and face a criminal complaint with 26 felony counts that include human trafficking, production of child pornography and forcible rape of a minor. Prosecutors allege that the crimes were committed in Los Angeles County between 2015 and 2018 and say the victims in the case are four minors and one adult who were either members of the organization or children of members.
In a statement released this week, the church rejected all allegations made against Garcia, saying that "the 'Apostle of Jesus Christ' has always adhered to the law and demonstrated full respect to governmental institutions and the dignity of all persons."
James Nunez, a congregant at the East L.A. church who was born into the organization, said that the apostle's followers stand behind him without fear.
"The judicial system is going to do their part, God is going to do his part – that's it," he said.
When asked if La Luz del Mundo's congregants should help pay the bail set for Garcia, he simply said that "the apostle of God is a very strong man."
Garcia is scheduled to appear in court next Monday.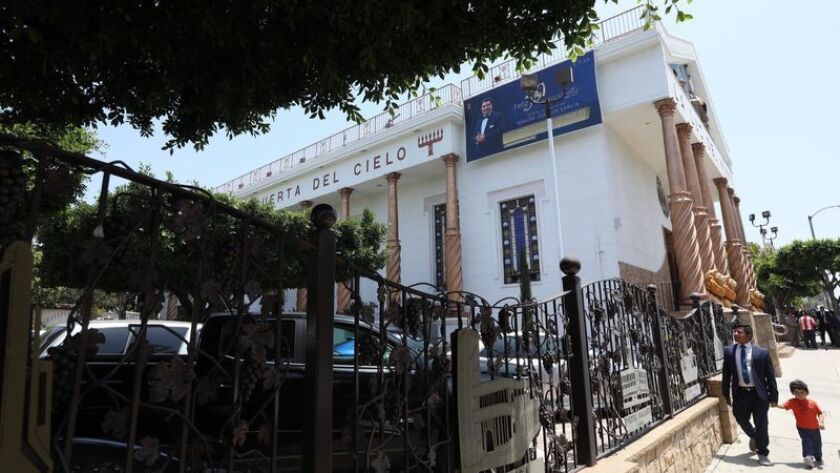 ---
The stories shaping California
Get up to speed with our Essential California newsletter, sent six days a week.
You may occasionally receive promotional content from the Los Angeles Times.