Thousands turn out for L.A. Pride: 'Forget the president. Let's do our own thing'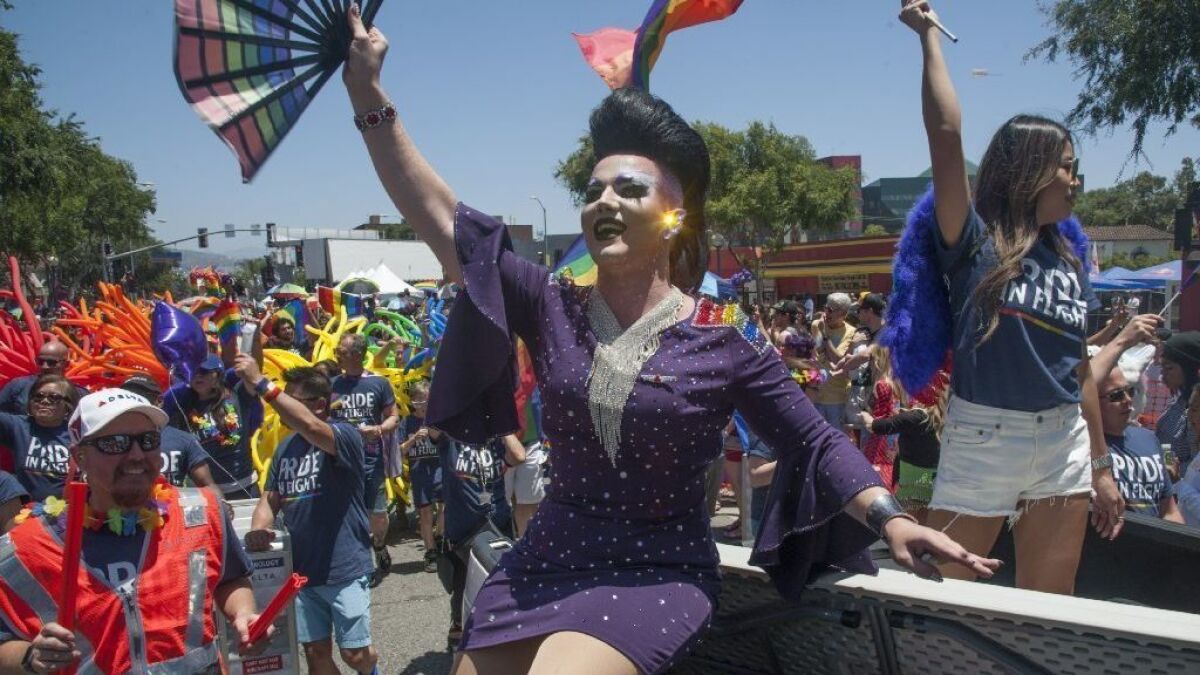 As he waited to walk in his first Los Angeles Pride parade in West Hollywood on Sunday, Jay Gendron reflected on what it means to support LGBTQ rights that many feel are under attack by the White House.
Among other things, the Trump administration has banned transgender people from serving in the military and proposed rolling back similar Obama-era discrimination protections in healthcare.
"In a way it means resistance," said Gendron, a professor at Southwestern Law School who lives in Manhattan Beach and identifies as a gay man.
Gendron recalled an unpleasant conversation he had with a family member after Donald Trump was elected president in 2016.
"She said, 'Obama gave you too many rights,'" Gendron said. "That gives me courage and makes me even stronger when your own family sort of turns on you."
He was among thousands who turned out Sunday to watch the 49th annual L.A. Pride parade along Santa Monica Boulevard that featured colorful floats and people dancing, singing, walking on stilts and some riding penny-farthing bicycles and electric scooters.
The rainbow spectrum was ever-present, from umbrellas to an L.A. County Metro bus to law enforcement badges. Dozens of corporate, government and nonprofit groups sponsored floats that were on display.
Elected officials joined the parade, including L.A. County Sheriff Alex Villanueva, followed on foot by dozens of officers from local law enforcement agencies. Two male officers from different departments were seen holding hands.
"I'm a little overwhelmed at the number of organizations here," Gendron said. "I've been aware of them, but when they're all here and manifest themselves in one place under a rainbow and everything, it's pretty overwhelming. It's great. It's really fun."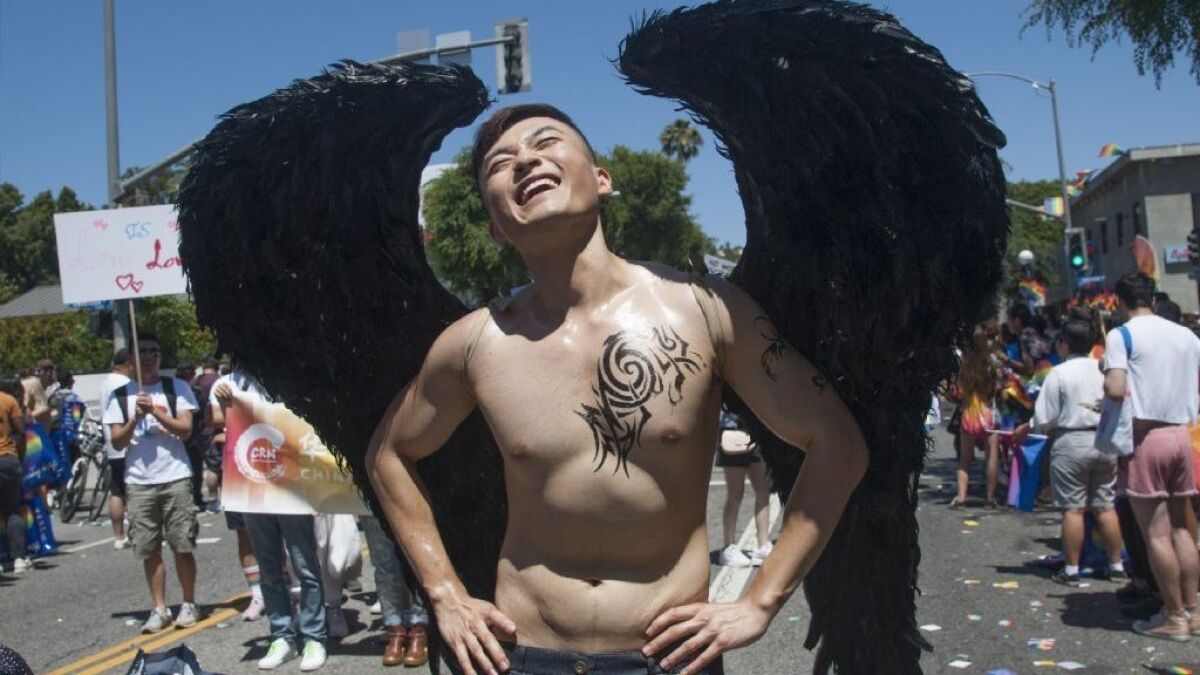 Allison Rushton of Silver Lake was attending her first L.A. Pride parade and said she felt the importance of supporting the LGBTQ event this year against the backdrop of Trump's restrictive civil rights policies.
"It definitely feels under attack," Rushton said. "It's not necessarily a revolt, we're just going to celebrate regardless. [Trump] can do whatever he wants, but that doesn't change us and our pride and joy with who we are. Eventually he has to leave office, but we're still going to be here. I hate to say forget the president, but forget the president. Let's do our own thing."
Alicia Jiminez ventured from Pomona with her girlfriend to attend the parade. She said she came out as gay to her family when she was 18.
"It was one of the scariest things I've ever done," said Jiminez, 25.
Some in her immediate family did not approve of her sexual orientation, she said.
"It's something I feel growing up was very hard to be proud of, to be gay. As I got older, I became more accepting of myself and I became a lot happier. Pride is a way to celebrate all the bad stuff we had to get through to get here," she said.
The parade was part of a weekend-long Pride event that also featured an opening-night ceremony Friday night at West Hollywood Park and the Dyke March at Sal Guarriello Veterans' Memorial. The ceremony featured appearances by LGBTQ advocates and leaders, a drag show and a performance by Paula Abdul.
On Saturday, the traditional Pride festival was held at West Hollywood Park and a second Pride on the Boulevard festival with local artists, DJs, rides and attractions was held on Santa Monica Boulevard.
Gary Gerber, 67, quietly watched the parade near the beginning of the route. A longtime L.A. resident, he said it's been gratifying to see the event grow over the decades.
"We've come a long way, and I hope this shows the rest of the country what can be done and which way the country is headed," he said. "This is the direction we're headed, and there's no stopping it."
The stories shaping California
Get up to speed with our Essential California newsletter, sent six days a week.
You may occasionally receive promotional content from the Los Angeles Times.