She put her foot on the seat of a Metro train and got detained. Did the LAPD overreact?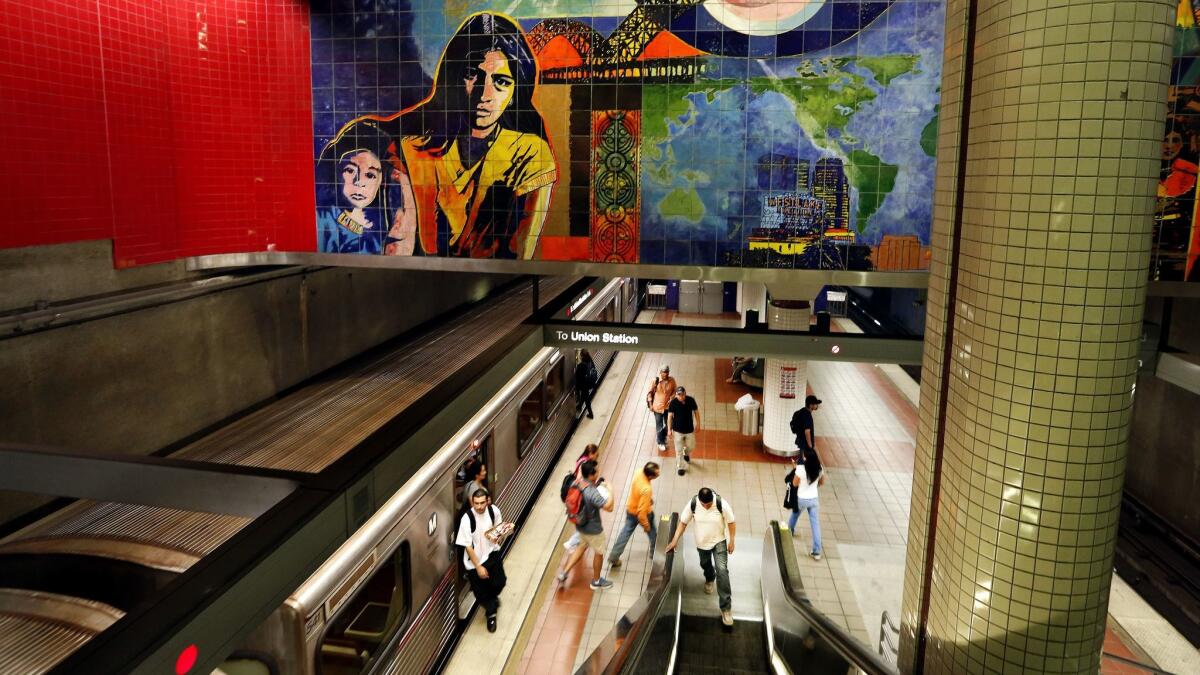 The Los Angeles Police Department has launched a use-of-force investigation into a videotaped incident in which a sergeant pulled a young woman from a Metro subway train and then detained her because she refused to take her foot off a seat, according to the video and authorities.
The bystander video (Warning: Video contains explicit language) was posted to Facebook on Monday and follows a recent LAPD crackdown on code-of-conduct violations on trains. Such violations include eating, drinking, vaping, gambling, littering and placing feet or shoes on seats.
For the record:
7:35 p.m. Jan. 23, 2018An earlier version of this article incorrectly stated that two women were arrested in the incident. One woman was arrested and the second was cited and released.
The department began its investigation Monday after receiving a complaint, Deputy Chief Bob Green said. Two women were detained in the incident, which occurred at the Westlake/MacArthur Park station.
The confrontation began when the sergeant approached a young woman about having her foot up on a seat.
The sergeant told her to get off the train. After she refused, he grabbed her arm and pulled her off as she attempted to cling to a railing. She complained that the lawman wasn't allowing her to get her cellphone and other belongings.
Once off the train, the sergeant held her arms behind her back. People in the station gathered around, and an onlooker filmed the entire encounter.
"Come on, you think you can do this?" a woman shouted at the sergeant.
"Yeah, I can," he replied.
When people protested, saying the woman was only 18, he responded, "I don't care."
Onlookers swore at the sergeant, telling him he was engaging in an "abuse of power." The young woman swore at him, too.
He kept asking her for identification. She said she had been on her way to the Department of Motor Vehicles to meet her mother and get an ID because she had just turned 18.
"This is not [expletive] fair that you took me off the train because I had my foot there because I was comfortable like that," she said. "There is no law that tells me that I cannot sit that way because I paid to be in there."
"It's the rules of the train," he told her.
A second woman approached and began yelling at the sergeant, telling him he was "high on power right now because people are watching you."
The sergeant called for backup, and at least six additional officers arrived.
As both women were being detained, the second woman — not the one who had her foot on the seat — spat at one of the officers.
The woman who put her foot up was cited for loud and boisterous conduct on a train and released, while the second woman was arrested on suspicion of battery on a police officer, Green said. Authorities initially said both women had been arrested.
When asked about the incident at an unrelated event in North Hollywood on Tuesday evening, Mayor Eric Garcetti said investigators are reviewing multiple videos of what happened.
"Videos can sometimes tell one picture," he said. "We'll have the videos that the officers had as well as the videos that were made."
He said he expects courtesy from riders, as well as law enforcement officers, on the trains.
"I hope we can all do what is courteous, and that means abiding by the ridership rules and just making sure that somebody can sit because having your feet up on the chair denies them," he said. "And vice versa that police officers use whatever is the lowest level of deescalation. That's my general philosophy."
Green, who oversees LAPD transit operations, said the department has been doing "a lot of code-of-conduct work on the Metro trains, and it has a lot of public support from riders."
The 28-page Metro Customer Code of Conduct lists all infractions on public transport vehicles, as well as their penalties. The punishment for placing feet and shoes on a vehicle includes a warning or ejection from the bus or train.
Green said officers are seeking to avoid confrontation and have been emphasizing de-escalation when approaching riders about inappropriate behavior.
Times staff writer Doug Smith contributed to this report.
Twitter: @haileybranson
Twitter: @LAcrimes
---
UPDATES:
9:40 p.m.: This article was updated with a comment from Mayor Eric Garcetti.
This article was originally published at 1:50 p.m.
Sign up for Essential California for news, features and recommendations from the L.A. Times and beyond in your inbox six days a week.
You may occasionally receive promotional content from the Los Angeles Times.