Man killed by LAPD had thrown beer bottle through police car window, chief says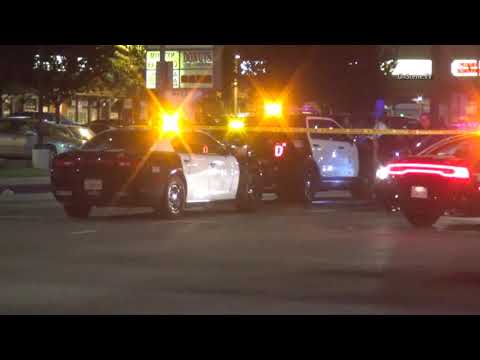 LAPD fatally shot a man in Van Nays after he threw a beer bottle at their patrol car, police said. 
Two Los Angeles police officers were stopped at a red light in Van Nuys when the back window of their patrol car shattered.
Fearing they were under fire, the officers bailed out of the cruiser and fired their own guns at a nearby man they believed was responsible, killing him, LAPD officials said.
When investigators searched his body and the nearby scene, they didn't find a gun or any other weapon, police said Monday. Instead, they determined that he had shattered the patrol car's window by throwing a 40-ounce beer bottle.
LAPD Chief Charlie Beck offered new details Monday about the latest shooting by his officers, the 18th time this year that police have shot and killed someone. The man's name had not been released as of Monday evening, coroner's officials said, because they were still trying to notify his family.
Beck stressed that the investigation into Saturday night's deadly encounter was still in its early stages.
"The primary thing to look at here is: Were the officers' perceptions reasonable?" he said. "Not were they correct, but were they reasonable?"
Police officers are authorized to use deadly force to protect themselves or others if they reasonably believe they are in danger of death or serious injury.
As in all LAPD shootings, the civilian Police Commission will judge the two officers based on three issues: the officers' use of deadly force, their decision to draw their weapons and the tactics used throughout the encounter.
Seth Stoughton, a former police officer who teaches law at the University of South Carolina, said the officers could have reasonably mistaken the bottle going through their window for gunfire. But, he said, more information was needed to evaluate whether they reasonably thought the man was threatening enough to shoot him.
Stoughton said that determination could depend on how close the officers were to the man when they got out of the car and whether he made any movements they might have considered threatening.
"Until we know more information about what actually happened, we can't tell whether the officers' misperceptions were reasonable or not," he said.
The shooting at Sepulveda and Victory boulevards will also be reviewed by the district attorney's office and the Police Commission's inspector general.
Cmdr. Andrew Smith, an LAPD spokesman, described the two officers as veterans. He said the department would release their names after what the LAPD calls a 72-hour briefing, when top command staff are notified about the initial investigation into a shooting.
Smith said the officers were not wearing body cameras — their division has not yet received the devices under the LAPD's departmentwide rollout of the new devices. Their patrol car also did not have a camera, he said.
The 18 people killed by the LAPD this year — out of 32 who have been shot by officers — marks the same number of people fatally shot by the LAPD in all of 2014. Fourteen people were fatally shot by officers in 2013, 17 the year before and 26 in 2011.
Beck said this year's number was "far more than we would like" but was consistent with the department's recent average.
Mayor Eric Garcetti noted that the department this summer provided officers with so-called de-escalation training: five hours of lectures designed to help find ways to reduce tensions and potentially avoid using force during encounters with the public.
"Any time that we can de-escalate and preserve a life, that's a good day," Garcetti said. "That's not always possible in policing, but it's something that we're continuing to push very strongly toward."
Some residents and local activists have criticized the LAPD for the number of shootings this year, as well as the circumstances leading up to some of those shootings. Peter Bibring, a senior staff attorney for the American Civil Liberties Union's Southern California chapter, said the concern over police killings would continue.
"This is not a problem that's going away," Bibring said. "Part of the problem here is that police, not only in L.A. but across the country, are using force in situations where a significant amount of the public don't think it's appropriate. Standards for use of force are out of step with public expectations."
"They should be certain that they're under a deadly threat before they pull the trigger."
Stoughton, the law professor, said officers will sometimes make mistakes.
"That may include mistaking a window that is
broken by a hurled beer
bottle for a window that
was broken by a gunshot," he said. "Had they known it was just a bottle going through, I would expect them to have responded very differently."
For more Southern California news, follow @katemather.
Times staff writer Matt Hamilton contributed to this report.

ALSO:
Massive industrial fire sends black plume of smoke over L.A. area
Mighty 20-pound French bulldog scares off three bears from Monrovia home
Marine dead with gunshot wound to head at Camp Pendleton shooting range
Sign up for Essential California for news, features and recommendations from the L.A. Times and beyond in your inbox six days a week.
You may occasionally receive promotional content from the Los Angeles Times.