Video of controversial South L.A. arrest — and a plea deal that allowed an LAPD officer to avoid jail time — prompts criticism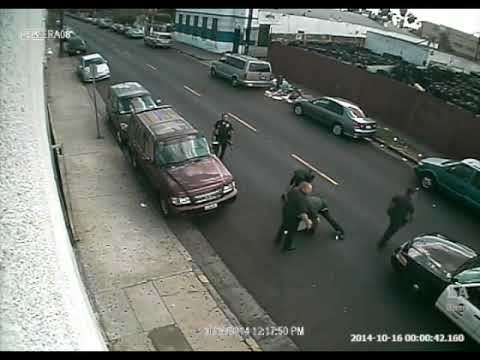 Warning, graphic content: A 2014 video shows LAPD Officer Richard Garcia kick, punch and elbow a man lying on the ground in South Los Angeles. Garcia was charged with assault under color of authority. He pleaded no contest earlier this year.
Newly released video showing a Los Angeles police officer kick and punch a man during a 2014 arrest in South L.A. drew strong reactions Monday as well as criticism of prosecutors for offering the officer a deal that allowed him to avoid jail time.
The president of the civilian panel that oversees the Los Angeles Police Department denounced Officer Richard Garcia's actions, saying that what he saw on the video was "not only out of policy, but unlawful and at odds with our mission to build more trust between the LAPD and communities of color."
"I am personally disappointed that Mr. Garcia is not going to be serving jail time and will have the opportunity to have his conviction reduced to a misdemeanor," Matt Johnson, president of the Police Commission, said in a statement.
For nearly two years, the video of Clinton Alford Jr.'s arrest has been repeatedly cited by L.A. Police Department officials and prosecutors as they criticized Garcia's actions, sought discipline against the officer and charged him with felony assault. But the department refused to make the recording public, even after Garcia struck his deal with prosecutors.
The Times, however, obtained a three-minute recording of the arrest under an order from an L.A. County Superior Court judge. The video had been introduced as evidence in the criminal case against Garcia.
Garcia, 35, faced up to three years in jail if convicted of the felony assault charge. In May, prosecutors quietly agreed to a deal that allowed him to plead no contest and avoid jail time if he completes community service, follows all laws, stays away from Alford and donates $500 to a charity by late May 2017.
Under the agreement, Garcia could then enter a new plea to a misdemeanor charge that would replace the felony and would be placed on two years of probation.
Dist. Atty. Jackie Lacey declined an interview request through a spokeswoman on Monday. In an earlier interview with The Times, the district attorney cautioned that the video "doesn't tell the whole story sometimes" but declined to detail what other evidence prosecutors examined when deciding to offer Garcia a plea deal, including whether Alford's current legal troubles played a role. Court records show that Alford, 24, faces charges including pimping, rape and assault with a deadly weapon. He has pleaded not guilty and remains in custody.
Lacey said she didn't handle Garcia's case personally but supported her office's decision to offer him the plea deal, given the information prosecutors had.
Others who watched the video for the first time Monday, however, questioned that call.
"If this encounter didn't result in more serious criminal penalties, what would?" said Peter Bibring, a senior staff attorney for the American Civil Liberties Union of Southern California. "It raises serious questions whether the D.A. — even in those cases where they file charges — [is] being vigorous enough to hold the officers accountable."
Cliff Smith, a former member of the South Central Neighborhood Council and founder of the Coalition for Community Control Over the Police, said the lack of more serious punishment for Garcia was evidence that Lacey is not tough enough on officers accused of misconduct.
"For these officers to know that almost no matter what they do, they're going to be able to walk out of the district attorney's office with a handshake, a $500 contribution to charity … it's laughable, except that there are actual victims," Smith said. "This is the prosecutor, and she's not prosecuting."
Garcia was sent home after the arrest and hasn't worked in the field since the Oct. 16, 2014, arrest, an LAPD spokesman said. He is awaiting what is known as a Board of Rights hearing, in which a three-person panel decides disciplinary cases for officers facing termination or lengthy suspensions.
"The department has no tolerance for abuse of trust," said Capt. Andy Neiman, the spokesman.
Three other officers involved in the arrest are no longer with the LAPD as a result of the incident, Johnson said.
Alford's arrest mirrored similar video-recorded encounters between African Americans and officers across the country that have prompted heated criticism. Whether to release such recordings has become a crucial issue, particularly as departments add more cameras on officers' uniforms and in their patrol cars as a way to build public trust.
Allowing the public to see that footage provides a level of detail and context about an incident that might not be evident just by reading reports, Bibring said. Having firsthand information such as video also gives residents a chance to see whether the institutions tasked with holding police officers accountable are doing their job, he added.
"Videos don't tell the whole story, but they do tell a great deal," Bibring said.
At a news conference Monday afternoon at Avalon Boulevard and 55th Street — near the scene of the arrest — Alford's mother wept as she talked about watching the video for the first time that day.
"I just thank the good Lord that they didn't kill my son," Valerie Washington said.
Follow me on Twitter: @katemather
Sign up for Essential California for news, features and recommendations from the L.A. Times and beyond in your inbox six days a week.
You may occasionally receive promotional content from the Los Angeles Times.