Long Beach citizen patrols face off with counter-protesters over growing homeless encampments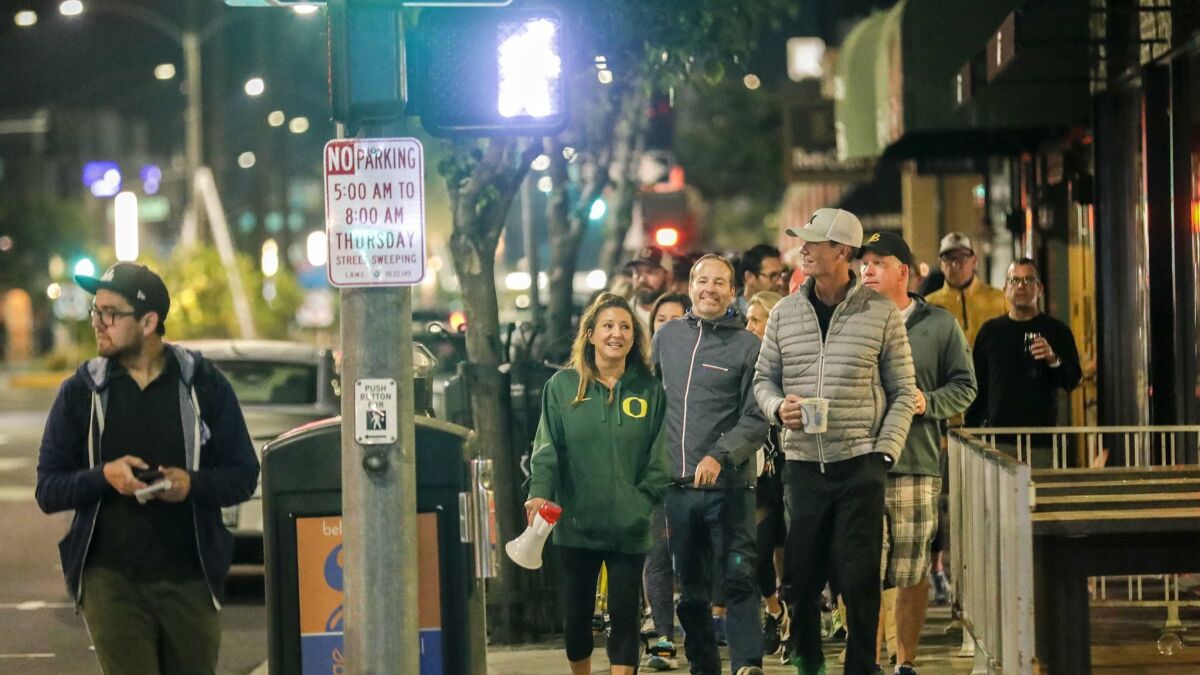 Trailed by protesters shouting "shame" and denouncing "vigilantism," Long Beach citizen patrols marched before dawn Friday through the Belmont Shore neighborhood, protesting what participants called a "criminal element" in the oceanfront community's growing homeless encampments.
While Long Beach police were supportive, city officials had discouraged the event.
"The city has an extensive response to address homelessness," said Teresa Chandler, Long Beach Community Services Bureau manager. "We don't recommend [patrols] as the best method of education."
National homeless advocates warned that Long Beach social media posts to "take back the neighborhood" and make "a show of force" could trigger harassment and even violence against vulnerable people. Four men sleeping outdoors were beaten to death in Santa Monica and Los Angeles in September in what police called a spate of attacks targeting the region's burgeoning homeless population.
But Barry Vince, who spearheaded the event, said that although he has "great compassion" for homeless people, the police need help reining in a criminal fringe that steals kids' bikes, breaks into homes and leaves syringes and needles in the streets.
"What changed for me is the safety of our homes and our families is now in question," said Vince, a lifelong Belmont Shore resident and owner of a high-tech staffing company. "We want to let them know we're here, we're compassionate, but we're also angry."
Shortly after 5 a.m., dozens of Long Beach residents set out on foot and bikes past gleaming boutiques, coffee shops and a beachfront municipal pool, with protesters half a block back chanting, "Whose streets? Our streets."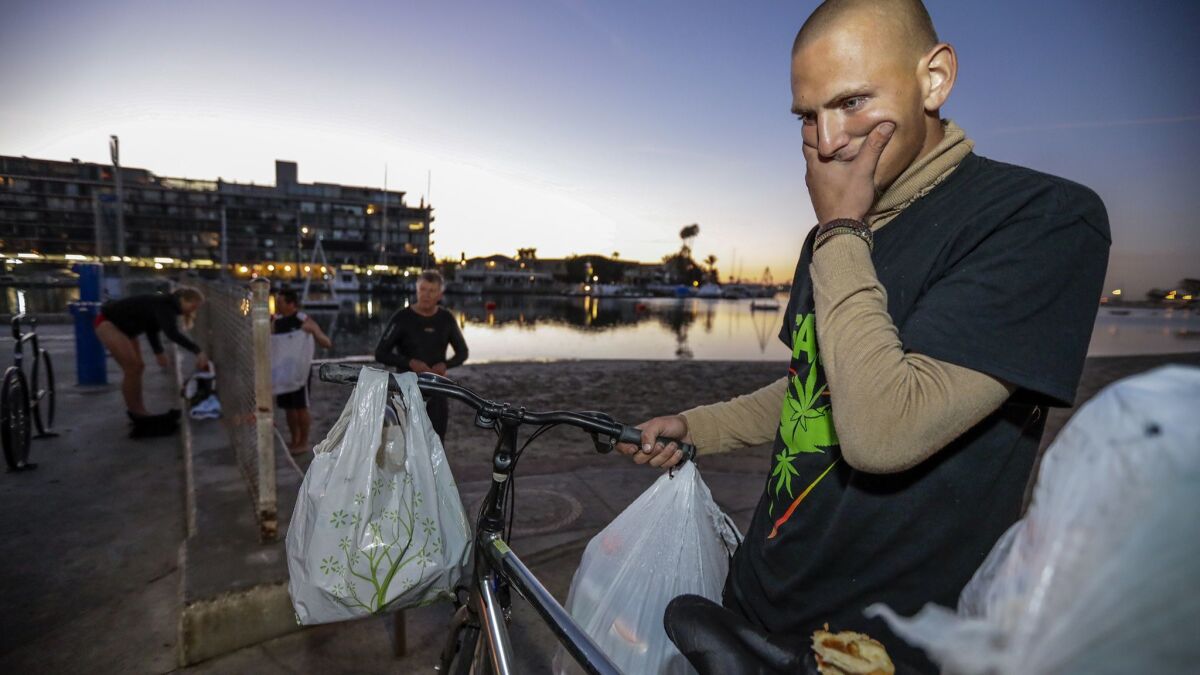 Catherine Miller, a 59-year-old Naples resident who joined the patrol, said homeless people had gotten "too comfortable" in the community.
"They should get help, but they know police won't do anything, and they don't care if they're lying on someone's patio furniture," she said.
Only a few homeless people were spotted sleeping at bus stops or in shop alcoves along 2nd Street, and neither the patrol nor the protesters tried to wake or engage them. Vince said he dropped plans to "educate" people camping on the beach about alternative shelter and services out of concern that the "mob scene" would "scare the crap out of them."
One resident, incensed at being awakened before daybreak by chanting protesters, came out of his apartment yelling homophobic and obscene slurs, and turned a hose on a man with a camera. No other disturbances were reported.
The protesters, organized by Democratic Socialists of America's Long Beach chapter and other leftist groups, said residents' real intention was to drive out homeless people displaced by high rents.
"They don't care about the unhoused," said Doug Kauffman, 30, a hospital administration worker and member of the Party for Socialism and Liberation.
Kauffman said people who joined the patrol called the protesters "Antifa thugs paid by George Soros," an alt-right trope that is considered by Democrats and others an anti-Semitic slur. Antifa, an anti-fascist movement, was not involved in organizing the protest, Kauffman said.
A homeless man sitting on a bus bench as the patrol broke up said the event had "terrified" him, but it was unclear whether his fear stemmed from the marchers or fliers the protesters circulated warning of "a dangerous neighborhood group" bent on intimidating homeless people.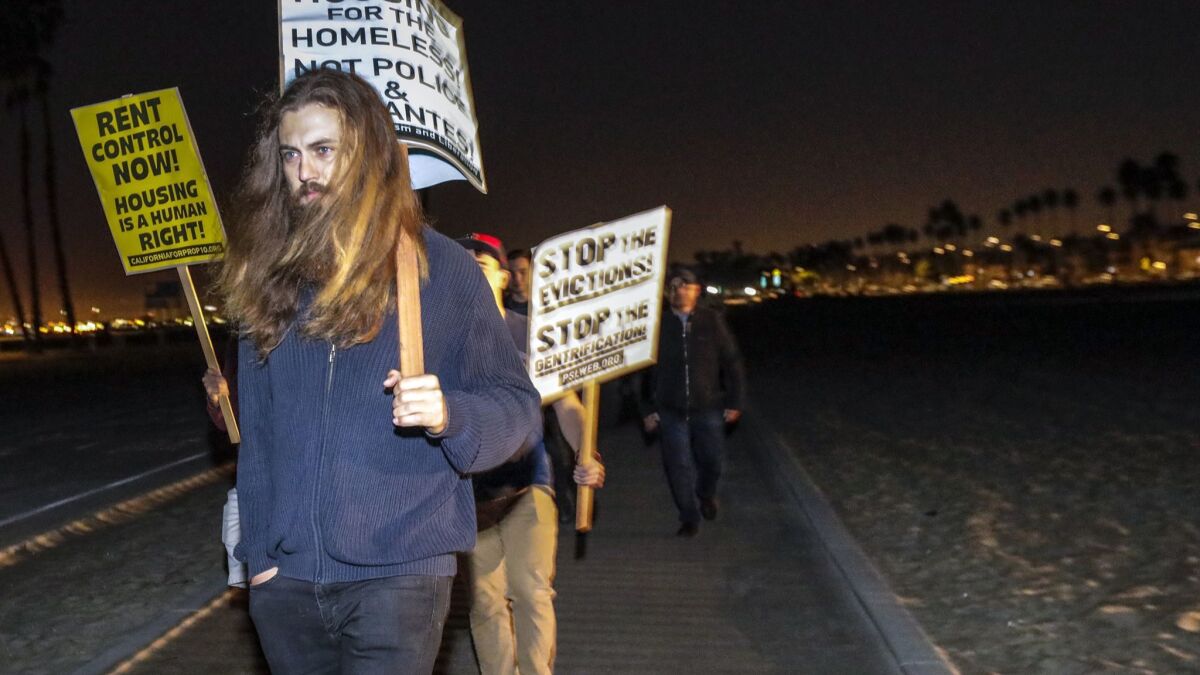 "It upset me that a group of people that might hate me because I am disabled would come out here," John De Rosa said, starting to cry. "I was imagining it like the Nazis sweeping me away to a shelter or something."
Half a block away, a triathlete zipping up his wetsuit for a morning swim said his bag was stolen recently, presumably by a homeless person.
"They even stole my towel," he said.
People who helped organize the patrol on social media posted comments suggesting bringing "body bags" and dogs that bite to the event, and saying that most homeless people were "no better than rats."
National homeless advocates said the messages and patrol were part of a worrying new trend of cyberbullying and vigilantism against homeless people.
This year, the National Law Center on Homelessness and Poverty asked the California attorney general to investigate possible civil rights violations by online groups and citizen patrols in southern Humboldt County and the west San Fernando Valley.
"Often these online groups and citizen patrol groups that are walking the streets and communicating about homeless population are disparaging at best to downright threatening at worst," said senior attorney Tristia Bauman.
Vince said the social media posts were unfortunate and strayed far from the patrol's intent.
"That's the problem with social media: dumb remarks," he said.
Vince said he hesitated to call the inaugural patrol a complete success, because of the protests.
"There was more noise than I anticipated," he said, "but everybody has different opinions and that's what makes it cool."
Vince plans to continue the patrols weekly. "Our point is clear: We're here to protect our community," he said.
Other Long Beach neighborhoods, including Bixby Park, have begun online discussions about starting their own citizen patrols, Kauffman said.
Twitter: @geholland
---
The stories shaping California
Get up to speed with our Essential California newsletter, sent six days a week.
You may occasionally receive promotional content from the Los Angeles Times.