Suspect in killings of Long Beach mother, 4-year-old daughter will represent himself at trial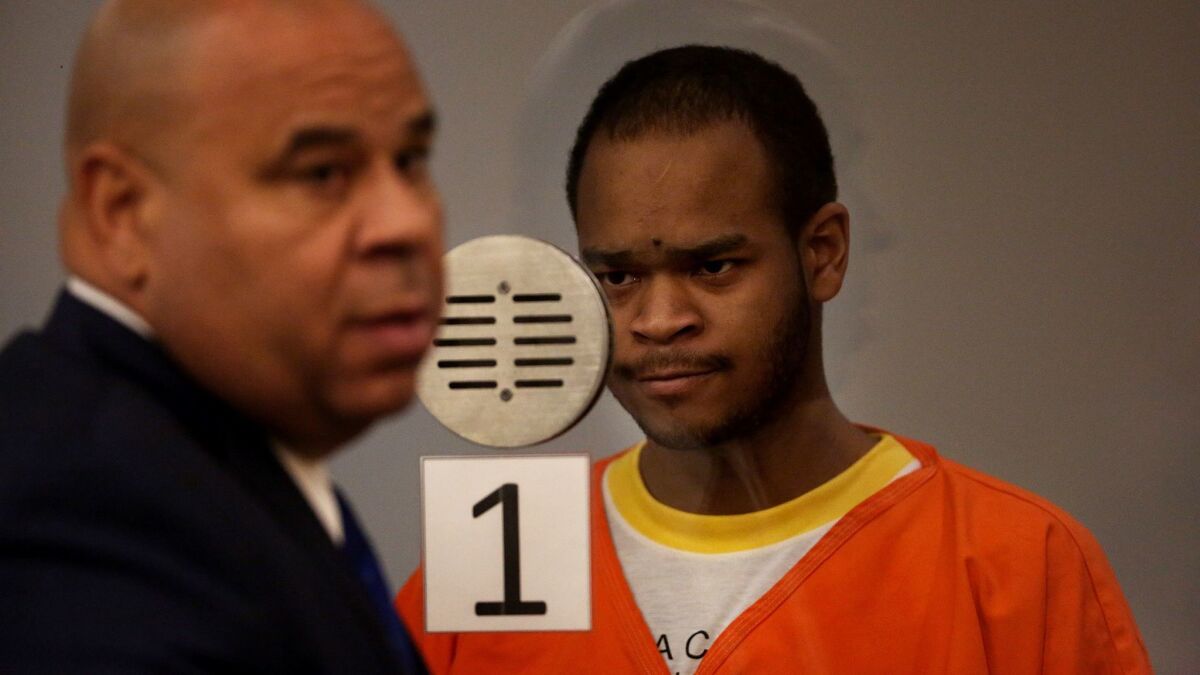 The Oklahoma man accused of gunning down a mother and daughter near their Long Beach home last summer will be allowed to represent himself at trial, where he could face the death penalty.
Brandon Ivan Colbert, 22, of Tulsa, Okla., pleaded not guilty Thursday to the August slayings of 26-year-old Carina Mancera and her 4-year-old daughter, Jennabel Anaya.
Shortly before Colbert entered his plea, Judge Tomson Ong decided to allow him to represent himself over the objections of attorney Matthew Fletcher, who had been retained by Colbert's family.
Fletcher said he believed Colbert was "legally competent," but argued the defendant would be completely incapable of mounting an adequate defense.
"I believe he has a right to defend himself. I do not believe he has a right to state-assisted suicide," said Fletcher, referring to the possibility that Colbert would face the death penalty if convicted in the killings.
Mancera and her daughter were shot and killed near their home at East 9th and Locust streets around 10:20 p.m. on Aug. 9, police have said. They were returning home from a shopping trip with Mancera's longtime boyfriend, Luis Anaya, when Colbert emerged from hiding and killed the mother and daughter with a shotgun, prosecutors say.
Colbert has also been charged with attempted murder for opening fire on Luis Anaya, who was not wounded.
Prosecutors have not discussed a motive in the case, and Deputy Dist. Atty. Cynthia Barnes declined to comment outside the courtroom.
The shooting initially puzzled Long Beach homicide investigators. Police released video of a man, later identified as Colbert, who was seen in the area before and after the shooting, but said they feared he had fled the state and had no clues as to his identity.
But as the investigation dragged on, Colbert was arrested on suspicion of driving a stolen car by Los Angeles County sheriff's deputies. His DNA was entered into a criminal database, matching with DNA found at the shooting scene that police believed belonged to the gunman.
Colbert was arrested and charged with the killings in early November.
Outside the courthouse, Fletcher said Colbert has a long history of mental illness and added that the defendant had been institutionalized for a time in Oklahoma. The attorney did not say what, specifically, Colbert had been diagnosed with.
Colbert apparently traveled to California from Oklahoma in an attempt to meet famed Los Angeles rapper The Game, according to Fletcher.
During an hourlong hearing, Ong repeatedly asked Colbert if he understood the uphill battle he would face in attempting to defend himself at trial. Each time, the defendant confidently said "Yes, I do," from behind a glass window.
Colbert said he had attended one year of community college but admitted he has no formal legal training. He also asked Ong for access to legal and psychiatric tomes, causing Ong to repeatedly remind the defendant that the court cannot aid in his defense.
"He doesn't have a clue what he's getting into," Fletcher said.
For more breaking crime and cops news in Southern California, follow me on Twitter: @JamesQueallyLAT
ALSO
Search continues for downed helicopter at Port of Los Angeles
Pomona police fatally shoot man who was suspected of wounding 2 people in eviction dispute
---
The stories shaping California
Get up to speed with our Essential California newsletter, sent six days a week.
You may occasionally receive promotional content from the Los Angeles Times.