Army veteran indicted in alleged terror bombing plot pleads not guilty in L.A.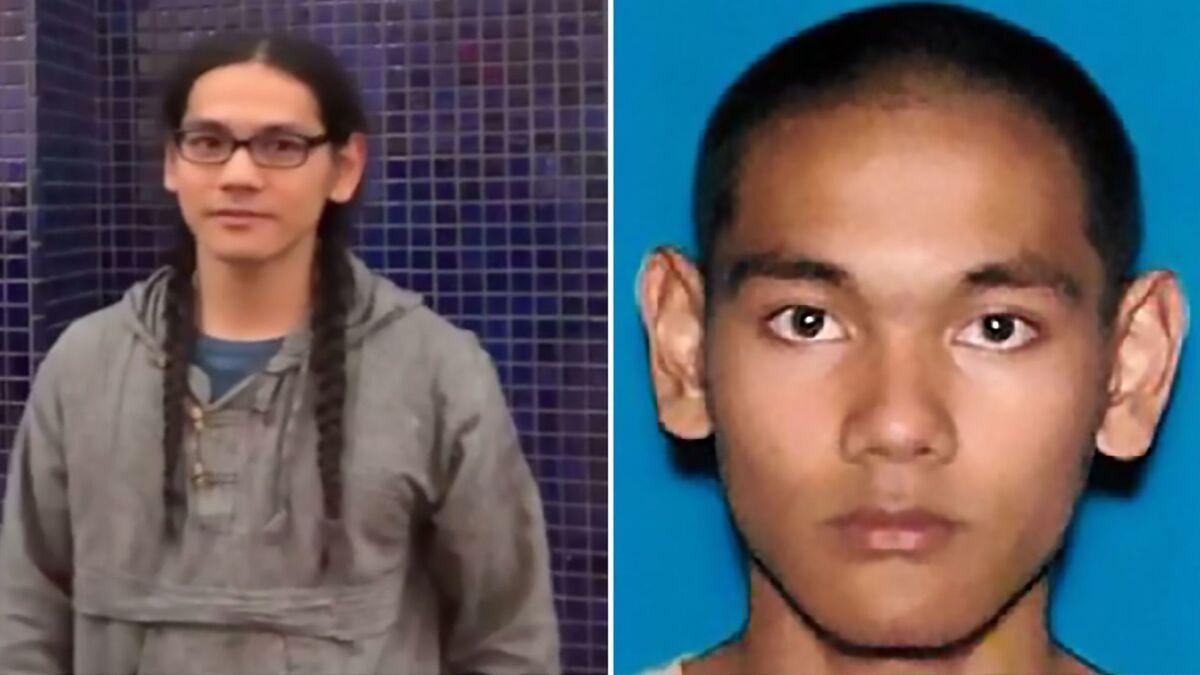 A man charged with planning a terrorist attack in Southern California pleaded not guilty Friday morning and is scheduled to return to federal court in Los Angeles on July 23.
Mark Steven Domingo, 26, was planning to detonate a bomb at a Long Beach white nationalist rally in April before he was intercepted by law enforcement officials, authorities said. He appeared in a courtroom at the Edward Roybal Federal Building wearing a white jumpsuit and will remain in federal custody ahead of trial proceedings.
The Reseda man was arrested April 26 after he took delivery of what he thought was an improvised explosive device from an undercover law enforcement officer posing as a bomb maker, officials said.
Domingo was indicted by a federal grand jury last week and charged with providing material support to terrorists and attempted use of a weapon of mass destruction. If convicted of all charges, he faces life in prison.
RELATED: For weeks, a U.S. Army veteran planned a terror plot across L.A., authorities say »
According to a federal affidavit, Domingo considered "various attacks — including targeting Jews, churches and police officers" before he decided "to detonate an IED at a rally scheduled to take place in Long Beach."
As part of the plot, Domingo purchased several hundred nails to be used as shrapnel inside the device and referenced the 2013 Boston Marathon bombing while seeking access to similar pressure-cooker bombs that he hoped would kill and maim dozens, according to a criminal complaint.
"Domingo said he specifically bought three-inch nails because they would be long enough to penetrate the human body and puncture internal organs," the affidavit states.
Prosecutors think Domingo, a recent convert to Islam and a combat veteran who was kicked out of the Army, was planning attacks to seek revenge for the March attacks on New Zealand mosques in which 51 people were killed.
In a series of online posts, prosecutors said, Domingo also expressed hope that another event similar to the 2017 mass shooting at the Route 91 Harvest country music festival in Las Vegas might "kick off civil unrest" in the U.S.
"Its not about winning the civil war its about weakening America and giving them a taste of the terror they gladly spread all over the world," he wrote, according to prosecutors.
RELATED: 'America needs another Vegas': How hateful comments online turned into L.A. terrorism plot investigation »
Federal authorities started the investigation after seeing the online comments.
The rally Domingo targeted was organized by a group called the United Patriots National Front, according to Long Beach Police Chief Robert Luna.
The group, which local activists have described as affiliated with white nationalism, did not show up, Luna told The Times in April. The park was populated by about 200 counter-protesters, but there were no arrests or injuries.
Domingo's "backup plan" was to target a demonstration against California's so-called sanctuary law in Huntington Beach that same weekend, Luna said.
Times staff writers James Queally and Richard Winton contributed to this report.
The stories shaping California
Get up to speed with our Essential California newsletter, sent six days a week.
You may occasionally receive promotional content from the Los Angeles Times.