L.A. terror suspect was ousted from U.S. Army for violent offenses, source says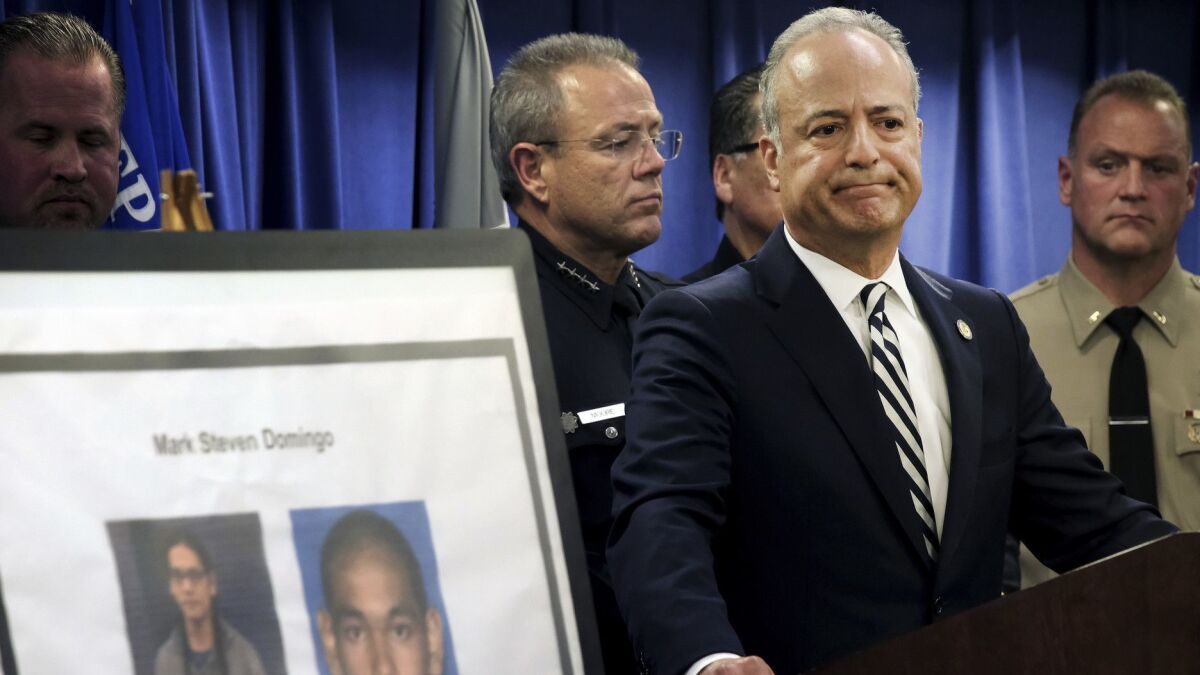 The U.S. Army veteran charged with planning a terrorist attack in Southern California was kicked out of the service several years ago following a clash in Afghanistan, sources told The Times on Tuesday.
Mark Steven Domingo, a 26-year-old Reseda man who the FBI said Monday was plotting to detonate a pressure-cooker bomb at a rally in Long Beach, was discharged following the incident in 2013, according to two law enforcement officials who spoke on condition of anonymity because information regarding a soldier's discharge status is not subject to public disclosure.
One official described the incident in Afghanistan as "violent," saying it led to an accusation that Domingo violated the the Uniform Code of Military Justice. The former infantryman was demoted and eventually forced out of the Army before completing his enlistment contract, the official said. It's unclear whether Domingo clashed with a civilian or fellow soldier. Multiple sources have told The Times that Domingo did not receive an honorable discharge from the military.
Domingo served in Afghanistan from September 2012 to January 2013, and had previously been stationed at Fort Campbell in Kentucky, according to court documents made public Monday. He joined the military in February 2011 and left the service a month after his return from Afghanistan, according to the U.S. Department of Defense.
Domingo's military discharge was part of a broader portrait emerging Tuesday of a man described by federal investigators as "consumed by hate" and depicted in court documents as an erratic and violent person who sought to kill police officers and members of other religions in retribution for the killings of Muslims in other parts of the world.
Prosecutors said Domingo, a recent convert to Islam, specifically wanted payback for a mass shooting carried out by a white supremacist in New Zealand that left 50 Muslims dead on March 15.
Domingo has been charged with providing material support to terrorists and faces up to 15 years in prison if convicted. He has not entered a plea and remains in federal custody.
During several weeks of recorded conversations with an FBI informant, Domingo expressed desires to kill Jews, Christians and police officers in either shootings or bombings that could take place across Southern California, including at landmark targets like the Santa Monica Pier. Eventually, he settled on a rally organized by a far-right group, United Patriots National Front, set for Bluff Park in Long Beach on April 28, according to court documents.
According to the documents, Domingo purchased eight pounds of nails that he believed were long enough "to penetrate the human body and puncture internal organs" and planned to work alongside two others to create a pressure-cooker bomb similar to the device used during the 2013 Boston marathon attacks. But his co-conspirator was an FBI informant, and the purported bomb maker was an undercover law enforcement officer, prosecutors said.
Domingo was arrested April 26 after being supplied with an inert device that he believed to be an improvised explosive, according to court documents.
A woman who knows Domingo, however, said Tuesday that he had never expressed any outward fury toward other religions or people and described his recent conversion to Islam as a way to cope with personal tragedy.
"This is not him," said the woman, who identified herself as Domingo's ex-girlfriend during a brief interview near his Reseda home.
Through tears, the woman said Domingo had converted to Islam only "two months ago," after she suffered a miscarriage.
"It was something that he connected with. Not the ISIS side of it, but it was helping him cope," said the woman, who declined to give her name.
The woman said the pair had dated for about a year, and she described Domingo as a history buff who cared for a stray cat in his family's neighborhood. She said he was frustrated with his job working as a salesperson for a security service and "was not happy" with his time in the military but never expressed the homicidal fury described in court documents.
"He was fun. We had normal dates," she said. "We went to museums. We went to plays. We went to the beach."
The woman said Domingo had been attending prayers each Friday at a nearby mosque.
A gate outside the Reseda home where Domingo lived with his brother and grandmother was locked Tuesday morning. In a statement, his family said they were shocked by the allegations by federal prosecutors and asked reporters to leave them alone.
"We do not know what is going on at this point," the statement read. "We are surprised by all of these events in regard with Mark."
Law enforcement officials, however, said they had become increasingly concerned with Domingo's erratic behavior. The 26-year-old owned three rifles, two of them semi-automatic, and showed up wearing camouflage and carrying a gun to at least one meeting with an FBI informant, according to court records. Two law enforcement officials told The Times that some investigators were worried Domingo might use the rifles to carry out an attack separate from the bombing.
Domingo remained under constant surveillance from the moment he was contacted by an FBI informant in mid-March, after he posted about wanting to commit killings in response to the March 14 New Zealand shootings. Deputy Chief Horace Frank, who oversees counterterrorism investigations for the Los Angeles Police Department, said the investigation required massive resources with dozens of officers monitoring Domingo.
"You have got to be ready for the inevitable, an individual going rogue, and you have to be in a position and have the resources to counter that," he said.
Follow @JamesQueallyLAT for crime and police news in California.
---
The stories shaping California
Get up to speed with our Essential California newsletter, sent six days a week.
You may occasionally receive promotional content from the Los Angeles Times.