Louis Zamperini to be honored in death as Rose Parade grand marshal
Louis Zamperini, a bombardier in the Army Air Force, peers out of the hatch nose of a bomber. Zamperini survived 47 days adrift on a raft in the Pacific Ocean before being captured by Japanese soldiers.
(Jack Rice / Associated Press)
Brig. Gen. Isaiah Davics pins a pair of silver bombardier wings on Lt. Louis Zamperini in 1942. Zamperini was presumed dead when his aircraft crashed in the Pacific Ocean.
(File photo / Associated Press)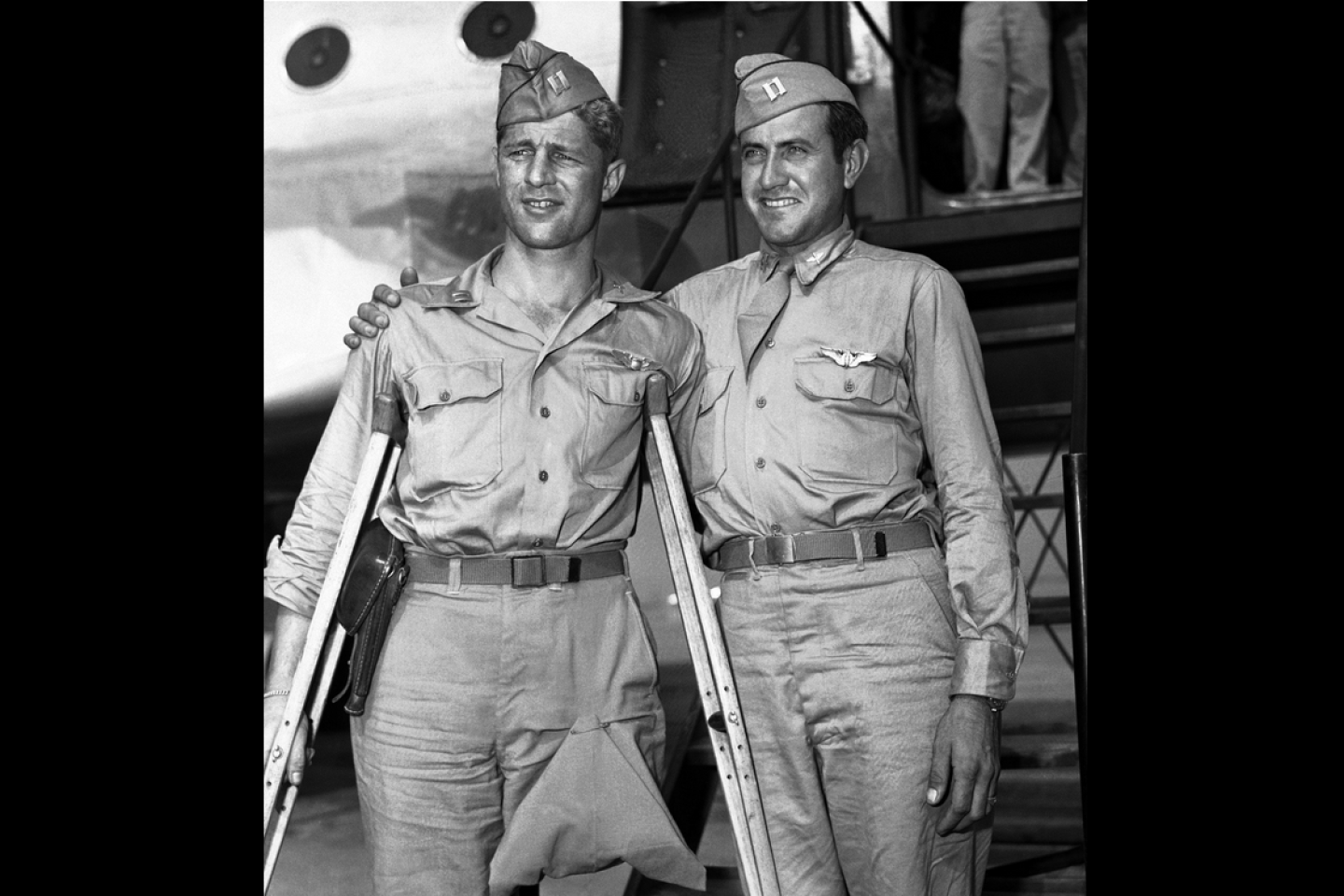 Zamperini, then a captain, right, and Capt. Fred Garrett arrive at Hamilton Air Field in Novato, Calif., in 1945 after their release from a Japanese "punishment camp."
(PCS / Associated Press)
While competing in track and field at USC, Zamperini breaks the mile record with a time of 4:16.3 to win the Pacific Coast Conference Track and Field meet in 1939.
(Paul Wagner / Associated Press)
Former Olympians John Naber helps Zamperini sign copies of his bestselling books at his home in 2011. Zamperini's remarkable life story is the subject of "Unbroken," the film based on Laura Hillenbrand's book of the same name. Zamperini has also published a memoir, "Devil at My Heels."
(Ricardo DeAratanha / Los Angeles Times)
The former track-and-field Olympian stands next to five Olympic torches he helped carry in five past Olympic Games. Zamperini stayed active throughout his life, giving up skiing only after he turned 91.
(Genaro Molina / Los Angeles Times)
In May, Zamperini was selected as grand marshal of the 2015 Rose Parade.
(Nick Ut / Associated Press)
Louis Zamperini -- the Olympic athlete turned World War II hero who died Wednesday -- will continue to be honored as the grand marshal for the 2015 Rose Parade, a role he was chosen for earlier this year, organizers say.
"Louis Zamperini was and will continue to be the embodiment of the 2015 Tournament of Roses theme 'Inspiring Stories,'" Tournament of Roses President Richard Chinen in a statement.
Zamperini, 97, was named the parade's grand marshal in May. At the time, he told the crowd assembled for the announcement that the role was "such an honor" and that he looked "forward to sharing the experience with my family and all the fans of the Rose Parade who will be watching."
Organizers did not immediately say how they planned to honor Zamperini at the Jan. 1 parade. They did not immediately return calls for a comment.
In his statement, Chinen said they are "honored to shine the light on one who truly lived a life of unconditional love, courageous perseverance and patient endurance."
Zamperini's life story inspired the bestselling book "Unbroken: A World War II Story of Survival, Resilience and Redemption," which was adapted into an Angelina Jolie-directed film to be released in December.
A statement issued by Universal Pictures, which is releasing "Unbroken," described Zamperini as as "one of a kind" who lived "the most remarkable life."
A standout track-and-field star at USC, Zamperini competed in the 1936 Olympics in Berlin, where he was the top U.S. finisher in the 5,000-meter race.
He retired from running during World War II and joined the U.S. armed forces. While serving as a bombardier on a reconnaissance mission, his aircraft crashed into the Pacific Ocean. He survived 47 days on an inflatable raft in shark-infested waters until being captured by the Japanese.
Zamperini remained in captivity for two years, during which time he was tortured, and was eventually listed as being killed in action by the U.S. government.
In a statement, the Zamperini family said he had recently faced the "greatest challenge of his life" during a 40-day battle with pneumonia.
Zamperini, the family said, left behind "a legacy that has touched so many lives. His indomitable courage and fighting spirit were never more apparent than in these last days."
For news as it happens in California, follow @JasonBretWells and @VeronicaRochaLA, or email her at veronica.rocha@latimes.com.
The stories shaping California
Get up to speed with our Essential California newsletter, sent six days a week.
You may occasionally receive promotional content from the Los Angeles Times.