Fentanyl, the deadly opioid that contributed to Mac Miller's death, increasingly found in street drugs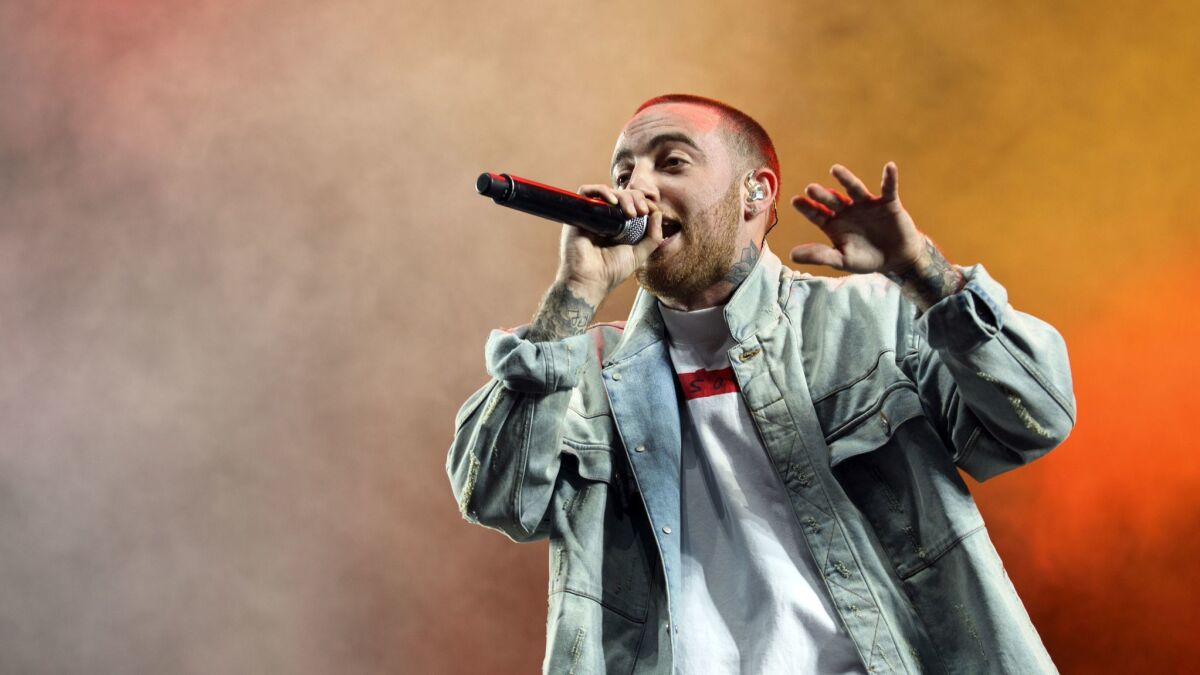 Exactly how music producer and rapper Mac Miller overdosed on a lethal combination of alcohol and drugs in his Studio City home in September may forever remain a mystery, but his death underscores the dangers of a deadly opioid that's rising in popularity.
Miller, 26, whose real name was Malcolm James McCormick, was found unresponsive inside his Valleycrest Drive home on Sept. 7. Miller's assistant, who discovered the rapper's body, said he was kneeling on his bed with his face resting on his knees in a "praying position." He was pronounced dead at the scene by paramedics, according to an autopsy report released this week.
Miller's toxicology tests showed that the rapper, known for hits like "Donald Trump," "Self Care" and "Programs," overdosed on a mixture of alcohol, cocaine and fentanyl, a lethal substance 50 times stronger than heroin that is sometimes mixed into other opioids to produce a stronger high.
Investigators found an empty bottle of liquor on the nightstand and another inside the home's recording studio. A small bag with a white powdery substance was found on a table in the studio, along with an iPad that appeared to have powder residue on it. Another bag with white powder and loose pills was discovered inside a pocket of one of Miller's coats, and a rolled $20 bill with white residue on it was in the pocket of his shorts, the report states.
Los Angeles County coroner's spokeswoman Sarah Ardalani said the office "can't say with certainty" how Miller took fentanyl or whether it was in the same source as the cocaine.
However, experts say fentanyl — a white powdery substance — is increasingly showing up in drugs like cocaine and methamphetamine in California.
Fentanyl has been prescribed as a painkiller for cancer patients since the 1960s. But an illicit version is being manufactured and can be easily mixed with other drugs without being noticed. Fentanyl deaths in California tripled between 2016 and 2017, according to the state health department.
Experts are unsure whether dealers are purposely or accidentally tainting drugs with fentanyl but say it's a concern regardless.
"We need to think of fentanyl being used with a wide range of drugs," Jane C. Maxwell, a professor at the University of Texas at Austin who studies substance abuse, told The Times in May. "We're so concerned about heroin and fentanyl, people aren't really looking at other uses of fentanyl and other problems that might occur."
Miller had a long history of drug and alcohol issues.
His assistant told authorities the rapper was known to drink to excess, use cocaine and take non-prescribed medications such as Xanax.
"He said that [Miller] struggles with sobriety and when he slips he consumes them in excess," according to the autopsy report.
Shortly after his public split with singer Ariana Grande in May, Miller crashed his Mercedes-Benz G-Class SUV into a pole. The singer and two passengers fled the scene in the San Fernando Valley, but he later was arrested and charged with driving under the influence.
Miller's struggles had played out in the tabloids, particularly his relationship with Grande. He also pushed back against concerns over his drug use in an August interview with Rolling Stone.
"If a bunch of people think I am a huge drug addict, OK. Cool. What can I really do?" he told the magazine. "Have I done drugs? Yeah. But am I a drug addict? No."
In an interview with Vulture, he said he tried not to worry about the headlines about him and what others think.
"It just seems exhausting to always be battling something … to always be battling for what you think your image is supposed to be. You're never going to be able to get anything across. It's never gonna be the real … No one's gonna ever really know me," he said.
In his last Instagram story before his death, Miller posted a video of a record player spinning "So It Goes," the last track on his fifth studio album, "Swimming." The song includes the lyric "Nine lives, never die … I'm still gettin' high."
Times staff writer Soumya Karlamangla contributed to this report
Twitter: @Hannahnfry
Twitter: @LAcrimes
---
Life is stressful. Our weekly mental wellness newsletter can help.
You may occasionally receive promotional content from the Los Angeles Times.