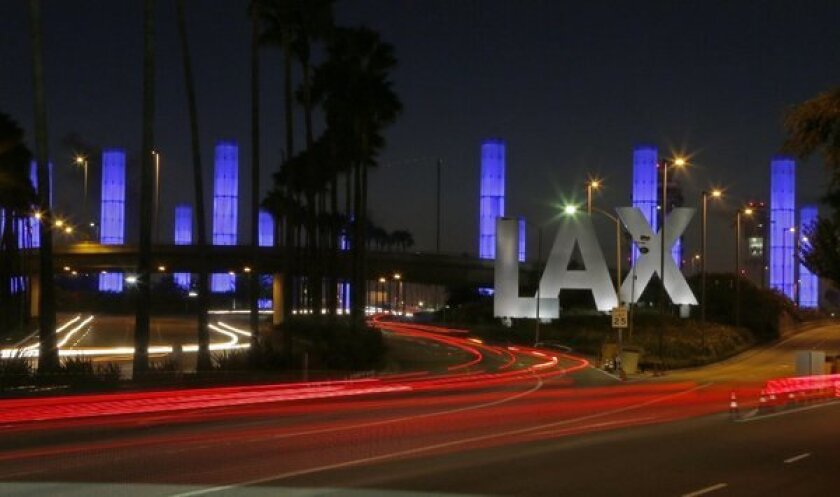 A 27-year-old San Jose man was arrested Friday night on suspicion of brandishing an unloaded gun at Los Angeles International Airport's Terminal 3, a week after a shooting at the same terminal left an airport security officer dead and three others injured.
The man, who had arrived at the airport from San Francisco, was taken into custody by airport police about 9 p.m., after witnesses spotted him removing the handgun from his checked luggage, said Sgt. Karla Ortiz, an assistant public information officer for the airport police.
"It scared a lot of people," Ortiz said. "The handgun was unloaded."
Los Angeles Police Department bomb squad officers searched the man's luggage before clearing the scene. The man was arrested on suspicion of brandishing a weapon but was later released for not meeting the criteria of the brandishing charge, Ortiz said. He was cleared to carry the handgun.
The airport was not evacuated.
Airport police will submit a crime report to the city attorney, who will then decide if charges should be filed, Ortiz said.
On Nov. 1, Paul Anthony Ciancia, 23, allegedly shot and killed one Transportation Security Administration agent and wounded three others before he was shot and taken into custody by airport police.
ALSO:
Two arrested in Hollywood party bus shooting
Chris Brown files countersuit over parking lot altercation
Sriracha creator adds heat to clash with Irwindale over factory smell
---