72-year-old woman sentenced to prison for DUI crash that killed MMA fighter's toddler son
A 72-year-old woman pleaded guilty to vehicular manslaughter Thursday in connection with a drunk driving crash that killed the toddler son of a mixed martial arts fighter, officials said.
Donna Marie Higgins was immediately sentenced to six years in prison for smashing her car into the stroller of 15-month-old Liam Mikael Kowal in Hawthorne last year, according to Ricardo Santiago, a spokesman for the Los Angeles County district attorney's office.
The boy's father, Swedish-born fighter Marcus Kowal, was in the courtroom for the sentencing, according to his Facebook page.
"Welcome to the karma cafe. There are no menus. You will get served what you deserve," read a picture Kowal posted Thursday morning, announcing his arrival at the Airport Courthouse.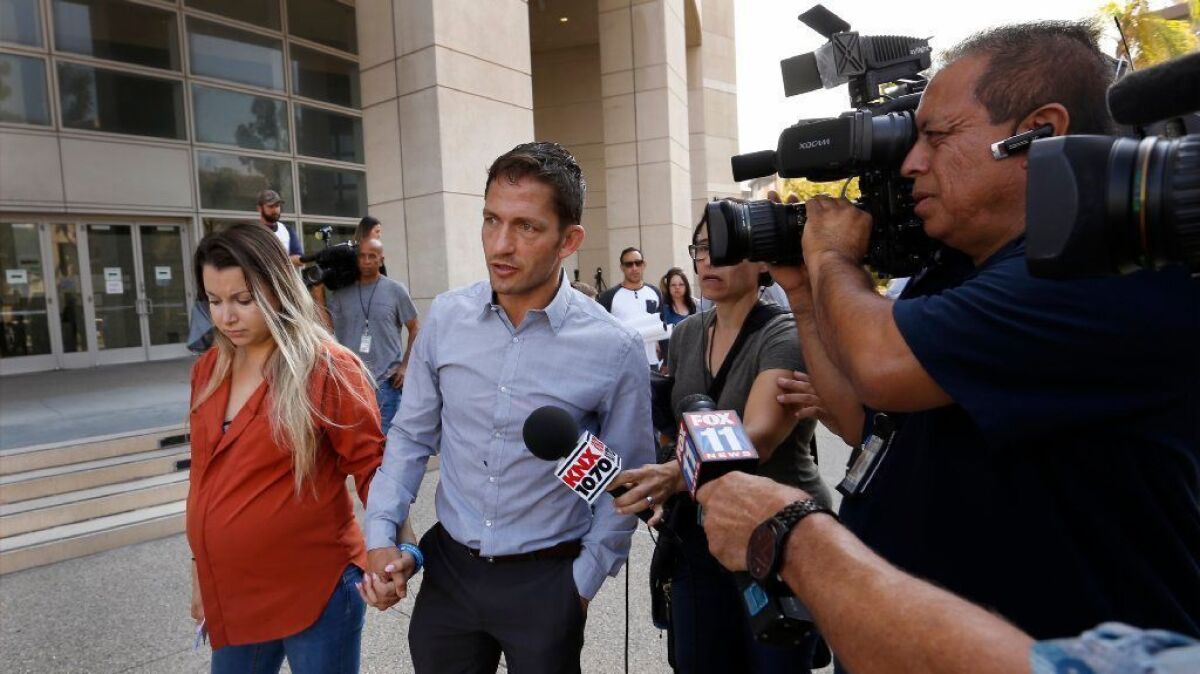 Higgins was arrested Sept. 3, 2016, after police said she slammed her car into Liam's stroller, which was being pushed in a crosswalk by his 15-year-old aunt, near Hawthorne Boulevard and 133rd Street.
The boy did not have a pulse when police found him in his stroller at the crash scene. Liam's aunt was also injured, police said.
The Kowal family decided to take the boy off life support the next day.
"About an hour ago, our baby was declared brain dead," Kowal wrote on Facebook at the time. "He tried to fight so hard. He even died at one point but they brought him back. He's a little fighter. His heart is still beating but his brain is no longer working."
Higgins was initially booked on suspicion of felony hit-and-run and drunk driving charges, but prosecutors moved to charge her with vehicular manslaughter after the boy died.
A longtime resident of Hawthorne, Higgins was driving to a local store on the day of the crash and has expressed extreme sorrow over the child's death, according to her attorney, Richard A. Hutton.
"What happened was a terrible accident," he said. "She's deeply remorseful, has taken full responsibility for her actions and is very sorry for the grief she caused everybody, in particular the parents."
Kowal has become active in campaigns against drunk driving since the fatal wreck, circulating a petition calling on legislators to toughen legal-limit laws that generally allow people to drive with a blood-alcohol content of less than .08%.
"I'm glad we get the chance to speak to her directly and that she will be off the streets and behind bars. However, she's so insignificant in the fight ahead that it's just a small battle along the way," Kowal wrote in a Wednesday post ahead of the hearing. "We won't stop until there's been significant change made in this country and around the world, so that others don't have to lose their mothers, or fathers, or brothers, or sisters or especially, children."
Follow @JamesQueallyLAT for crime and police news in California.
ALSO
Suspect in Pacific Palisades standoff is dead, police say
Man charged with murdering brother of L.A. County Supervisor Mark Ridley-Thomas in 1981
Girl, 12, killed after man with shotgun walks up to Victorville home and opens fire
---
Life is stressful. Our weekly mental wellness newsletter can help.
You may occasionally receive promotional content from the Los Angeles Times.