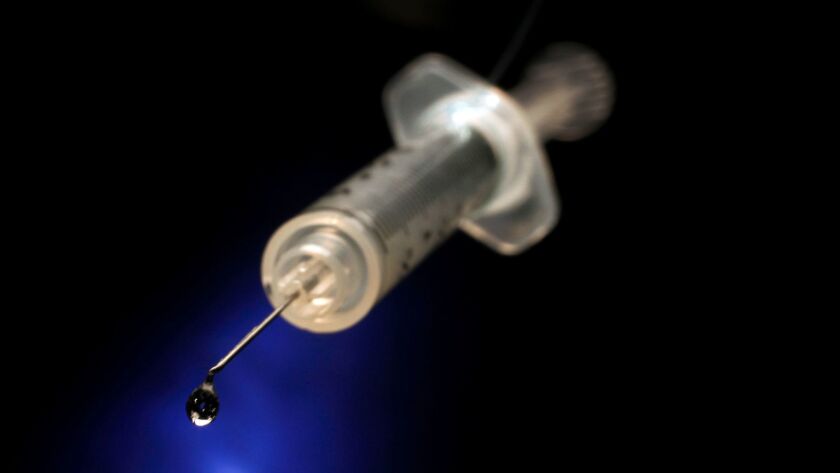 A Long Beach massage therapist accused of performing an illegal buttocks enhancement on a woman who died after the procedure was sentenced Monday to three years in jail, officials said.
Sandra Yaneth Pérez-Gonzalez, who also goes by the name Sandra Yaneth Slaughter, was sentenced immediately after pleading no contest to involuntary manslaughter in the February 2014 death of Hamilet Suarez of Long Beach, according to the Los Angeles County district attorney's office.
Pérez-Gonzalez, 45, was arrested on Feb. 14, two years after Suarez died from the procedure, according to the Long Beach Police Department.
The investigation into Suarez's death began on Feb. 12, 2014, when police were called to Areli's Beauty Salon in the 2000 block of Pacific Avenue to assist firefighters with a patient who suffered a cardiac arrest "under suspicious circumstances," police said.
Suarez, 36, was taken to a hospital, where she later died.
Officers were initially told that Suarez had gone to the salon for a massage but went into cardiac arrest before the massage started, according to the Police Department.
Authorities said witnesses gave inconsistent accounts of the details surrounding Suarez's salon visit.
Homicide detectives eventually determined that Pérez-Gonzalez, who was licensed only to give massages, had performed an illegal buttocks enhancement procedure on Suarez, police said.
Authorities said Pérez-Gonzalez had previously performed a similar procedure on a relative of Suarez's.
According to police, Pérez-Gonzalez was renting a room in the salon and had been advertising her cosmetic services.
In her advertisements, authorities said, Pérez-Gonzalez told potential customers that she could perform buttocks enhancements, lip augmentations and so-called vampire face lifts — procedures in which a patient's blood is drawn and reinjected into their face.
Investigators also found multiple vials of drugs or chemicals used in surgical body enhancement procedures in Pérez-Gonzalez's treatment room, police said.
Twitter: VeronicaRochaLA
ALSO
Murder victim's children unknowingly rode in SUV with her body in cardboard box, police say
15 pounds of marijuana left on side of 210 Freeway are discovered by councilman
Police pursuits cause unnecessary deaths and injuries, L.A. County grand jury says
Detective who spent 11 years hunting accused molester who fled to Guatemala calls bail decision 'asinine'
---