A tax hike to fund a major expansion of the Metro system is leading in early returns
A half-cent sales tax increase that would fund the most ambitious transit expansion in Los Angeles County history appeared to be leading in early returns Tuesday night.
Measure M would generate an estimated $120 billion over four decades for Metropolitan Transportation Authority bus and rail operations, system maintenance and fare subsidies, as well as a dramatic expansion of the county's growing rail network.
The proposal has the potential to transform a traffic-choked region that began building a modern rail network decades after other U.S. cities. The tax revenue would fund the construction of nearly a dozen new rail lines, including twin rail tunnels through the Sepulveda Pass and new connections to Pacoima, Claremont, Artesia and Torrance.
At a joint victory party Tuesday night for several local ballot measures, Los Angeles Mayor Eric Garcetti — Measure M's most visible advocate — took the stage to applause.
"There is nothing to be depressed about in Los Angeles when we wake up tomorrow," Garcetti said. Local races, he said, showed a county "that is willing to take on the toughest challenges," including congestion, homelessness and funding for higher education.
As he spoke, Measure M's returns continued to tick slowly upward, staying above the two-thirds threshold needed to pass.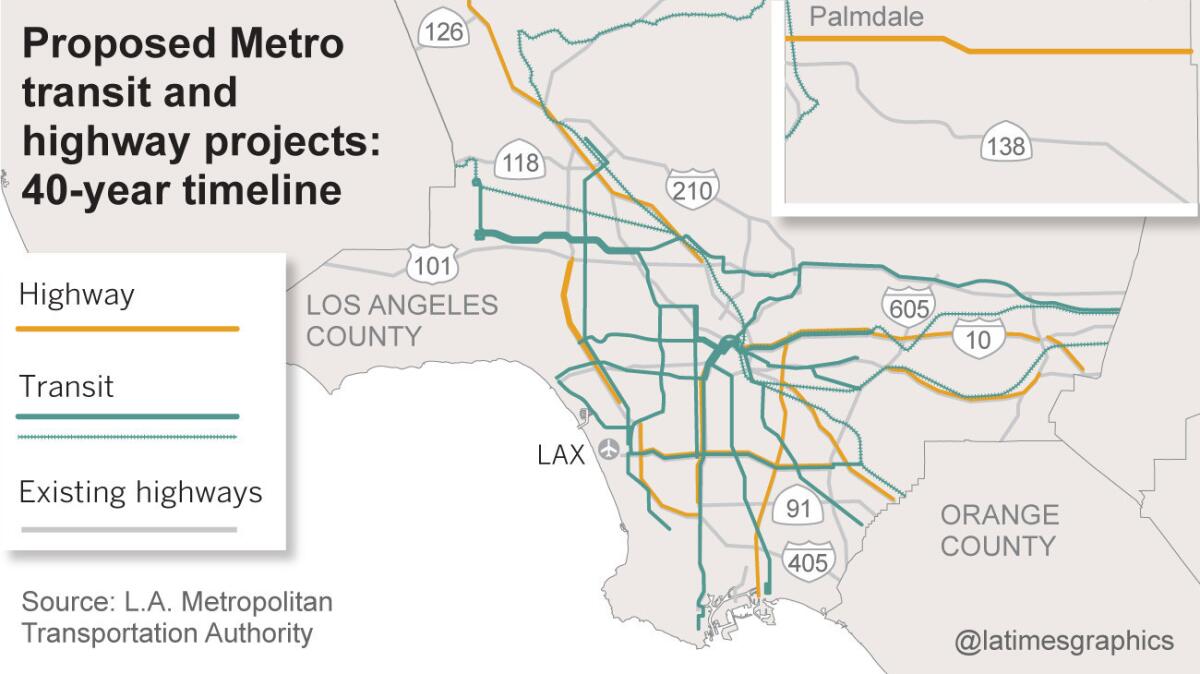 Metro Chief Executive Officer Phil Washington said it was too early to say whether the measure would win, but added: "We are ready to invest. We are ready to build."
Tax revenue would also fully or partly fund 10 highway projects, including several new tolled carpool lanes, an extension of State Route 71 and a new carpool-lane interchange between the 405 and 110 freeways.
Measure M would raise the county's base sales tax rate by a half-cent in 2017 and increase it to 1% in 2039 after another half-cent tax expires. The levy would continue until voters choose to end it.
Traffic always ranks among the top priorities for Los Angeles residents, often outstripping concerns about the economy, crime and retirement savings. But the two-thirds majority required to pass such a tax is always a high hurdle.
Measure M is listed alongside a host of other spending proposals, including a county parcel tax for parks and a community college bond measure. In the city of Los Angeles, voters will decide Proposition HHH, a $1.2-billion bond measure for homeless housing.
Washington has said he hopes to convert 20% to 25% of the county's population into regular transit riders, more than three times the current rate.
Measure M has faced opposition from mayors and council members in the South Bay and a swath of cities in the southeast county, who have said its project timeline favors the northern half of the county. Others have said voters may find it difficult to hold Metro accountable for cost overruns and schedule delays.
Metro would also face challenges beyond rail construction. Despite the popularity of the new Expo Line extension to Santa Monica, system ridership has faltered. Trips on the region's sprawling bus and rail network have fallen nearly 10% over a two-year period, with bus trips down by almost 13%.
Should Measure M fail, Metro will continue to receive more than $2.5 billion annually from three other dedicated half-cent taxes. But without a new, permanent source of revenue, officials say, they won't have the borrowing capacity to dramatically expand the rail network.
Garcetti has traveled across the county for news conferences, and appeared in a series of televisions ads funded by the Yes on M campaign.
In one advertisement, filmed as Garcetti is driving, he calls Measure M "something that will help relieve traffic and literally change our lives."
The Yes on M campaign raised nearly $10 million in campaign contributions, with strong backing from developers, labor unions and construction firms, as well as several philanthropists, including Eli Broad and Jerry Perenchio.
For more transportation news, follow @laura_nelson on Twitter.
ALSO
L.A. voters to decide on $1.2-billion bond for homeless housing
Twin tunnels under the Sepulveda Pass could tame L.A. traffic. But the plan comes with unknowns — and a $6 billion price tag
L.A.'s traffic battle plan: More rail, but also Uber, bicycles, cars and a lot more dense development
---
UPDATES:
12:05 a.m. Nov. 9: This article was updated with details about early voting results.
This article was originally published at 6 a.m. Nov. 8.
Sign up for Essential California for news, features and recommendations from the L.A. Times and beyond in your inbox six days a week.
You may occasionally receive promotional content from the Los Angeles Times.