Prosecutor says 'Shield' actor Michael Jace taunted wife before killing her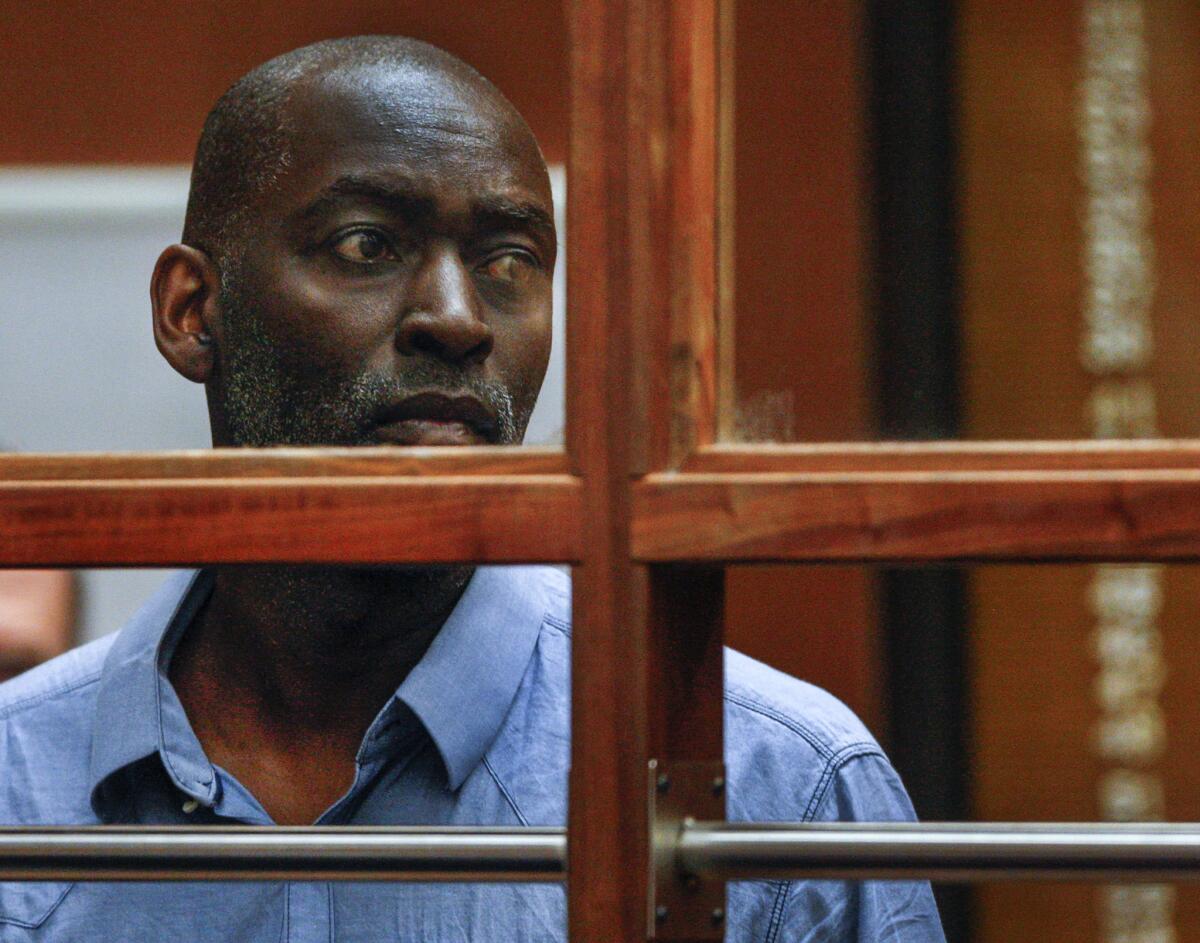 An actor who played a police officer on TV was upset because his wife wanted a divorce and taunted her before fatally shooting her in their Los Angeles home while their two young sons watched, a prosecutor told jurors Tuesday.
Deputy L.A. County Dist. Atty. Tannaz Mokayef made the accusations against Michael Jace during her opening statement at his murder trial.
Defense attorney Jamon Hicks acknowledged that his client had killed his wife and said the defense team would try to explain the actor's mindset when it happened.
"This case is not about who did it. We acknowledge it. We accept responsibility," Hicks said in his opening statement. "This case is not about how it was done. We acknowledge it. We accept responsibility. This case is about why it was done."
Mokayef said that Jace had been drinking and told his wife, April Jace, in a text message that he had left their home but that he was actually waiting for her with a loaded revolver.
When she arrived, the prosecutor said, Michael Jace shot her in the back before firing two more rounds into her legs within sight of their sons — 8 and 5 at the time.
April Jace was an avid runner and Mokayef said the actor shot her in the legs because he wanted her to feel pain.
The prosecutor said one of the boys will testify that he heard his father tell his mother, "You like to run so much. Why don't you try running to heaven?"
Mokayef also provided new details about the 2014 killing, including a 911 call in which the actor calmly told a dispatcher, "I shot my wife."
The recording was later played in court and Jace is heard saying, "My intent was not to kill her."
Jace also gave instructions on how officers should enter the home so they could find the gun and not think he was still armed, and he told detectives that he shot his wife in the back after she lunged at him, the prosecutor said.
Mokayef said the evidence will prove Jace planned the killing because he believed his wife was having an affair and wanted a divorce. He spent much of April Jace's last day texting her, trying to guess who she was sleeping with.
"You will hear that on May 19, 2014, the defendant took a loaded gun, a revolver, and waited for his wife to come home and then shot her in the back and then shot her two more times in front of their kids," Mokayef told the jury of six men and six women.
The prosecutor called it a "really sad story of obsession and control."
Jace played a police officer on the FX series "The Shield" and worked steadily in small roles in films such as "Planet of the Apes," ''Boogie Nights," ''Forrest Gump" and the television series "Southland."
ALSO
LAPD's Beck says efforts to reduce slayings across the city are 'starting to have some effect'
L.A. County extends medical marijuana growing ban one month
Bear sightings: It's that time of year in Southern California
Sign up for Essential California for news, features and recommendations from the L.A. Times and beyond in your inbox six days a week.
You may occasionally receive promotional content from the Los Angeles Times.