Nancy Reagan funeral is Friday; public viewing is Wednesday and Thursday
American actor and future president Ronald Reagan (1911 - 2004) sits with his wife, actress Nancy Reagan, as the par talk with fellow actor and future US Senator George Murphy (1902 - 1992) at the premiere of 'High Society,' July 1956. (Photo by Pictorial Parade/Getty Images)
(Pictorial Parade / Getty Images)
Nancy and Ronald Reagan, with running mate George H.W. Bush and his wife, Barbara, are cheered by delegates at the Republican National Convention in July 1980. "Reagan knew where he wanted to go, but she had a better sense of what he needed to do to get there," biographer Lou Cannon said of Nancy Reagan.
(Joe Kennedy / Los Angeles Times)
The Reagans attend a 1980 reception in their honor in Los Angeles with Los Angeles Times Publisher Otis Chandler and his mother, Dorothy.
(Lennox McClendon / Associated Press)
The Reagans prepare to return to Washington from Point Mugu Naval Air Station after a Memorial Day vacation in California in 1981.
(Joe Kennedy / Los Angeles Times)
The Reagans with music legend Ray Charles at a musical salute in Washington in March 1983.
(Ira Schwartz / Associated Press)
Nancy Reagan holds Chinese leader Deng Xiaoping's hand during a 1984 visit to Beijing. The first lady took an active role in advising President Reagan on policy matters.
(Scott Stewart / Associated Press)
The president and first lady visit the terra cotta soldiers archeological site during their 1984 China trip.
(Bob Daugherty / Associated Press)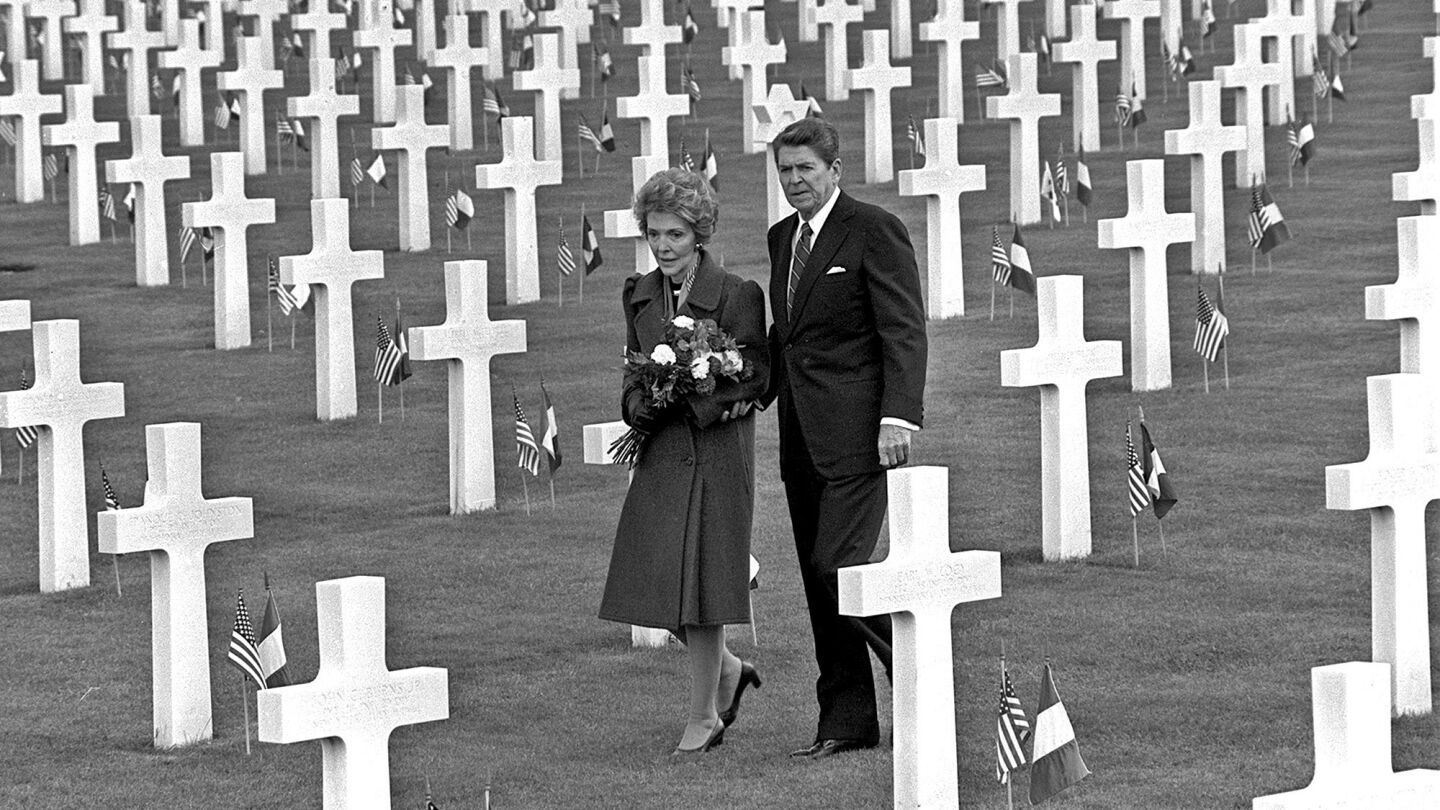 The Reagans walk through Normandy American Cemetery above Omaha Beach in northern France on June 6, 1984, the 40th anniversary of the D-day invasion.
(Bob Daugherty / Associated Press)
President Reagan and First Lady Nancy Reagan at a New Orleans luncheon in August 1988.
(Mike Sargent / AFP/Getty Images)
The former president and first lady arrive for the premiere of Andrew Lloyd Webber's "Sunset Boulevard" in Los Angeles in December 1993.
(Chris Martinez / Associated Press)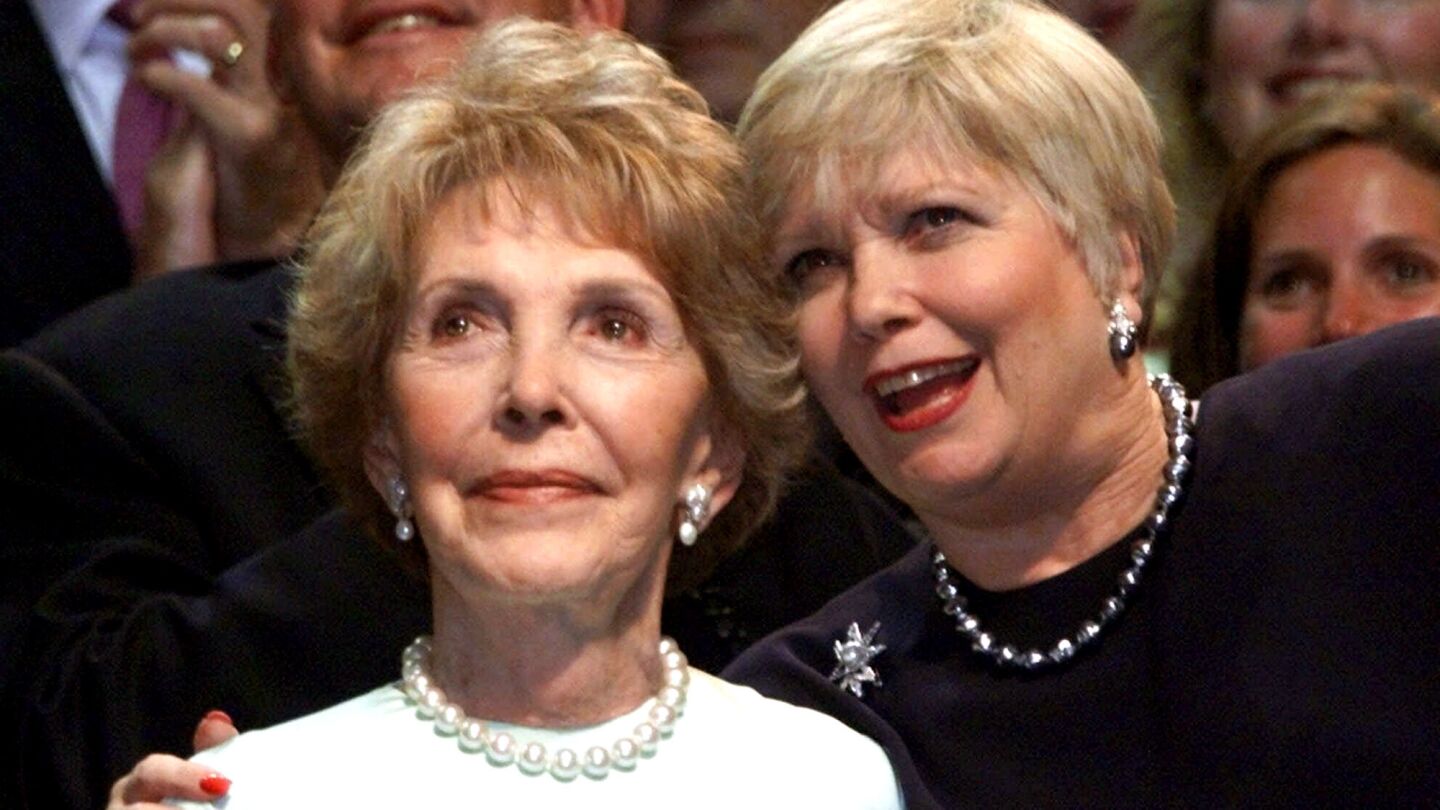 Nancy Reagan with stepdaughter Maureen at the 2000 Republican National Convention in Philadelphia, a year before Maureen's death from skin cancer.
(Hillery Garrison Smith / Associated Press)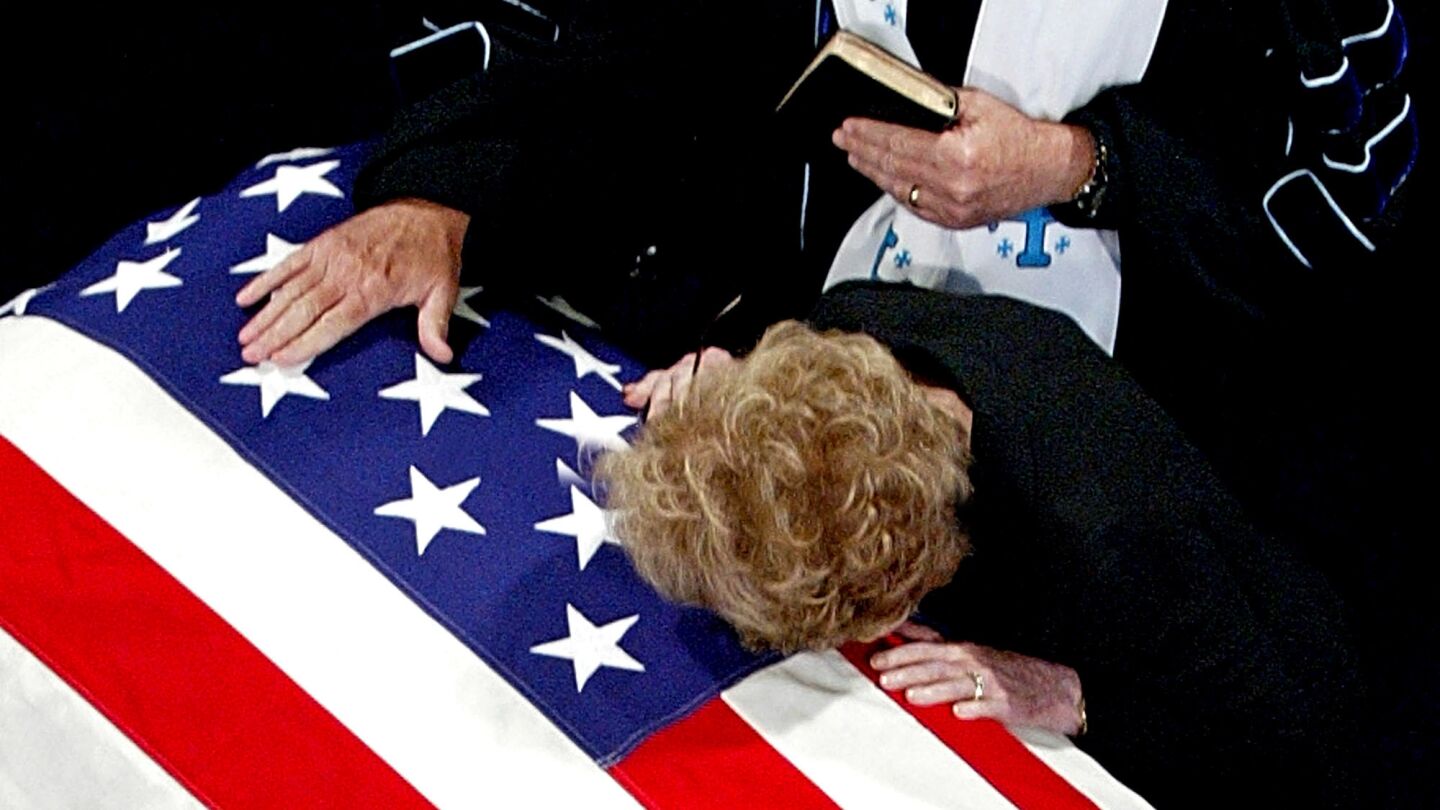 The former first lady lays her cheek on Ronald Reagan's casket after his death in 2004. His Alzheimer's diagnosis led her to become an advocate for stem cell research and hastened a reconciliation between her and her children.
(Bryan Chan / Los Angeles Times)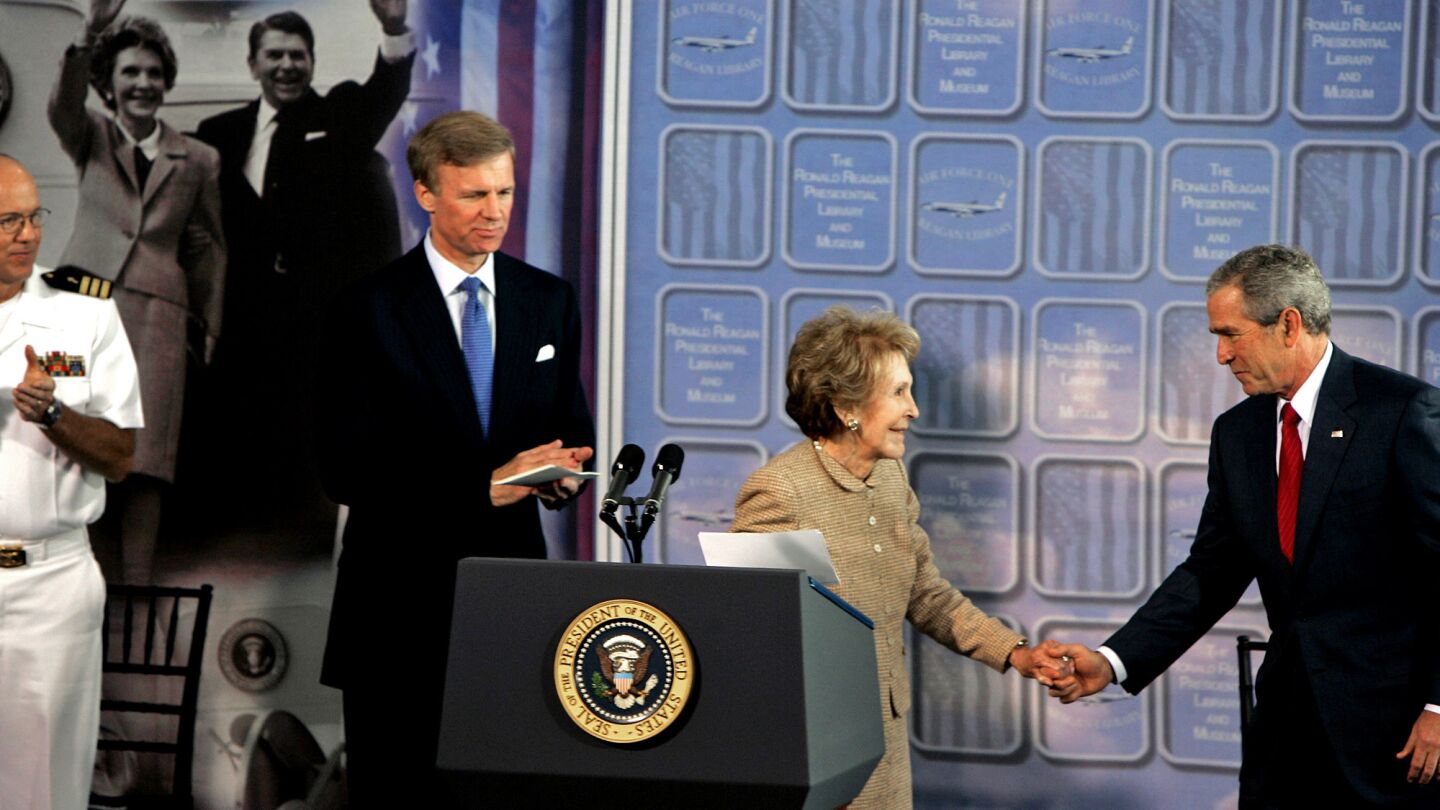 Nancy Reagan with President George W. Bush in 2005 at an Air Force One exhibit at the Ronald Reagan Presidential Library in Simi Valley.
(Brian van der Brug / Los Angeles Times)
Gov. Arnold Schwarzenegger and his wife, Maria Shriver, with Nancy Reagan at a ceremony commemorating the 40th anniversary of Ronald Reagan's first gubernatorial win.
(Anne Cusack / Los Angeles Times)
The First Lady's in front of the Red Dress display. First Lady Laura Bush and former First Lady Nancy Reagan participated in the Heart Truth Roundtable at the Reagan Library in Simi Valley on Wednesday, February 28, 2007. Later they visited students at Balboa Magnet School in Northridge who are part of a National Park Service program.
(Stephen Osman / Los Angeles Times)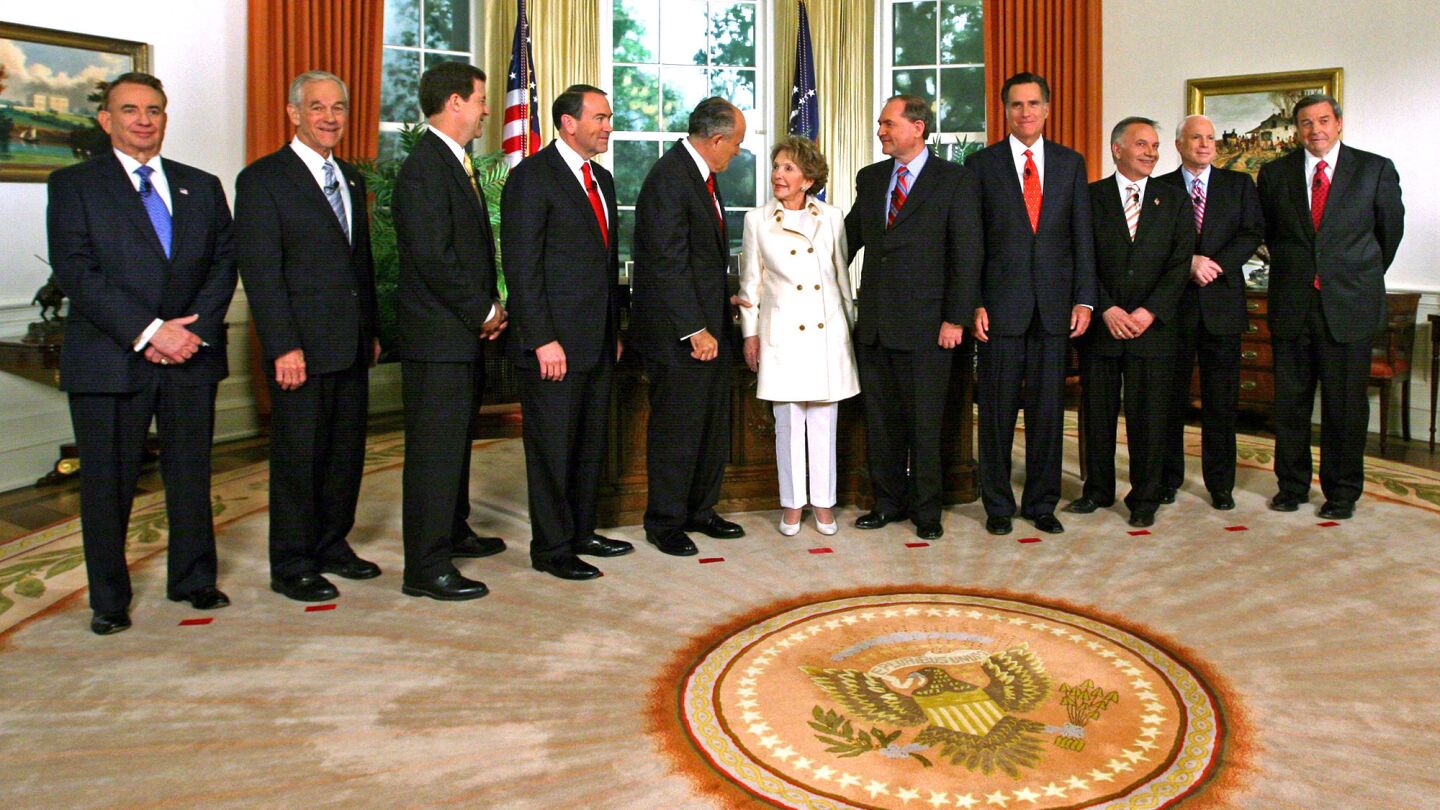 Nancy Reagan poses with the 2008 Republican presidential candidates after their May 2007 debate at the Reagan Presidential Library in Simi Valley.
(Robert A. Reeder / Associated Press)
Vice President Dick Cheney escorts the former first lady at a white-tie dinner for Britain's Queen Elizabeth II at the White House in May 2007.
(Pool / Getty Images)
In May 2007, Nancy Reagan holds a copy of the newly released "Reagan Diaries," which chronicles her husband's two terms in the White House.
(Stephen Osman / Los Angeles Times)
Nancy Reagan is joined by California Gov. Arnold Schwarzenegger and Assemblyman Martin Garrick (R-Carlsbad), left, at a signing ceremony for two bills honoring her late husband at the Reagan library in Simi Valley.
(Al Seib / Los Angeles Times)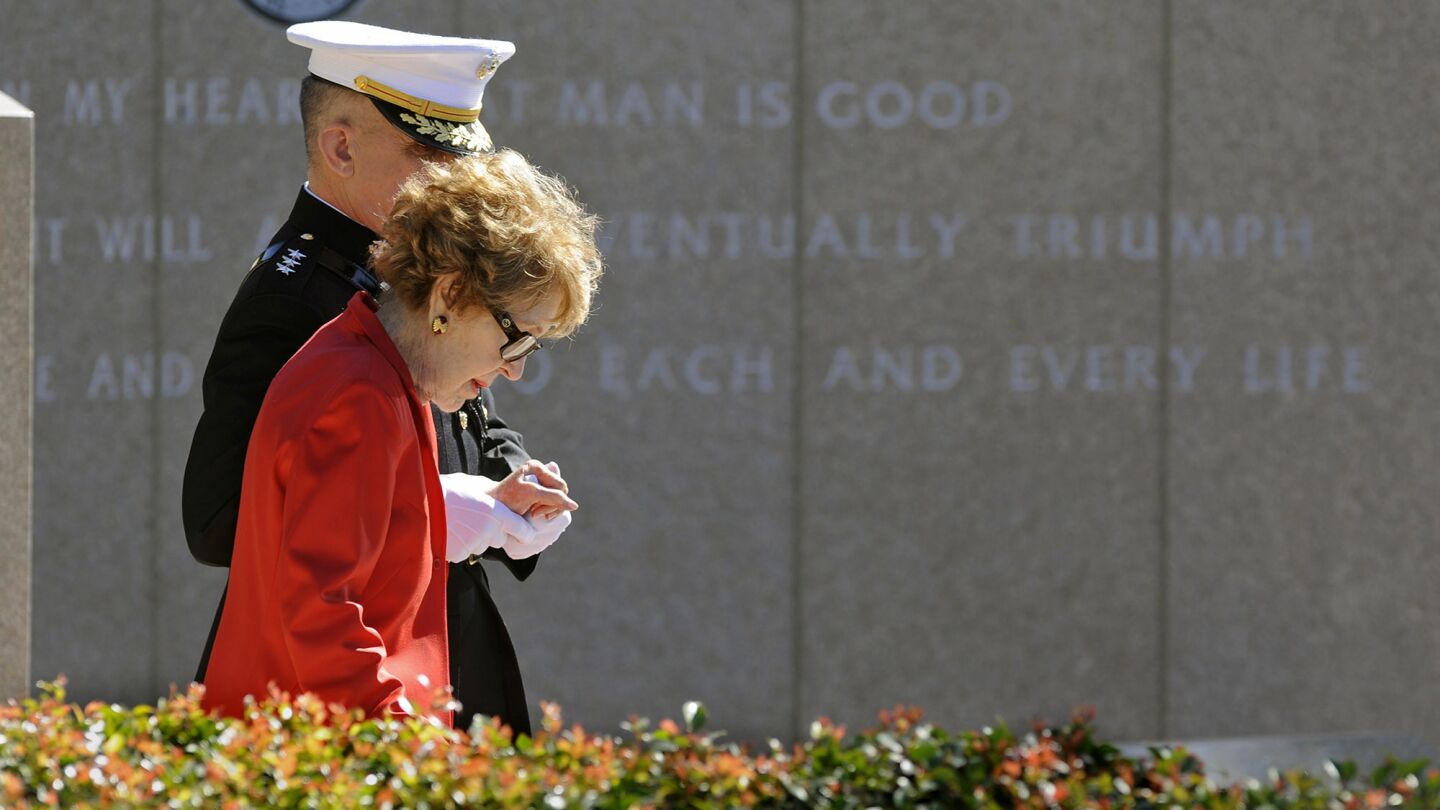 Nancy Reagan is helped by Marine Lt. Gen. George J. Flynn as she arrives for a wreath-laying ceremony at her husband's memorial at the Reagan Presidential Library in Simi Valley.
(Wally Skalij / Los Angeles Times)
Nancy Reagan after a GOP presidential debate at the Reagan Presidential Library.
(Paul Buck / EPA)
Nancy Reagan will be buried next to her husband Friday during a private funeral at the Ronald Reagan Presidential Library, officials announced Monday.
The library also announced that the public will have a chance to pay their last respects before the funeral on Wednesday from 1 p.m. to 7 p.m. and Thursday from 10 a.m. to 2 p.m. Parking on-site will not be allowed, but shuttles will be provided from 400 National Way, according to a press release.
Officials said there will be enhanced security during this period at the library.
"No large bags or cameras will be permitted and all bags will be inspected. Strollers will not be allowed inside the building," the library said in the release. "Gifts and flowers will only be accepted at the bottom of Presidential Drive and at the shuttle pick up location."
On Sunday, some people who had heard of her death came to pay their respects outside the library's entrance, in Simi Valley, about 45 miles northwest of downtown Los Angeles.
Timeline: The life of Nancy Reagan>>
Andy Hall, 48, of Simi Valley, stood by the roadside on the hill leading up to the library, holding an American flag. Hall said he had served in the Army during the first Gulf War.
"He meant a lot to me," Hall said. "When he died, I came to pay my respects."
Former First Lady Nancy Reagan remembered.
He said he was impressed by Nancy Reagan's devotion to her husband.
"It's not about his politics or her politics, it's about the love they had for each other," he said.
Julia Berman, 62, of Westlake Village, said she admired Nancy Reagan's "elegance and social graces."
"She wore that Reagan red so well," Berman said.
She recalled the Reagan years as a "golden age" for the country and the couple as consummate Californians. And as a widow herself, Berman said she was inspired by Nancy Reagan's strength after her husband's death.
"It really gave me strength just knowing how she would come to all the events, and I'm sure it wasn't easy," she said.
To Wendy Armstrong, a volunteer docent at the Reagan library, the late first lady's legacy was much clearer. She listed Nancy Reagan's breast cancer activism, her "Just Say No" anti-drug campaign, and advocacy for stem cell research as noteworthy accomplishments.
"She was a very criticized first lady, but I think when all the dust has settled, she will go down in history as one of the greatest first ladies," Armstrong said.
(Francine Orr / Los Angeles Times)
Melissa Giller, a spokeswoman for the Ronald Reagan Presidential Foundation & Library, said Nancy Reagan had been an active board member up to the time of her death, and had written to the pope and archdiocese to ask for support for the library's latest exhibit on the Vatican, which had been scheduled to open Sunday.
"She's really been the guiding force of the Reagan library for probably the past 15 years," Giller said.
NEWSLETTER: Get essential California headlines delivered daily >>
The former first lady used to visit the library six to 10 times a year, Giller said. In recent years, as travel became more difficult, she had continued to travel there every June on the anniversary of her husband's death.
John Heubusch, executive director of the Reagan library and foundation, described Nancy Reagan's death as "the end of an era," both for the library and the nation.
ALSO
From the archives: As Ronald Reagan fades, Nancy takes on a new role
Nancy Reagan turned to astrology in White House to protect her husband
From 'Diff'rent Strokes' to high fashion, Nancy Reagan was giant of 1980s
Live updates: Nation mourns Nancy Reagan, influential former first lady, who died at 94
---
The stories shaping California
Get up to speed with our Essential California newsletter, sent six days a week.
You may occasionally receive promotional content from the Los Angeles Times.