L.A. Fashion District business owners sentenced to federal prison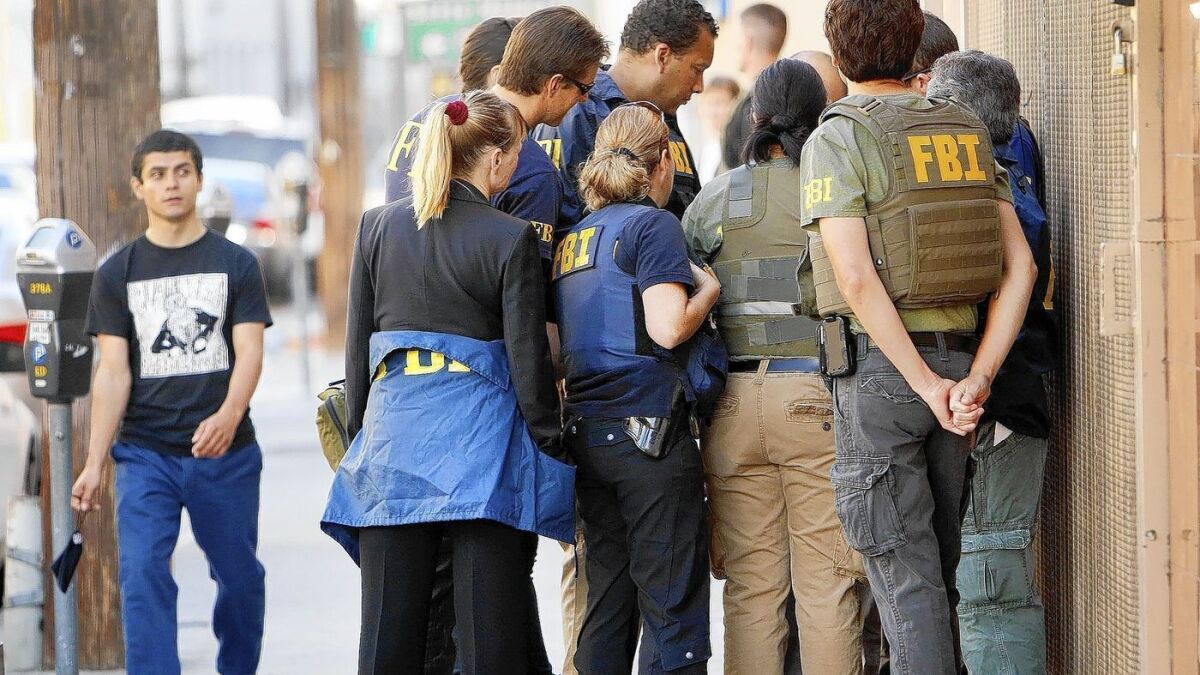 An owner of a downtown Los Angeles Fashion District company was sentenced Tuesday to federal prison for his role in what prosecutors allege was a money laundering scheme to hide hundreds of thousands of dollars that came from drug traffickers.
Hersel Neman of Beverly Hills pleaded guilty to conspiring to launder money. His brother, Morad Neman of Westwood, pleaded guilty to conspiring to structure monetary transactions in a domestic financial institution and subscribing to and filing a false 2013 tax return that understated the company's income, among other charges.

For the record:
8:25 p.m. Dec. 19, 2018The headline of this story and the article previously stated that brothers Morad and Hersel Neman were sentenced in a money laundering scheme. The headline and article were updated to clarify that only one of the brothers, Hersel Neman, was sentenced for conspiring to launder money. The other brother, Morad Neman, was sentenced for other charges, but not money laundering. Parts of the story have been reworked.
Morad Neman didn't plead guilty to money laundering charges and denies any involvement in the scheme, his attorney said.
Ariel Neuman, an attorney for Morad Neman, said the government made it appear that his client was involved with drug traffickers when there was no proof.
"The government's press releases have suggested over and over that [Morad] Neman pled guilty of money laundering," he said. "We think [the sentencing] is still too harsh, but compared to what the government was asking for, it's a fair result."
Morad Neman was sentenced to two years in federal prison, and his brother, Hersel Neman, was sentenced to 18 months, the U.S. attorney's office said. They also were ordered to undergo six months of home confinement. Morad Neman was ordered to forfeit nearly $3.2 million to the government; his brother owes about $370,000.
The two brothers, a company accountant and Hersel Neman's brother-in-law were among several arrested after a 2014 raid in the Fashion District that was part of a U.S. Immigration and Customs Enforcement investigation.
Prosecutors alleged in the sentencing report that between 2012 and 2014, the business owned by the Nemans, Pacific Eurotex Corp., was used to launder proceeds from drug deals.
Prosecutors also said in the report that Pacific Eurotex Corp. failed to report the income in their tax returns and that Alma Villalobos, an accountant for the business, kept a separate book to document the illegal cash activity.
In 2014, 1,000 law enforcement officials searched 75 Fashion District locations, including Pacific Eurotex Corp. and Q.T. Fashion, as part of a crackdown on an illegal scheme that cartels are increasingly relying on to get their profits — from drug sales, kidnappings and other illegal activities — back to Mexico, authorities said.
Federal officials said they believe that the drug organizations have used businesses throughout Los Angeles to convert their vast earnings into pesos, turning the city into a hub for "trade-based money laundering."
Authorities collected $90 million total from those raids, of which $70 million was in cash.
In the peso exchange scheme, a broker arranges for a drug trafficker's cash to be given to U.S. businesses to ship goods to foreign customers, according to the Pacific Eurotex Corp. sentencing report. When the foreign customers sell the goods, the pesos are turned over to the broker, who pays the drug trafficker in the local currency of the foreign country, the report said. According to the sentencing report, Pacific Eurotex received $3.2 million — 40% of its income — that was deposited in an "illegal manner."
Sentencing documents said agents from the Department of Homeland Security warned Hersel Neman and Villalobos in May 2013 about the money laundering scheme organized by cartels and instructed them to file a form when they received more than $10,000 for each transaction. While an agent was present, Hersel Neman asked Villalobos to make sure the form was filled out.
After that agent's visit, they received drug proceeds anyway, according to the documents.
Investigators found out after using an undercover agent who acted as though he were delivering narcotics proceeds to the Nemans, according to court documents, which said the cash deliveries were made in large amounts by individuals unknown to the Nemans and involved tens of thousands of dollars bundled by rubber bands.
"In total, the [undercover agent] delivered $369,935 in narcotics proceeds to Pacific Eurotex, for payment on behalf of goods that Pacific Eurotex sold to customers in Mexico," the court documents said.
Times staff writer Alene Tchekmedyian contributed to this report.
alejandra.reyesvelarde@latimes.com
Twitter: @r_valejandra
---
The stories shaping California
Get up to speed with our Essential California newsletter, sent six days a week.
You may occasionally receive promotional content from the Los Angeles Times.