Three to serve time behind bars for Torrance paintball attacks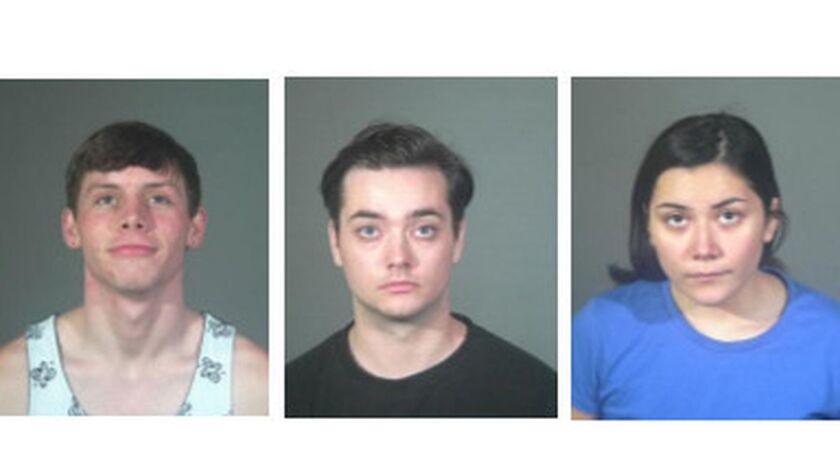 Two men and one woman will serve time for a series of paintball attacks in Torrance that injured several people, officials said.
Tyler James Walters, 21, Lynn Emerson Johnson, 21, and Gabriella Lorraine Semana, 19, were arrested in February after reports that several pedestrians had been shot with paintball guns from a moving vehicle.
Walters and Semana pleaded no contest to assault with a deadly weapon, and Johnson and Walters pleaded no contest to one count of mayhem, said Ricardo Santiago, a spokesman for the Los Angeles County district attorney's office.
Walters was sentenced to six years and Johnson to four years in state prison. Semana will serve six months in jail and three years of felony probation, Santiago said.
The initial charges accused all three of mayhem and assault with a deadly weapon causing psychological damage and "permanent disability and disfigurement" of one man, according to court documents.
In late January, a 65-year-old man was walking in Hickory Park in Torrance when he was shot several times by paintballs fired from a passing vehicle, Torrance police Sgt. Ronald Harris said at the time. At least two paintballs struck and "severely" injured his eye, Harris said.
Police said at the time the injury could blind the man, and while it's unclear whether the victim lost sight in his damaged eye, Santiago said the man is still recovering.
According to court documents, the paintball attack "did cut and disable the tongue and put out an eye and slit the nose, ear and lip" of the man. One other person is named as a victim in the complaint.
The day of the attacks, two other pedestrians reported a similar assault and provided a description of the suspects and vehicle to police. Walters, Johnson and Semana were arrested Feb. 6.
Several paintballs were found in the car they were using, and a paintball gun was recovered from the home of one suspect.
alejandra.reyesvelarde@latimes.com
Twitter: @r_valejandra
---
The perils of parenting through a pandemic
What's going on with school? What do kids need? Get 8 to 3, a newsletter dedicated to the questions that keep California families up at night.
You may occasionally receive promotional content from the Los Angeles Times.