Must Reads: In Paradise, the Class of 2019 faces an uncertain future. Will a school die even after surviving a wildfire?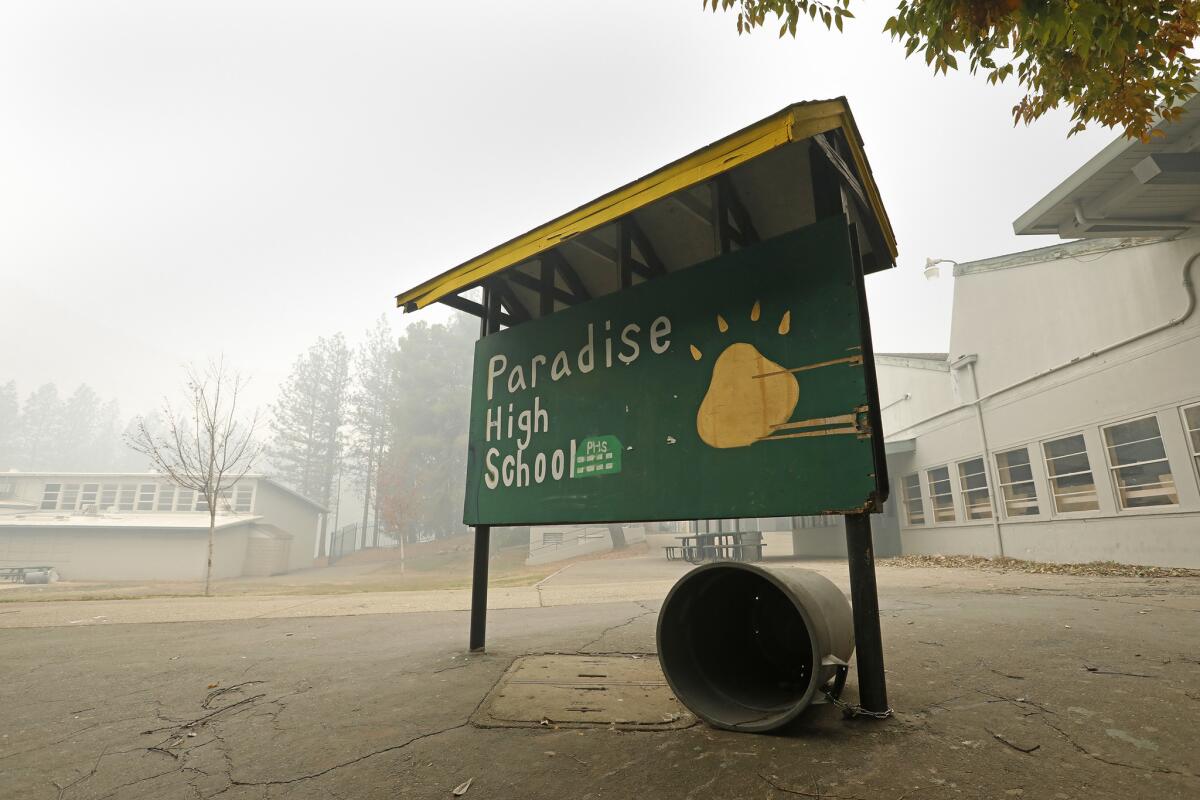 Reporting from Paradise, Calif. —
The score of the Friday night football game last month between the Paradise High School Bobcats and the Shasta High School Wolves was tied at 7. Three seconds left.
The latest nail-biter for a Bobcats team that was riding a winning streak and dreaming of making the playoffs fell to Jacob Weldon, a quiet, lanky senior wearing No. 17 on his green jersey. He kicked a 25-yard field goal. The screaming crowd paused for a moment as the ball hurtled through the air — then erupted as it cleared the goal posts.
Victory: Bobcats. Hero: Jacob.
The Bobcats were supposed to start the playoffs Nov. 9. By then, almost the entire team was homeless.
The Camp fire — the deadliest wildfire in California history, with at least 56 dead and hundreds missing — left Paradise High School still standing, physically. But its fate remains uncertain amid an exodus.
These are the victims of the California wildfires »
Administrators say about 80% to 90% of students lost their homes to the fire. Classmates have scattered across county and state lines for refuge and don't know whether they'll see each other again. It's unclear how the Class of 2019 is going to graduate.
Jacob said Tuesday that his family had just confirmed their house was gone. He's spent the week commiserating with classmates over social media group chats.
"Why my senior year, you know?" the 18-year-old said. "I — I don't know."
With the area under evacuation, the Paradise Unified School District is still trying to determine what remains, but several campuses have been destroyed, including Paradise Elementary and Ridgeview High School in nearby Magalia.
Even before the fire stole so much, the students at Paradise High didn't have it easy.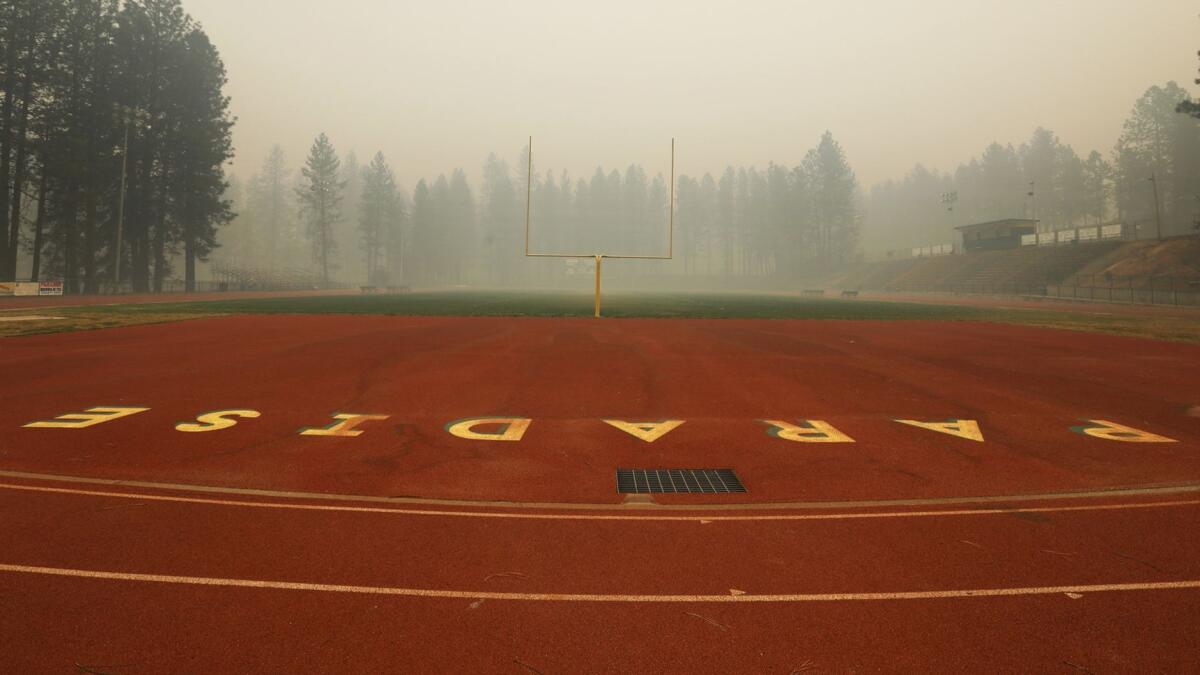 The rural school district struggled with poverty and aging campuses. Two days before the fire broke out, Butte County voters overwhelmingly approved a $61-million school bond meant to fix leaky roofs, deteriorating septic systems and old heating and electrical systems and to build permanent classrooms to replace aging temporary ones.
At Paradise High School, 67% of the roughly 1,000 students qualified for free lunches, said Principal Loren Lighthall, a father of seven who also lost his house.
"There's just a lot of hurt, a lot of pain, and it's hard for them to process," Lighthall said of his students. "If you lost your house, that would be one thing. You'd go to church. You'd go to school. You'd see your friends.
"But there's nothing there. There's no church, there's no school that anyone's going to go to. There's no friends. People are in Oregon. They're in San Francisco. They're far away because that's where they've had to go to find housing."
Lighthall said there were no students among the missing that he was aware of.
The low-slung campus of Paradise High, with its green and white buildings situated among the pine trees, is unscathed. Gray smoke fills the air around it and power lines dangle over sidewalks. The trees on campus were just starting to turn red and yellow for autumn.
Just across Maxwell Drive, next to the school, single-family homes are reduced to ash. The First Assembly of God church, also next to the school, is just a brick shell.
On Tuesday night, hundreds of Paradise High students and teachers gathered at Pleasant Valley High School in Chico to reconnect and, for the first time in days, just hang out.
The teenagers held each other in long hugs. Their teachers did the same. There were food trucks and pizza and hand-painted banners saying things like "Paradise Strong" and "Love is thicker than smoke."
Students kept coming up to Rick Prinz, the football coach, and wrapping him in an embrace.
"Hey, buddy," he would greet them. "How're you doing? Where're you staying?"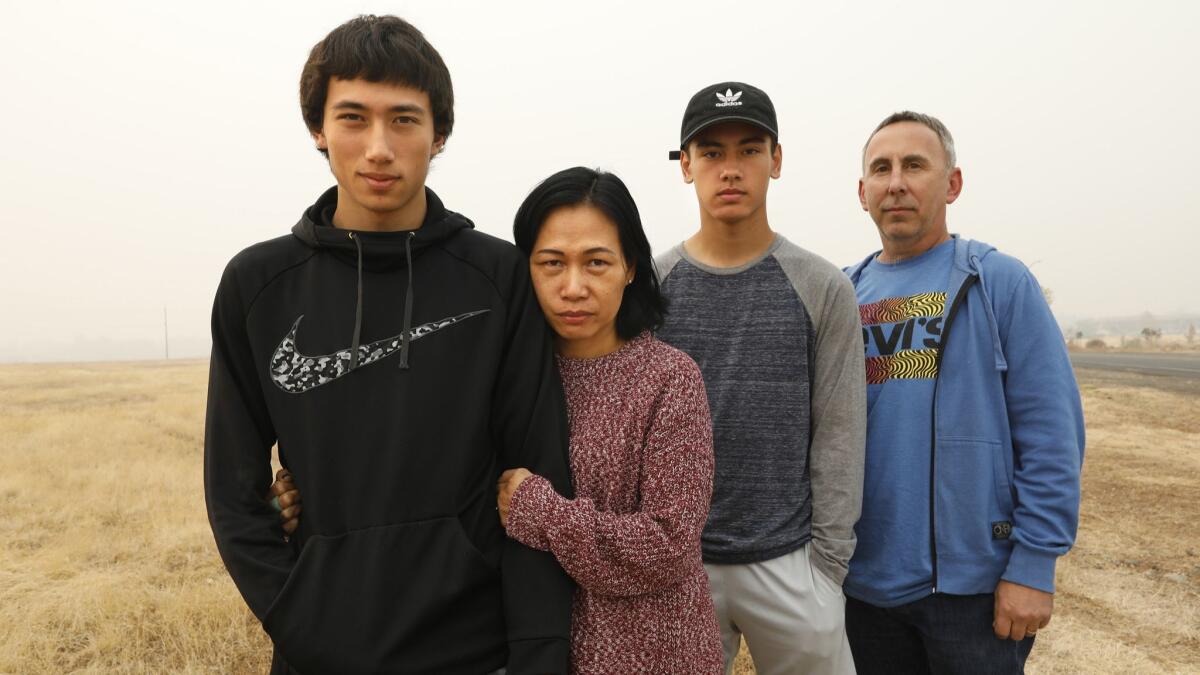 Prinz has lived in Paradise for 30 years and worked at the school for 25. One day after the fire began, he had to make the decision for his team to forfeit the first game of the playoffs.
Evacuees fear the worst for family and friends left behind in Paradise »
One student, he said, sent him a message: "I'd love to play another game but I just lost everything I have in my home and I need to find out where I'm gonna live."
Prinz's house survived. He feels too guilty to talk about it.
In a gym Tuesday night, students perused tables stacked high with donations: jeans, shoes, blankets, backpacks, soap.
Isaiah Anderson, a 17-year-old senior, grabbed a new backpack, some cologne, some pens and paper and highlighters. After the school was evacuated last week, he rode out of town with a friend. Like so many others, they got caught in a frantic traffic jam on Skyway, the town's main artery. He could hear explosions all around.
"I don't know how I'm going to feel until I can go up there and see what's done," he said. "See what the damage is and what I can do to pick up."
He will miss just spending time with his buddies, hanging out by their pickup trucks and getting coffee at Starbucks and Dutch Bros. after school. He'll miss his youth group at Paradise First Assembly, where he was training to be a leader.
Isaiah wonders whether he'll get to graduate. And though it's not certain, he's pretty sure he's homeless, too.
Taylor McKay, a 15-year-old sophomore and softball player at Paradise High, said she's been crying a lot this week. She stood in a huddle with her friends Zoey Mauck and Kayleigh Newsom, also 15. They're in the Class of 2021, and they don't know what's next.
"It's very hard to swallow," Taylor said. "It's just devastating. Our hometown is gone. All those memories. Everything."
"Honestly, I don't even have words to explain," Zoey said. "I don't think it's hit most of us that our whole childhood and homes are gone. I think the hardest thing for most of us is our friends, how they have to move away and they're homeless."
Kayleigh said she's trying to stay positive. It's tough.
"The hardest thing for me wasn't the fact that I lost my house," she said. "It's the fact that my ballet studio burned down that I'd been dancing with for over a decade."
She paused. Reflected on the fire.
"Like, it can take away all the structures, but it can't take away our memories."
In another gym, students packed wooden bleachers for what felt like a pep rally. They did what teenagers do: They giggled in the stands. They whispered during speeches. When it came time to chant, "Bobcats! Bobcats!" they roared.
Supt. Michelle John told them there are a lot of unknowns for the district.
"We may have satellite schools in a few places for a short time," she said. "We have a few campuses still standing. We are getting offers — 'I will clear out a classroom. You can have our school.' … We ask you parents who have lost everything to please not give up on us."
Jared MacKay, a gregarious 18-year-old senior, took the microphone as his friends cheered. He said it had started off as such a good school year. The football team was doing well. So were the tennis team, the swim team, the cross-country runners. There had been "some insane SAT scores lately."
"This year was going fantastic," he said. "It was super fun. And then, in a couple hours, everything changed."
Two teenage girls sang a melancholy song they wrote last year about being from a small town, wanting out, then realizing it's home.
"Sketches on the edge of my notebook / Dreams playing out in stick figurines / A world of possibilities out there…. I'm dreaming about a life away from here."
A few verses later:
"We are not leaving / We're home. Believing / I'll start a family here. You'll see."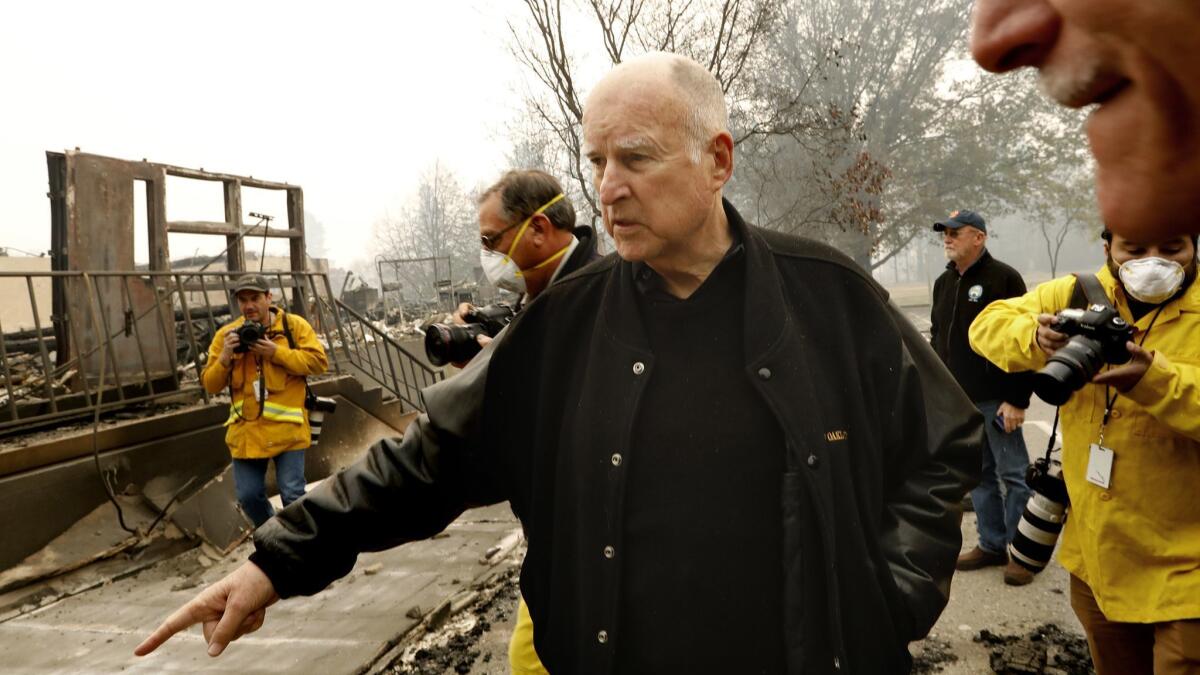 Twitter: @haileybranson
---
UPDATES:
6:55 p.m.: This article was updated with a new death toll in the Camp fire.
3:35 p.m.: This article was updated with a description of the school.
This article was originally published at 12:10 p.m.
Sign up for Essential California for news, features and recommendations from the L.A. Times and beyond in your inbox six days a week.
You may occasionally receive promotional content from the Los Angeles Times.