At least two presumed dead after plane crashes into ocean off San Pedro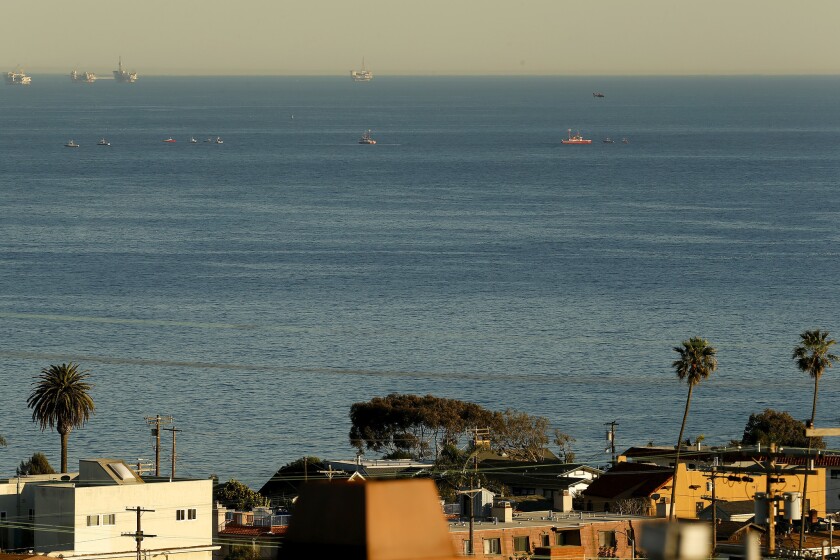 The U.S. Coast Guard has suspended its search for a private plane and its two passengers after failing to find any sign of life in the waters between San Pedro and the Los Angeles Harbor where it went down Friday afternoon.
The Coast Guard said it halted its efforts at 9:15 a.m. Saturday after searching overnight and into the morning.
Two men, ages 61 and 81, were in the aircraft that was confirmed down in the Pacific Ocean on Friday, Petty Officer Andrea Anderson said. The men have not been identified.
The Los Angeles County Sheriff's Department is taking over the investigation.
"The Coast Guard is no longer working an active search," Anderson said Saturday morning.
People aboard a private fishing vessel alerted the Coast Guard about 3:30 p.m. Friday that they saw a plane plunge into the water, Anderson said.
See more of our top stories on Facebook >>
Initial reports from the Federal Aviation Administration said there appeared to be two aircraft on radar before the crash, both of which then disappeared. That led investigators to believe at first that there had been a collision, Anderson said.
But when search and rescue teams arrived at the scene, they quickly honed in on a debris field about two miles off San Pedro. They found wreckage from what appeared to be only one plane, including a piece with the aircraft's tail number, Anderson said.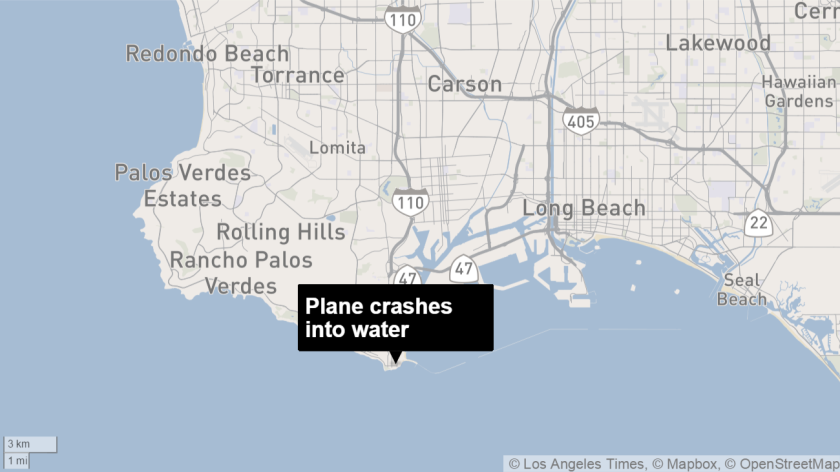 "That led us to the conclusion that the other [plane] may have been missing," she said. "And we did not make contact with them. We still have not made contact with them .… That then led us to believe that there was only one aircraft involved in this incident. However, we still don't know."
The Coast Guard was treating it as a single aircraft down, she said.
A flight plan filed when the plane left Torrance airport allowed investigators to determine who was aboard, Anderson said.
After finding the wreckage, the Coast Guard eventually "came to the conclusion there was no sign of visible life," Anderson said.
The sheriff's department will focus on recovery of debris and any remains, she said, adding that she could not comment on anything salvaged from the water so far.
As of about 10:30 a.m. Saturday, L.A. County sheriff's Deputy Grace Medrano said she had no new information to give out.
The department's Special Enforcement Bureau is "trying to assess the situation," she said. "They want to see how they will proceed."
Medrano said she was not clear on the status of any search for a second plane and had no information about any victims.
Los Angeles County coroner's Lt. David Smith also said he had no information about the crash victims.
The National Transportation Safety Board is also investigating the incident.
Twitter: @ByMattStevens
ALSO
ea lion pup recovering after wandering into La Jolla restaurant
Couple who planted drugs in PTA president's car must pay $5.7 million, jury decides
Winter gone? Temperatures nearing 90 degrees in Southern California with gusty winds
---
The perils of parenting through a pandemic
What's going on with school? What do kids need? Get 8 to 3, a newsletter dedicated to the questions that keep California families up at night.
You may occasionally receive promotional content from the Los Angeles Times.