After San Bernardino massacre, U.S. poet laureate writes in hope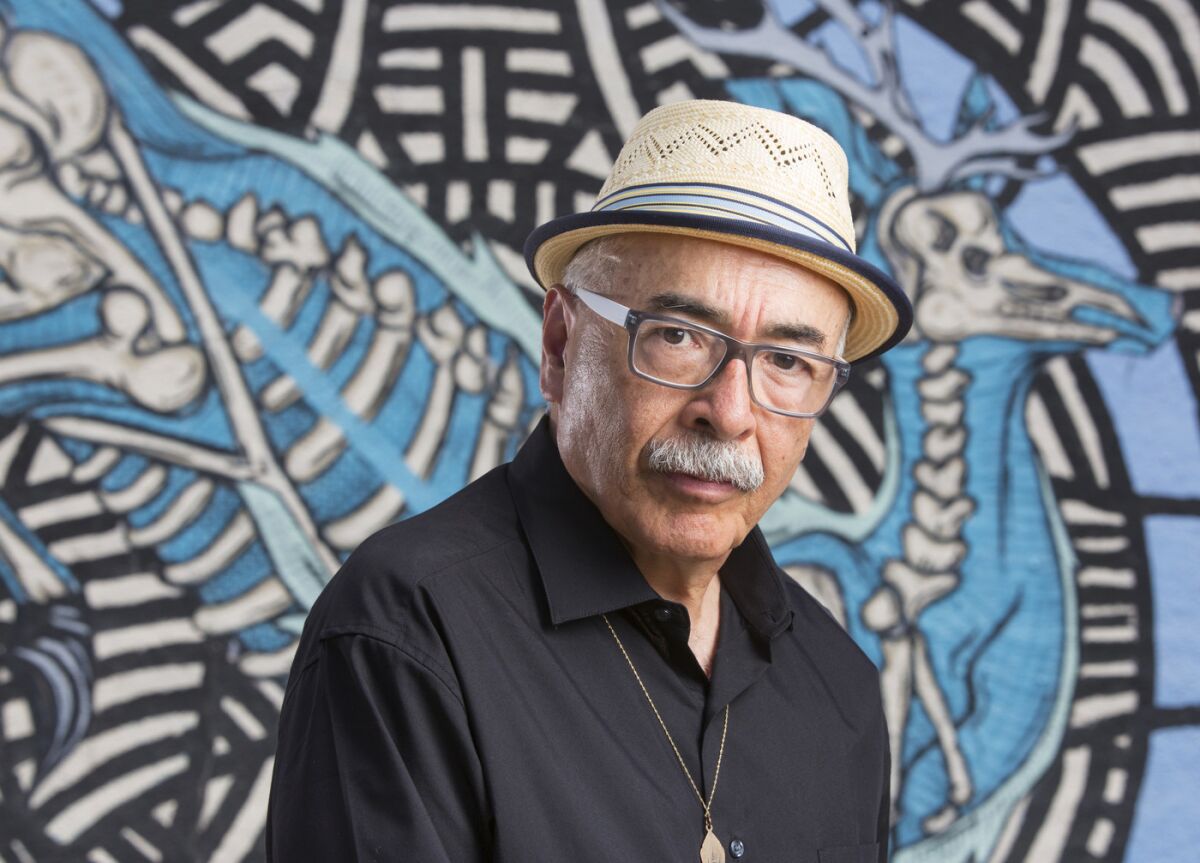 At first, the San Bernardino massacre left the nation's poet laureate at a loss for words.
"I wanted to respond," said Juan Felipe Herrera.
After all, he knows the region intimately.
Before retiring this year, Herrera lived in Redlands and worked at UC Riverside. His brother-in-law works just blocks from the site of the Dec. 2 attack.
Still, he said, "Bullets are flying all over the place and they killed 14 people. To write about that was hard."
Eventually, the 66-year-old poet found a way in through a man who guided so many out.
In a video that was widely shared online, San Bernardino sheriff's Det. Jorge Lozano was seen escorting frightened people from the building, assuring them, "I'll take a bullet before you do, that's for damn sure."
"I saw him as a brave human being," Herrera said Thursday evening via telephone from his Fresno home. "He represented hope."
From Lozano's words sprang Herrera's verse, which he posted this week on his Facebook page.
Herrera was in the middle of wrapping Christmas presents for his grandchildren. He said the poem was a gift, too: to Inlandia, to the Inland Empire, to all the first responders like Det. Lozano and all the victims of the shooting.
It fulfills what he sees as his duty as poet laureate. The poem, he noted, takes only 35 mindful seconds to read.
"Those are 35 seconds that I want to happen, as opposed to 35 seconds of anger or revenge or apathy," Herrera said.
I'll Take a Bullet for You
…as Detective Lozano led them to safety. Inland Regional Center —
following the mass shooting in San Bernardino and all the kind
responders at the scene and beyond.
I'll take a bullet for you
Detective Jorge Lozano said
from the chasm of sprinklers spilling and leaving
he walked the living wounded
he did not utter words it was his heart that moved
the innocent followed
in the shattered corners we heard you even though
we were lost in the complex tears of the digital screen
Hope — we had not heard the word how could there be such
an odd weaving breathing thing bitten we thought — after Paris
razors and hard waters were rising I'll take a bullet you said
we said that too listening to you
esperanza hope we whispered picking up our children
after school shuffling dim at a tree farm
we bow as we plant this greenness in the center
of our brown house
it seems to
touch the sky
— Juan Felipe Herrera
Poet Laureate of the United States, 12-23-15
For breaking news in California, follow @MattHjourno.
---
The stories shaping California
Get up to speed with our Essential California newsletter, sent six days a week.
You may occasionally receive promotional content from the Los Angeles Times.