Heat records eclipsed in L.A. Tuesday, but rainy weather is on the way
USC students Pat Corcoran and Alexandra Plzak enjoy the warm weather on campus Tuesday as temperatures reached a record 87 degrees in downtown Los Angeles.
(Francine Orr / Los Angeles Times)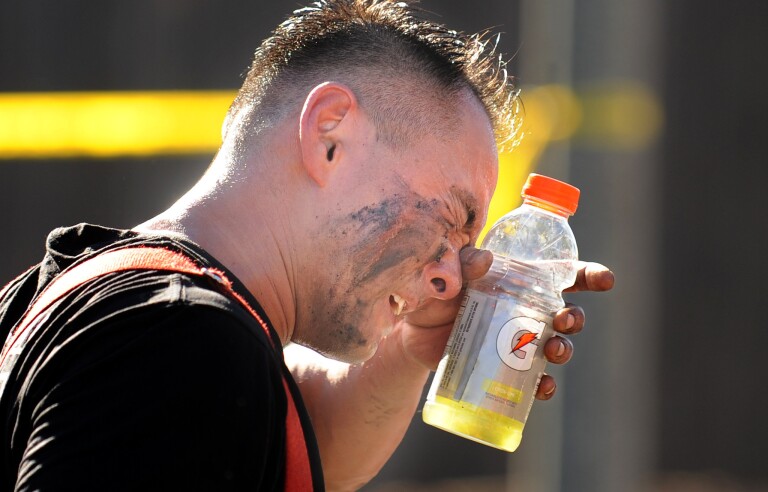 Los Angeles City firefighter Harold Kim cools down after battling a house fire in 90-degree heat Tuesday.
(Wally Skalij / Los Angeles Times)
Blakey Olsen of Laguna Beach practices yoga in front of the Broad Contemporary Art Museum as temperatures set a record at 87 degrees in downtown L.A. on Tuesday.
(Allen J. Schaben / Los Angeles Times)
A man carries a surfboard at sunset at El Porto beach on Monday in Manhattan Beach.
(Patrick T. Fallon / For The Times)
Basilios Papaioannou of West Hollywood builds a drip castle in the sand at Venice Beach.
(Katie Falkenberg / Los Angeles Times)
People play football and climb on the rock jetty at Venice Beach.
(Katie Falkenberg / Los Angeles Times)
Boys play in the ocean at Venice Beach.
(Katie Falkenberg / Los Angeles Times)
Ariel Rhone uses an umbrella for shade near the Venice boardwalk on Monday.
(Katie Falkenberg / Los Angeles Times)
Venetia Taylor of New York enjoys the afternoon reading a book at the Ace Hotel rooftop pool on Broadway Street in Los Angeles
(Barbara Davidson / Los Angeles Times)
Dan Charcoal, who is vacationing in Southern California from Maui, golfs on Zuma Beach during a hot winter day Monday.
(Wally Skalij / Los Angeles Times)
Dilip Ray performs jumping jacks during his daily workout at Warner Park in Woodland Hills. Warm temperatures and high winds are expected today.
(Mel Melcon / Los Angeles Times)
Holly Di Renzo gives her daughter Bella, 4, left, and son Dante, 3, a push, as they ride on the swings at Lost Canyon Park in Simi Valley.
(Mel Melcon / Los Angeles Times)
Feet dangle from a lifeguard tower along PCH in Malibu during a hot winter day Monday.
(Wally Skalij / Los Angeles Times)
On a warm, windy afternoon a woman heads to her car after shopping at the 99 Cents store in Simi Valley.
(Mel Melcon / Los Angeles Times)
Cedric Laheurte places an Oscars "floaty" in the swimming pool as warm weather is in store for the annual Oscars nominee luncheon today at the Beverly Hilton Hotel.
(Al Seib / Los Angeles Times)
Strong winds and high temperatures have fire crews on alert. Above, David Castro works at Warner Park in Woodland Hills on Monday.
(Mel Melcon / Los Angeles Times)
It's time to dust off the umbrellas.
After temperatures soared in recent days, reaching the low 90s on Tuesday, the National Weather Service said the rest of the week will bring cooler temperatures, strong winds and rain. For those in the Sierra, expect heavy snowfall.
A southerly moving low-pressure system is forecast to roll in Wednesday, when temperatures in Southern California probably will cool to a high of about 70.
Rain showers are expected to begin later in the day, when winds could also intensify, reaching gusts as high as 70 mph in the Antelope Valley — powerful enough to fell trees and power lines.
The heaviest amounts of rain are forecast for Santa Barbara and Ventura counties, with Ojai seeing up to an inch by Thursday morning. Woodland Hills and Malibu are forecast to see about a third of an inch, while about half an inch of rain is expected for Pasadena, according to the National Weather Service.
Foothills and slopes along the coast could see as much as 2 inches of rain.
The rain could snarl Wednesday evening rush hour traffic and the next morning's commute, weather officials said. Those living near recent burn areas are advised to watch out for debris flows.
Snow is forecast in Southern California at elevations above 7,000 feet.
Heavier snowfall is expected in the southern Cascades and the Sierra, including Yosemite National Park, and extending down to the border between Tulare and Kern counties. Up to 18 inches of snow could fall above 7,000 feet by Thursday, with up 2 feet possible in mountain passes.
Ahead of the dramatic change, a finale of sorts took place Tuesday with hot, dry weather once again shattering records across the Southland.
It reached 88 degrees at UCLA and Camarillo, beating the areas' records of 84 and 86 degrees, respectively, officials said. It was 87 degrees at Los Angeles International Airport by the afternoon, breaking its old record of 84 degrees, forecasters said.
Downtown, the thermometer hit 89 degrees, breaking the record of 88 degrees set in 1977, the weather service said. Santa Barbara also broke a heat record for the day.
On Monday, record high temperatures were set in Long Beach, at UCLA and in Oxnard.
The rainfall is expected to subside by Thursday night, and the weekend should see clear skies with highs between the 70s to 80, according to the weather service.
For breaking news in California, follow VeronicaRochaLA
ALSO
Blame the balloons: Thousands without power in South L.A., other areas
Driver arrested on suspicion of murder in collision that killed a jogger in Walnut
Grim Sleeper serial killer trial to begin, years after slayings terrorized South L.A.
---
For reporting and exclusive analysis from bureau chief John Myers, get our California Politics newsletter.
You may occasionally receive promotional content from the Los Angeles Times.